Third Trimester Thoughts + Baby Hospital Bag Essentials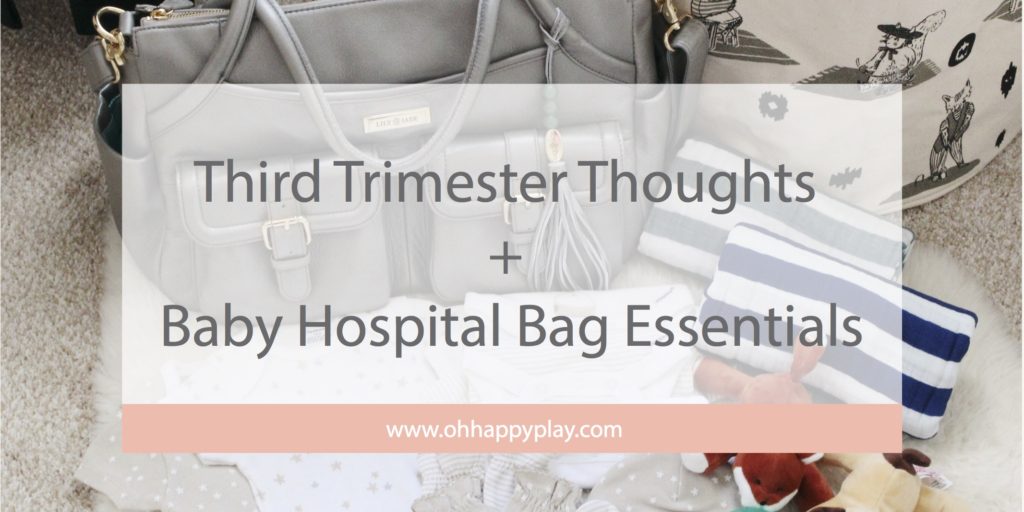 | This is a sponsored post. All insights are 100% my own |
---
As this pregnancy of mine is coming to end it isn't anything short of emotional! As mothers we are always pulled in different directions and that is totally how I'm feeling. Between our last days as a family of four, the last mornings and afternoons where it's just me and the girls and of course some quality time with the husband as the calm before the storm. It feels surreal yet as my belly grows it couldn't be any more real!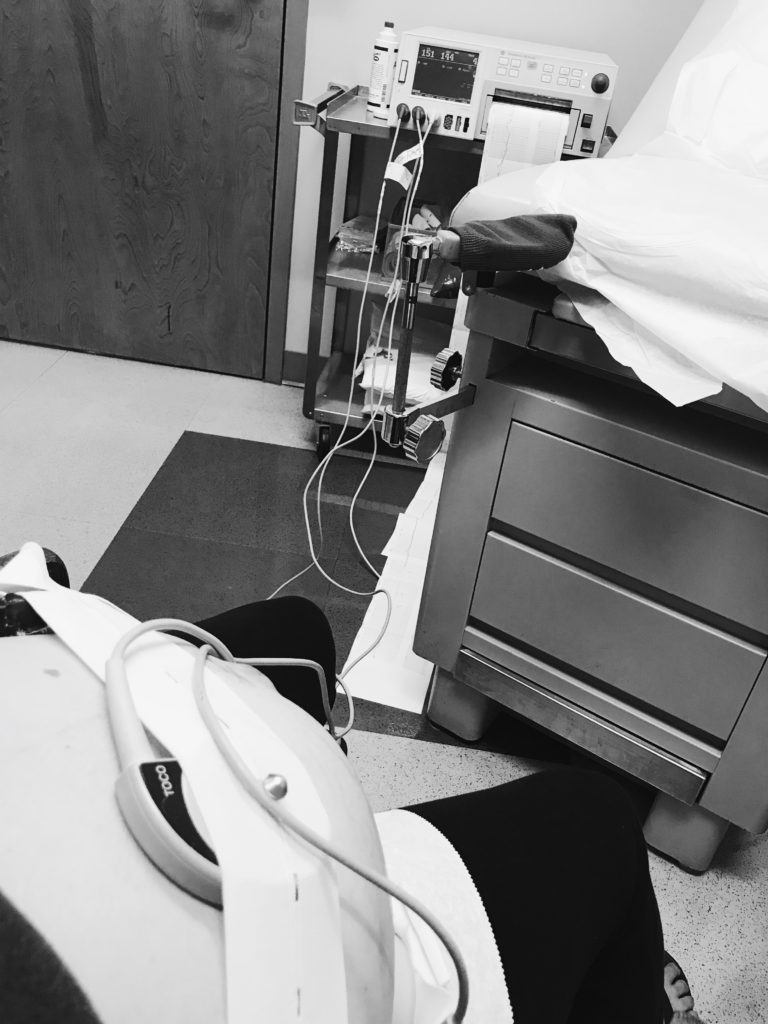 I am so ready to meet these boys but also so anxious for the whirlwind we're in for. I think every woman gets the same feeling in their third trimester, especially those carrying twins! Having the girls only complicates these feelings immensely! Joie, my almost 4 year old, is so ready to meet her brothers. She's been through this before (although very young the last time at only 15 months old) but I feel like she gets it. She's always been a little wise beyond her years and this isn't any different. Then there is Lola, my little Lo. She struggles every day to find her place in our house. Not in a bad way but I think it's just a second sister thing. She is essentially under the every day ruling of her big sister so she gets attention in her own ways and sometimes those ways are frustrating as a parent and I worry for her identity once the babies come. I feel the most pressure in this time to protect her feelings and that leaves me feeling very worried of the unknown. I am working on giving myself grace during this time and one way I have found to do this is to just know that at the end of the day we are doing this for them. For them to always have a friend, to be surrounded by people that love them and they can lean on all through their life. I am trying to instill this in them with everyday that brings us closer to meeting these boys and I think it has helped us all.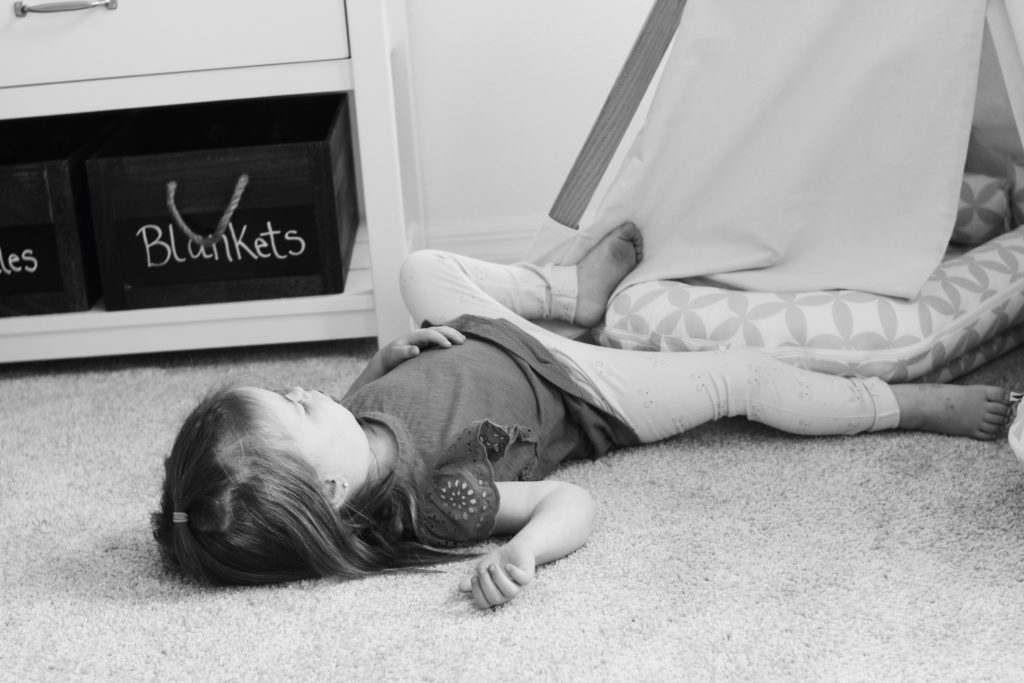 The girls have been super involved with all the baby prep going on around our house and they certainly know something is happen! These last couple days we have focused on preparations for bringing the babies home. Our bedtime stories have started involving all the realm of possibilities of how the days will look when it's "baby time!" Explaining to them that mommy and daddy have to go to the hospital and involving them in packing mommy's hospital bag for the new babies.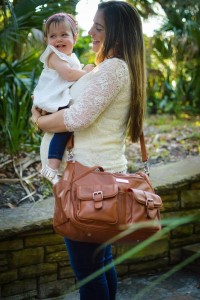 "Some things will be the same and some things will be different" IS a phrase we are using often around here (Thanks Daniel Tiger!)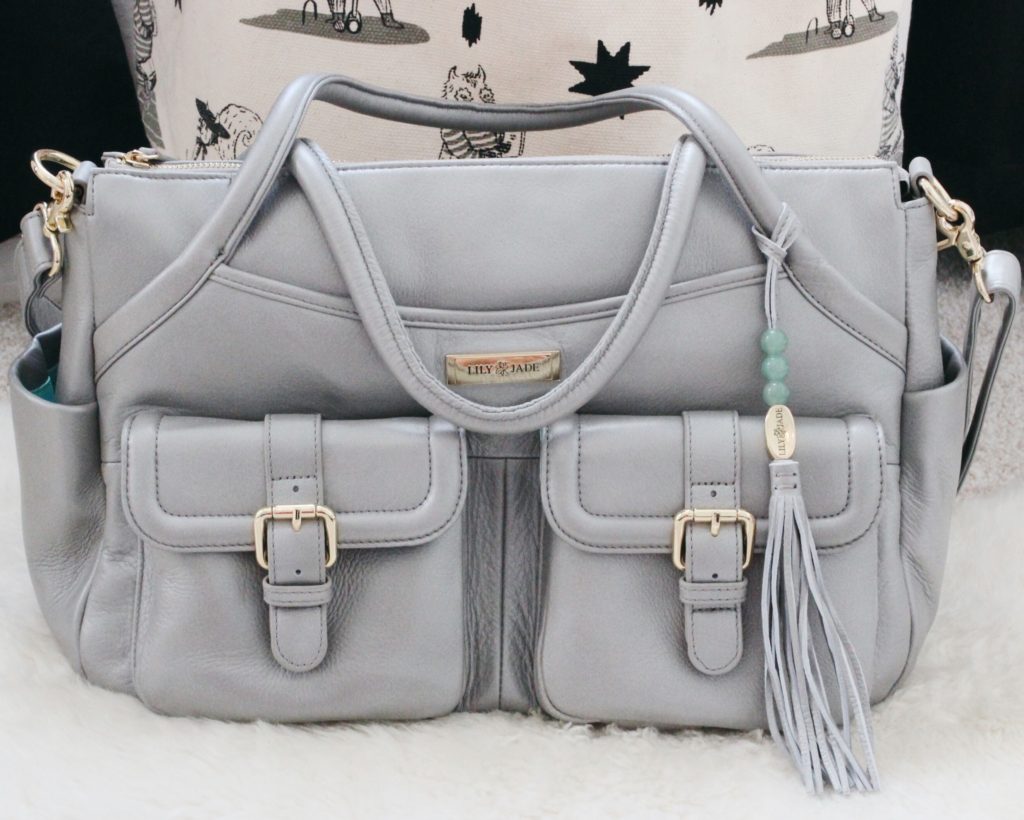 One thing that will be the same is that I will be taking my trusty Lily Jade diaper bag with me, however this time it will be packed with baby hospital bag essentials! There is something about having my pretty Lily Jade in tow that makes me feel a little bit more put together as a mother. I have 3 styles now but my favorite is the new Elizabeth Galena & Gold bag and that's the one I am prepping to have hospital ready. Since I have multiple Lily Jade bags (yes the obsession is real) I have one insert packed for our every day use with the girls (epi pen, snacks, change of clothes etc) then I have this one prepped with my hospital essentials for the twins! Being a veteran mom my hospital bag is definitely packed much more lightly than previously but honestly I think I have everything I need for the babies which I am talking about in this post about baby hospital bag essentials. So maybe this is a lesson to you new mamas out there, you seriously don't need to pack much!!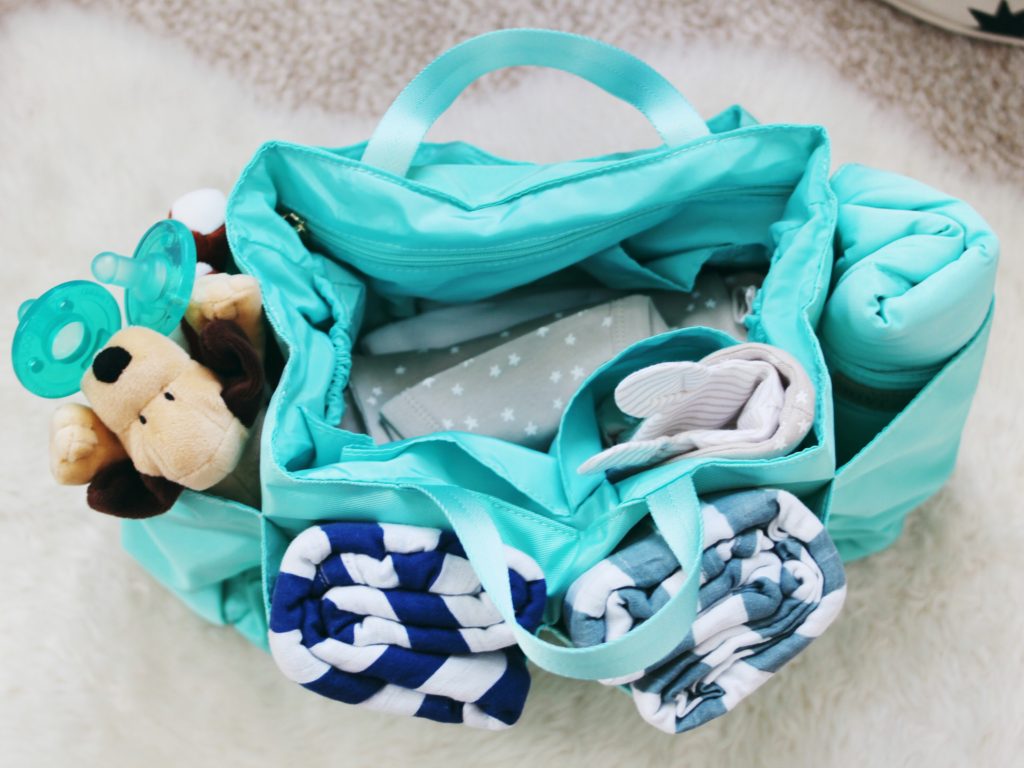 Baby Hospital Bag Essentials // The Minimalist Way
I decided as a seasoned mom I am just packing this diaper bag as I would for any typical day with a newborn (times two) and I will pack my own separate bag with essentials for myself (more on that later!).
The Elizabeth by Lily Jade is my favorite style of theirs for one main reason: all the outside pockets! Most specifically I love the bottle holders on each end of this bag. Whether a water bottle for me or a baby bottle for the boys I find it super convenient to have those pockets available. I wont even need all the pockets for this trip but knowing they're available I may sneak some extra stuff in as I go!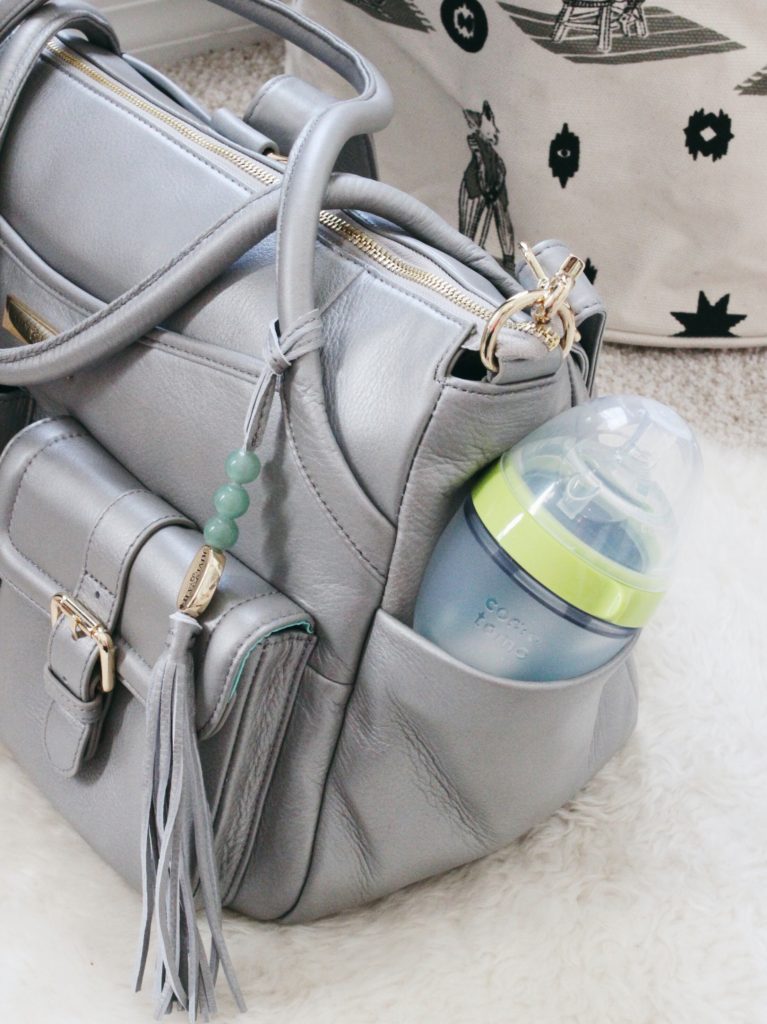 When I say I'm packing minimalist style I really am! It's true when they say the hospitals will provide you with everything you need during your stay, especially for the baby, so don't stress about overloading your bag with things you wont even touch. I don't even pack diapers because although once I get home I plan to use a specific kind I know that the few days we spend in the hospital I will be just fine using whichever brand they supply. And you might as well use their supplies because by this point we all know having a baby isn't cheap!
My baby hospital bag essentials include: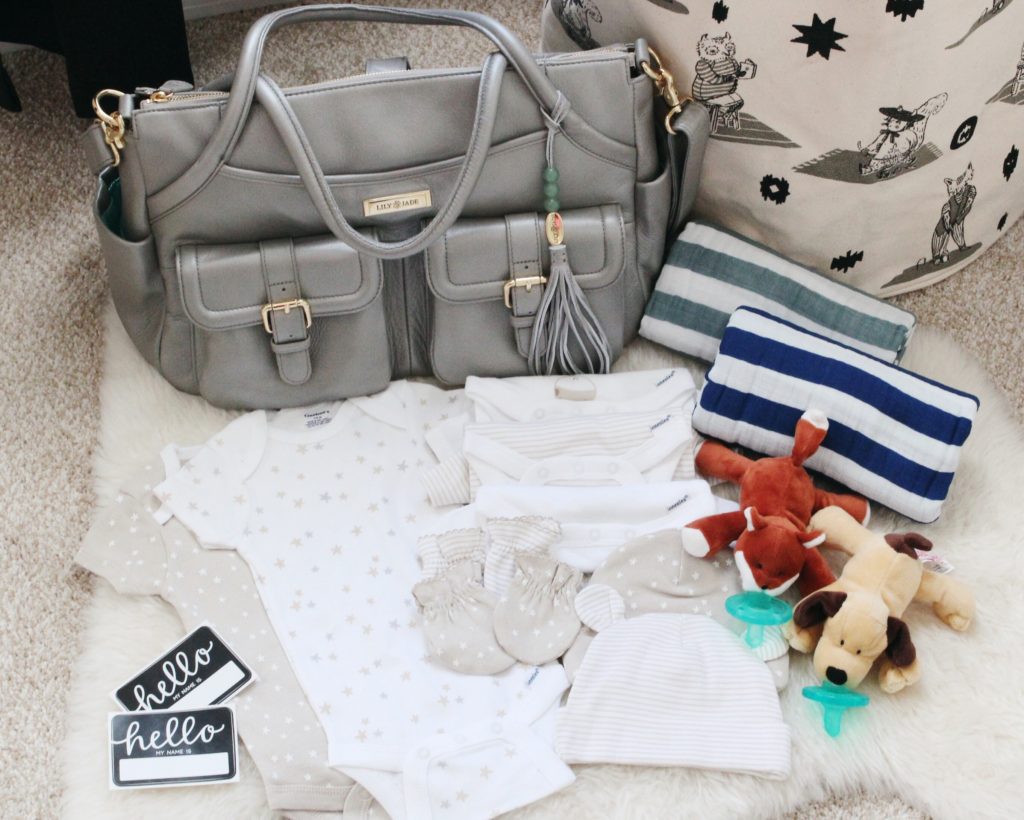 My own clothes for baby. Yes they provide these at the hospital as well but we've spent almost 9 months gathering baby clothes and why waste any time getting those cuties in them! My go-to choice for baby basics is Gerber and they have a brand new line at Target that is incredible AND affordable! You can shop their target collection HERE but I chose to go with the bodysuit 5-pack because I wanted something that will be easy to get on and off the boys while we're just figuring out our first days together. These onsies are super soft and made with 100% cotton. The expandable neckline makes for quick changes and minimal fuss and that's something I can truly appreciate! And for only $9.99 per 5-pack you really can't go wrong. These are a new favorite baby shower gift as well because the styles and patterns available are truly to die for!
Another super important item that they don't supply at the hospital is mittens. Baby nails are sharp and they scratch themselves super easily so I always make sure to pack my own set in my hospital bag to have on hand. I got this cute set (also) from the Gerber collection at Target that came with the mittens and two matching hats (these match the 5-pack of onesies I mentioned above) so the boys are literally all set in the clothing department and I'm pretty sure they're going to look so sweet wearing them! You can shop this set HERE. 
Pacis! Let me start by saying I am a huge breastfeeding advocate and I plan to nurse the boys as well. Lots of people are against pacis because they are said to create "nipple confusion" in the early days of breastfeeding but I personally haven't had an issue with that. I use pacis from the start and I cut them at 1 year with no problems yet. I love these little WubbaNub pacis because they're cute but they also help keep the pacis in the mouth during those early weeks of newborn-hood. You can find these HERE.
Swaddles: I like to bring my own swaddles because I'm just not a fan of the hospital ones. I love these ones I received from The Little Arrows because they're soft and 100% organic cotton/muslin material. You can shop these HERE.
Lastly, and yes this about all I am packing for babies, are these cute "Hello My Name Is" tags a friend sent me. What cuter way to announce the boys' names (when we can agree on them!) than with these adorable little stickers!
Not pictured: I will add to make sure you bring your nursing pillow! I will be making a post on mommy essentials too but this is one item that could technically be considered a need for both so I thought I'd mention it!!
I hope this post helped you decipher what you may or may not need to pack in your baby hospital bag (and the no questions asked best diaper bag to pack, Lily Jade!) when it comes time to welcome your new baby(ies)! I may be the minority when it comes to packing simply for baby but I promise you'll have everything you need for your stay even with just packing the basics! Enjoy!
For more twin baby must reads, check out the posts below:
SNOO Review – The Smartest Bassinet You'll Find For Twins
A Day In The Life With Our Twins + Twin Sleep Schedule
Breastfeeding Essentials For Twins + Tips For New Twin Moms

SaveSave
SaveSave
SaveSave
SaveSave
SaveSave
SaveSave
SaveSave