When redesigning my toddler girls bedroom, I wanted something fun, pink, and girly, not not too overly done. That is when I came up with the idea for a whimsical girl bedroom theme filled with light pinks and florals and I think it turned out to be a super cute bedroom! Here is how I put together their whimsical girl bedroom packed with florals and pinks.
| This post contains Affiliate Links|
---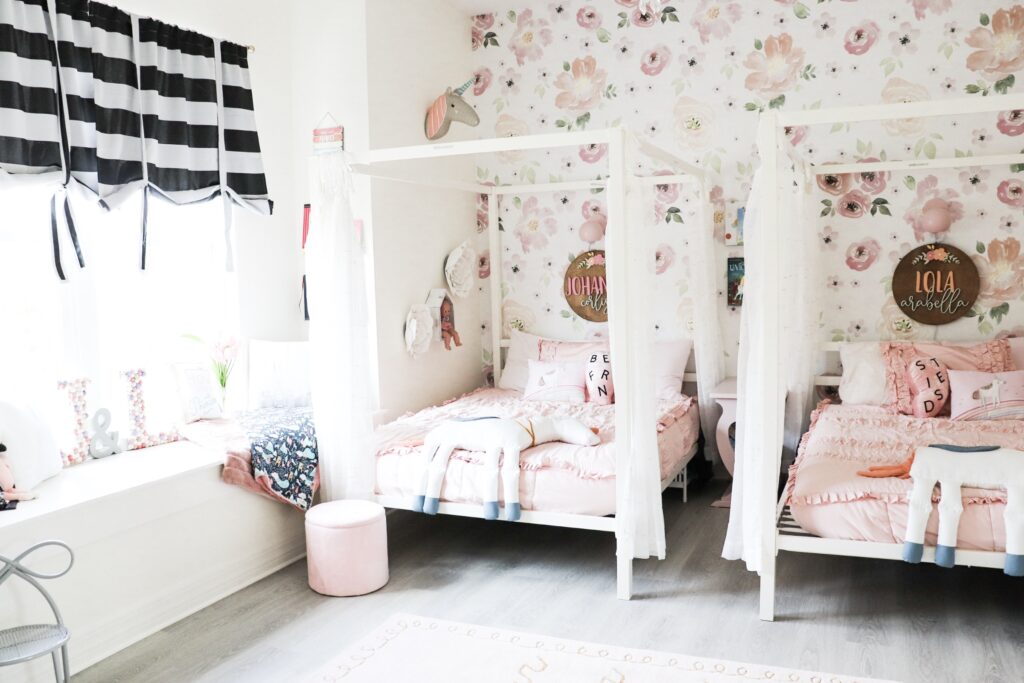 Whimsical Girl Bedroom Backstory
I never intended for the girls to share a room but I am so excited about their whimsical girl bedroom! In fact, my plan was always for this room and the identical one next to it to be the girls' own rooms. But as fate would have it we welcomed their twin brothers into our world and everything changed (for the best!) The girls have been sharing a room now for two years and they love it! I love the bond they share now that they're together as well! From sweet sister whispers and giggles to all the memories made I know the greater plan was always for this right here! I am so excited to share with you our shared whimsical girl bedroom reveal in our new house!
Shared Girl Bedroom Video Reveal
See the whole process from start to end in this fun little bedroom reveal video on our YouTube channel! And please give a thumbs up and subscribe if you like what you see:
Whimsical Girl Bedroom Ideas:
If you haven't seen their previous rooms you can check them out below! We have had quite a few over the last few years between our first family home, to our temporary rental while we built this home and now of course our forever home! 
Now on to THIS whimsical girl bedroom! I had a very specific vision in my head and I will share some of that below! 
Floral Feature Wallpaper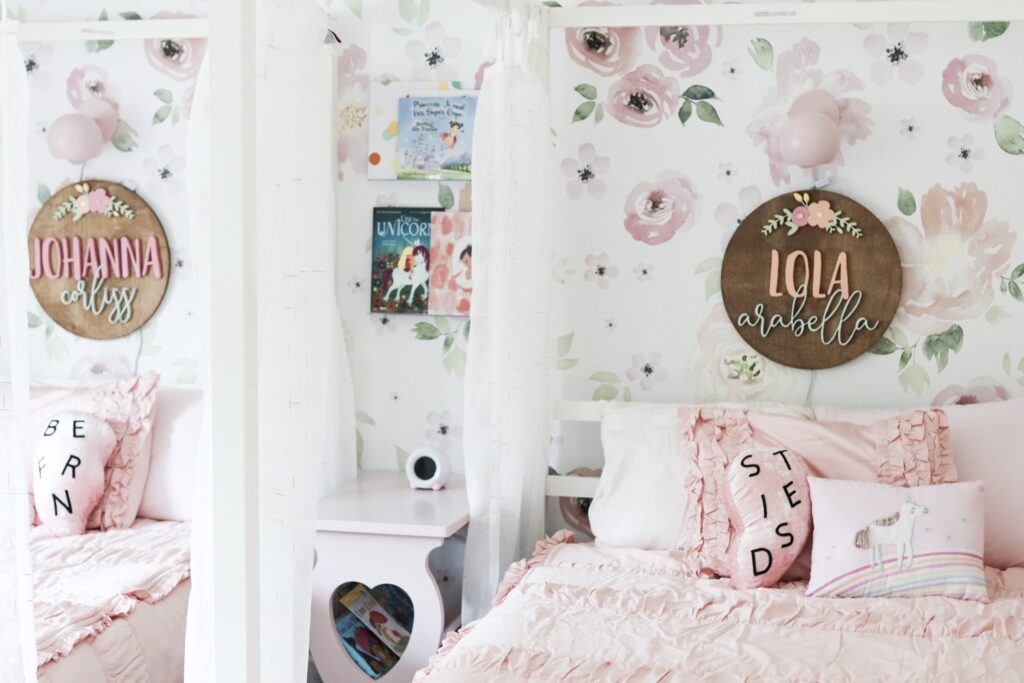 When I thought about their room I knew I wanted to do a feature wall behind their bed. I love how calming flower picking is and I wanted to bring that into their bedroom in a way. My girls are always outside so this was the perfect theme for their feature wall! After I started looking, I found there were so many pretty prints out there. The one I loved most was the Bella style I found at Rocky Mountain Decal! The colors were perfect! This is removable as well so if they change their mind down the road it will be easy to switch out (although I also feel it will be a solid choice for years to come for them!) 
Modern Canopy Beds For Girls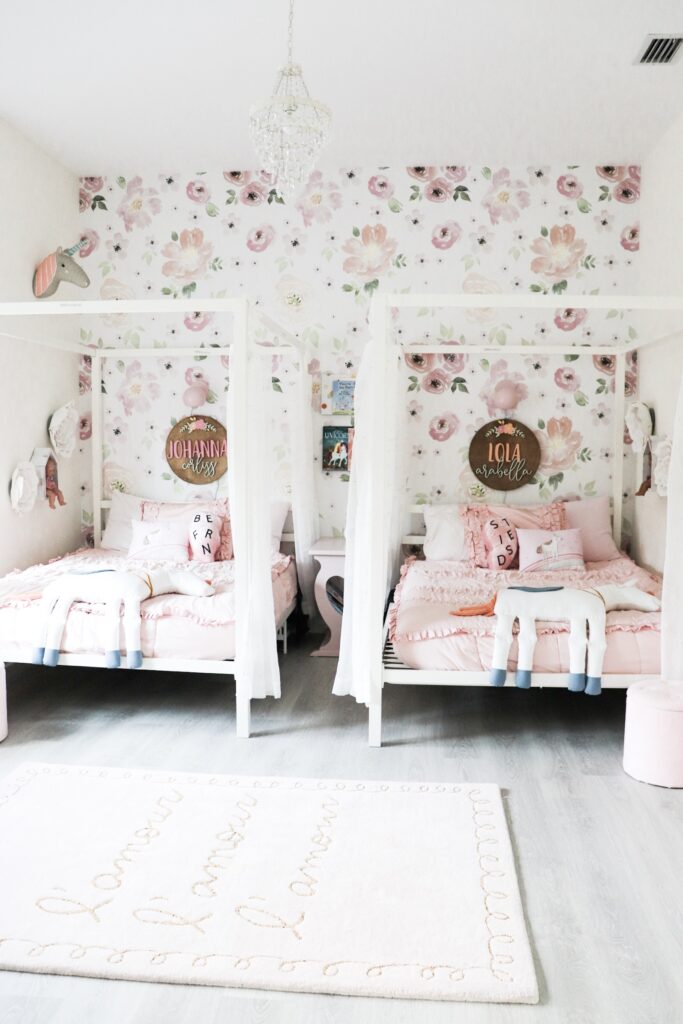 Another aspect of  the room I knew I wanted to provide them was beds that they can grow with. I also wanted beds that will feel as homy as their previous House Frame Floor Beds (DIY Found here) did. These modern metal canopy beds from DHP Furniture did just that!! I was able to hang these beautiful sheer Lauren Conrad tie top curtains along the sides so if they want to pull them closed they can feel like they're in their own space. We went with a full size bed as well (risking the space) but knowing these beds will likely take them through their teens and see them off to college (wait, now I need a minute to process that, ah!) Ok, I'm back! While we may be risking the space we do have a dedicated playroom downstairs for all their playing needs, which you can see HERE! We topped their beds with the Signature Sleep mattresses from DHP Furniture as well and they are super comfy. 
Girl's Room Design Details
The above details were definitely the major pieces needed to  pull this room off. From there I was able to decorate using the beds and the wallpaper as a guide. I will share below some more fun aspects of the room as well as their sources!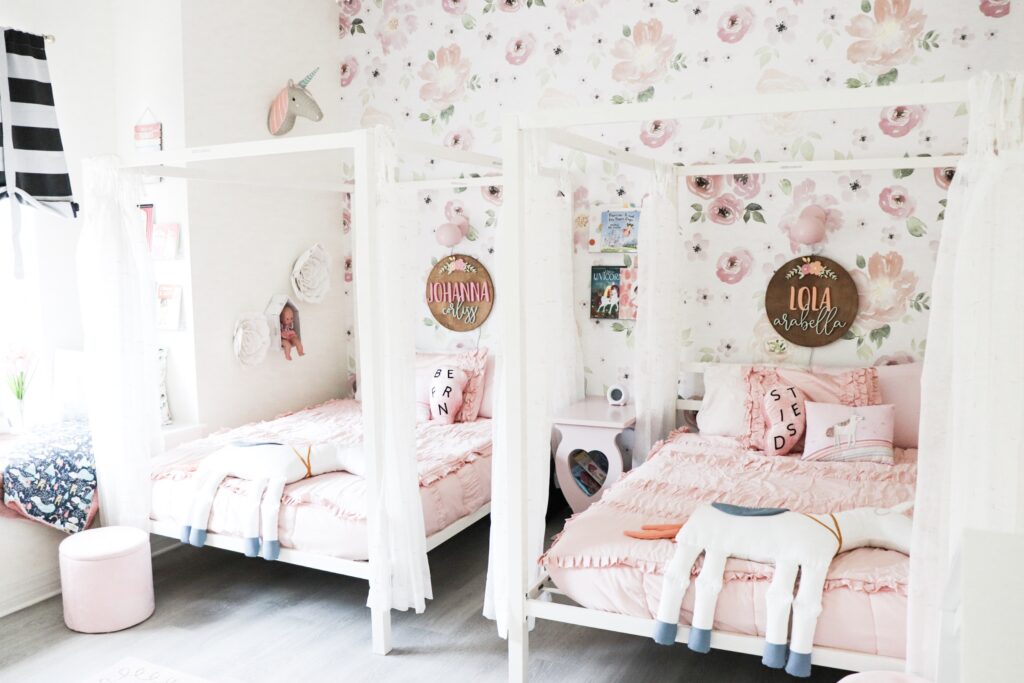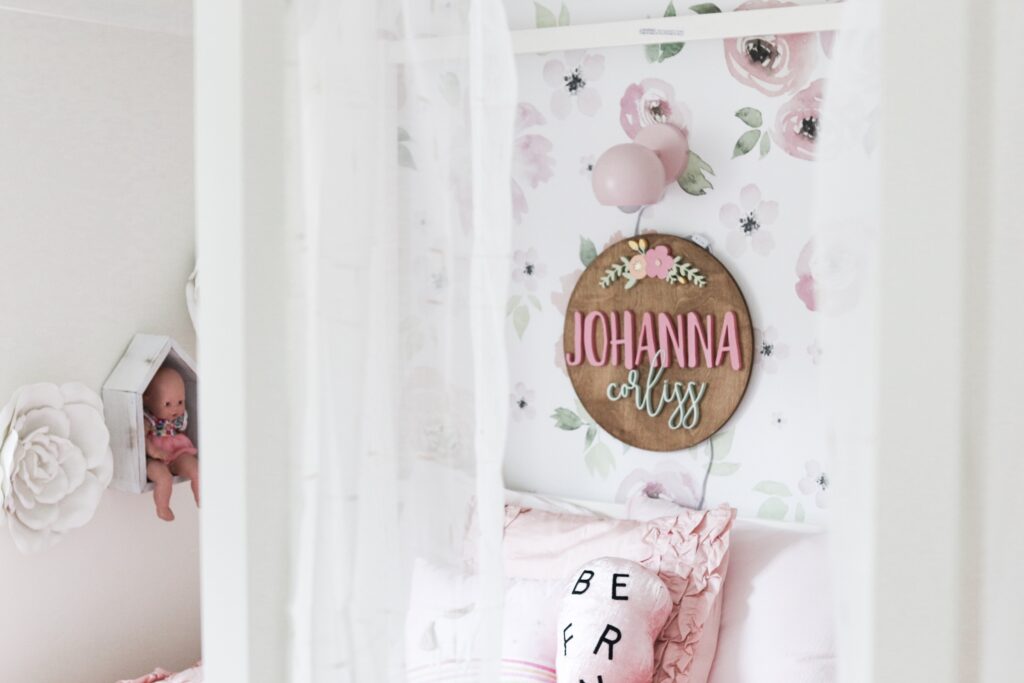 If there is anything else you want to know about their room PLEASE ask! And find me on social media for more about their whimsical girl bedroom! Enjoy! 
---
Make sure you follow along on social media for more!