Best Way To Teach a Child To Ride A Bike
| This post is sponsored but all thoughts are my own. Friendly disclaimer to always wear a helmet when on a bike!|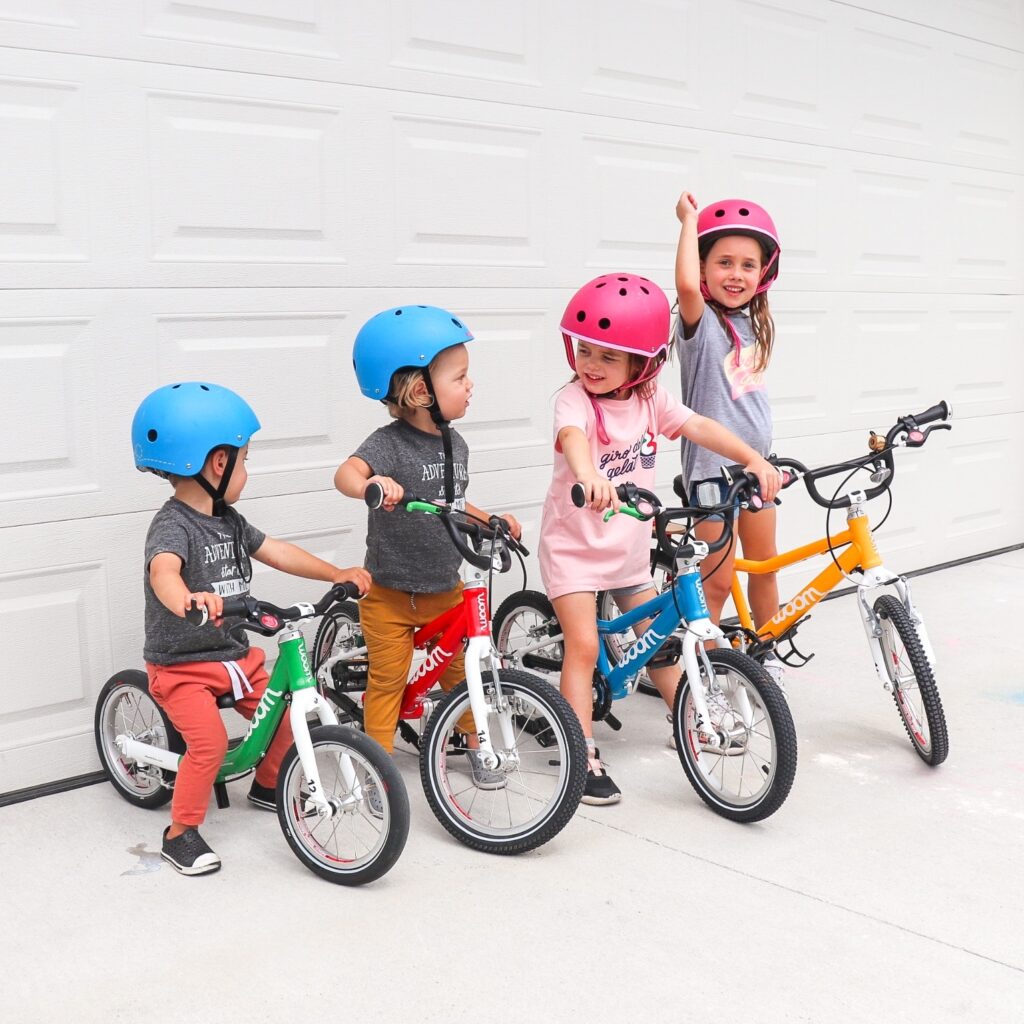 Teaching your child to ride a bike is one of the most fun experiences as a parent. Seeing them take off on those two wheels all by themselves is a huge moment for you, the parent, and an even bigger moment for your child! The freedom they experience is a HUGE confidence booster. But my theory is that learning to ride a bike starts long before they ever sit on one with pedals! I am going to show you here the best way to teach a child to ride a bike!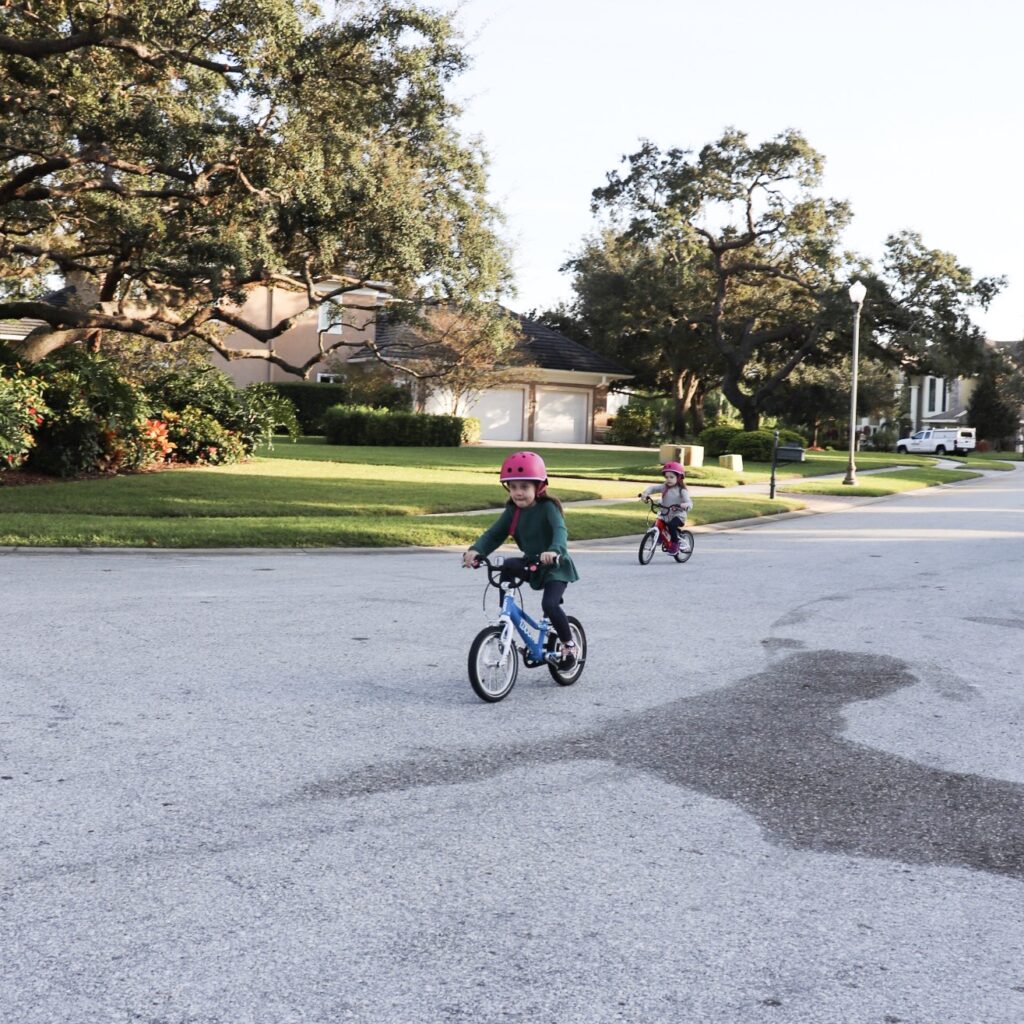 For those who aren't familiar with my family, whether from here on my blog or on our Instagram page, I am the mom to four little ones. We had four children in less than four years so it is pretty hectic around our house! My girls were both riding bikes super early at age 4 for my middle daughter and days after my oldest's 5th birthday.
Now they are biking pros and they love the independence it brings them.
Fast forward to the current day where we have twin boys who are not yet 2.5 and already loving their balance bikes. Our Twin B is quite the pro already and zooms up and down our driveway as if he's as old as his 6 year old sister! I get asked almost daily how my kids are all so confident on their bikes and with that said, this post is actually quite over do! 
Inside of those post I will be sharing all of the best ways to teach a child how to ride a bike, all starting from day one. I share my best tips for teaching children to use their balance bikes, how to become confident on their balance bikes, and go into what the best beginner bikes are for young kids!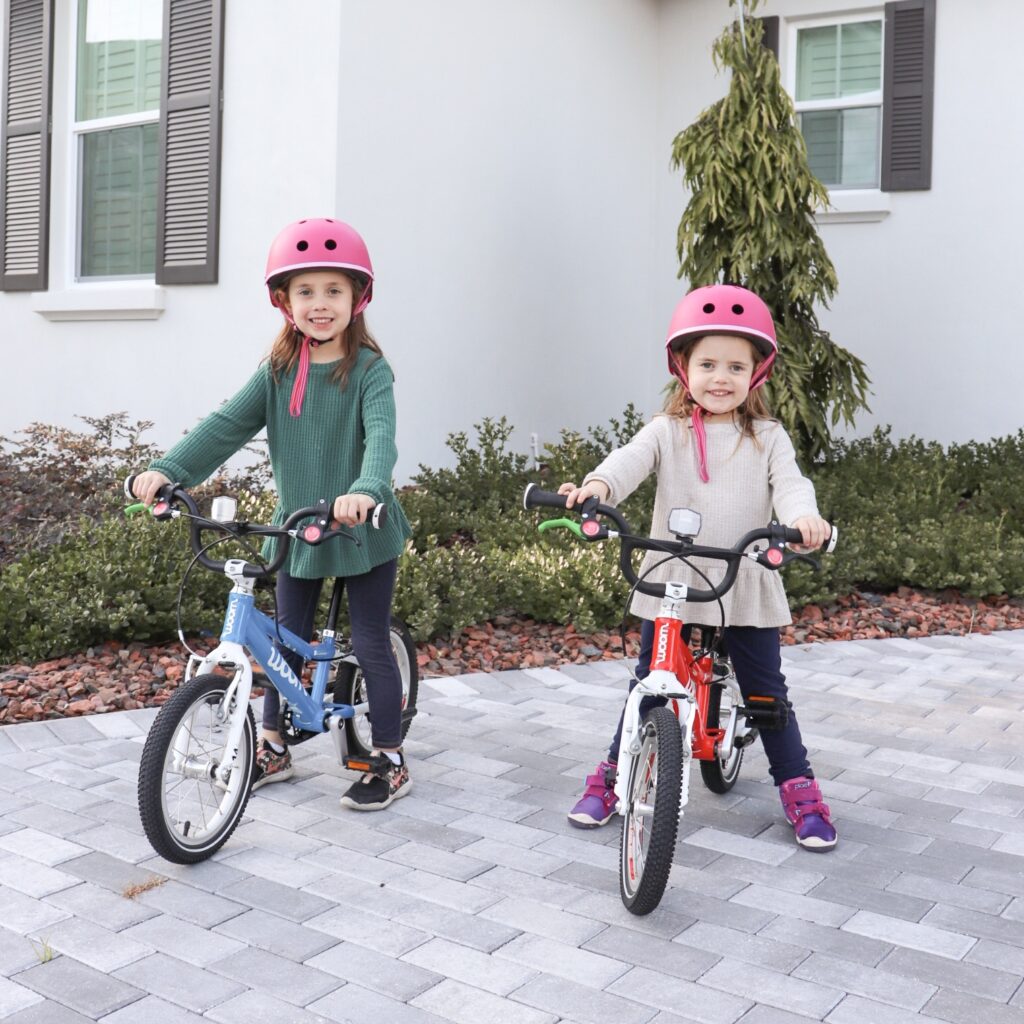 Learning to ride a bike starts long before your child ever sits on a bike with pedals.
How to Teach a Child to Ride a Bike
1. Push Bike For Toddlers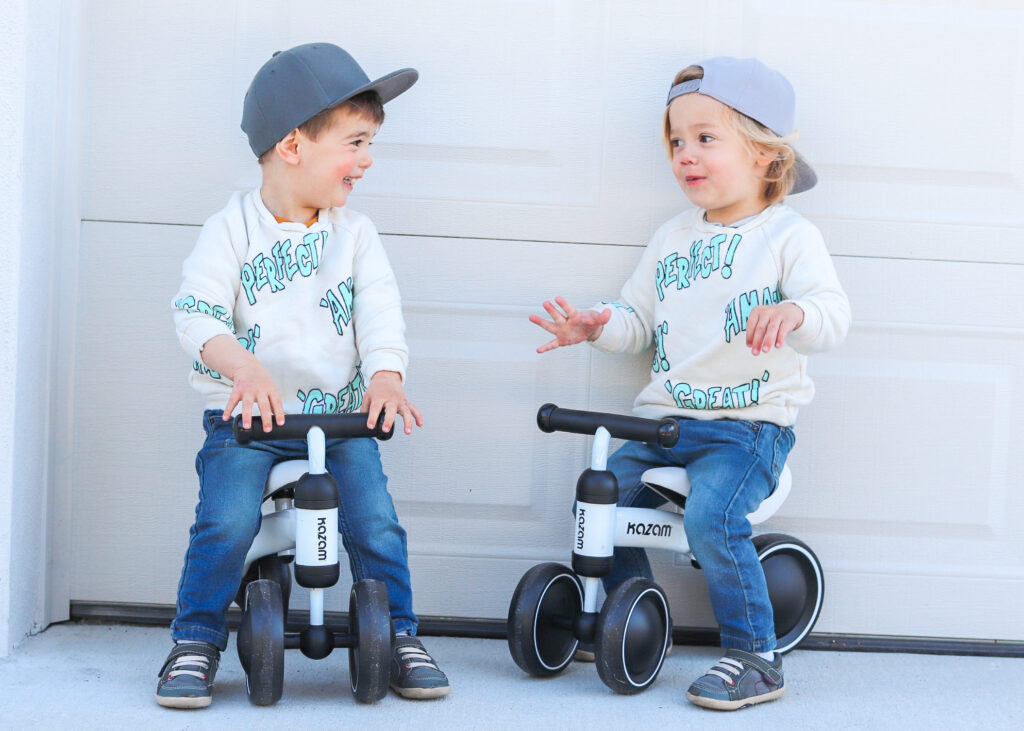 Learning to ride a bike is a skill that children really can be prepared for long before they ever sit on a bike with pedals.
Gone are the days of training wheels and kids are learning to ride bikes younger than ever! Usually experts start children off right on balance bikes. They suggest ditching the training wheels and teaching children to balance from the start. BUT FOR ME, they're missing another important step that is never discussed as it pertains to teaching a child to ride a bike. BEFORE they even sit on a balance bike, your child has to get comfortable with the idea of it. The key aspect to a balance bike is learning to use their legs to push them in a forward motion. Even if all they are doing is getting used to simply walking with the bike under them. In fact, there are a whole bunch of fine motor skills to be taught with the use of a push bike first.
Here are a few things a toddler can learn on a push bike that will help them eventually transfer those skills to a balance bike:
Forward Motion: The idea that they can use their legs to push their bodies and the bike forward and that with each push they can gain speed. This teaches them one skill at a time. Then when they do sit on their first balance bike all they will need to learn is how to balance. 
Strength: All that pushing strengthens children's leg muscles. This will follow over to the strength needed to push a larger balance bike. 
Coordination: This is huge for little children. I am all about teaching my kids coordination. It's not something kids are necessarily born with, it can be learned. Promoting ways to enhance coordination at an early age can be beneficial in many ways as your child grows. With that said, coordination is huge for when it comes to riding a balance bike and then eventually a pedal bike.
Having these basic skills already in their mental rolodex will give them a great head start! 
So, WHEN should your child get on a push bike?
I would say get them started at about 1 years old. They can start just pushing the little bikes around before they feel comfortable sitting on them. Plus, you just never know, they might take right to it like my boys did! 
A few push bikes to consider:
Y-Bike PEWI:

This is the most versatile as it can be used as a walker and a push bike all in one. You could purchase this for a child as young as 9 months and get solid use out of it up until age 3. My older girls still love zooming around the house on it! The only con I have is that you don't get that straight forward motion to it as the next option.

Kazam Mini: These are my personal favorites! We got them for the twins when they turned 1 year old and they are great first mini bikes/ride ons. They resemble the same structure of a balance bike/pedal bike but with 3 wheels. It is a great starter bike for babies. 
2. Teach A Child To Pedal
This really can be done on it's own but it is helpful to learn to pedal somewhere between learning a push bike and getting on a pedal bike. It is not totally necessary but does help. Children can learn to pedal many ways like these fun Step2 Zip N' Zoom pedal cars. This is an example of a fun toy that naturally teaches pedaling to a child. Pedaling isn't the most important step stone to bike riding, balance is and that leads me to the next topic! 
3. Best Balance Bike For Kids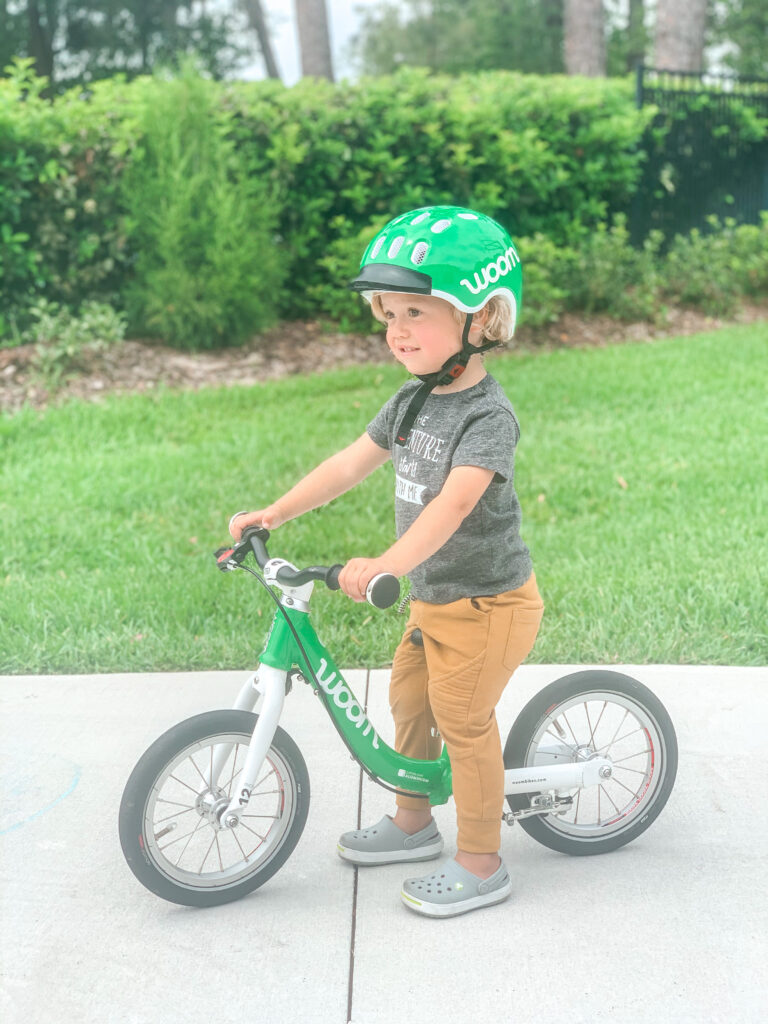 If you're working with an older child (2+) and are thinking you're beyond the push bike than you can start here! Our success with balance bikes definitely equated to the use of a push bike as mentioned above but that of course may not be true for every child. One thing I have learned as a mom of 4 is that they truly are ALL different and unique in their own styles of learning.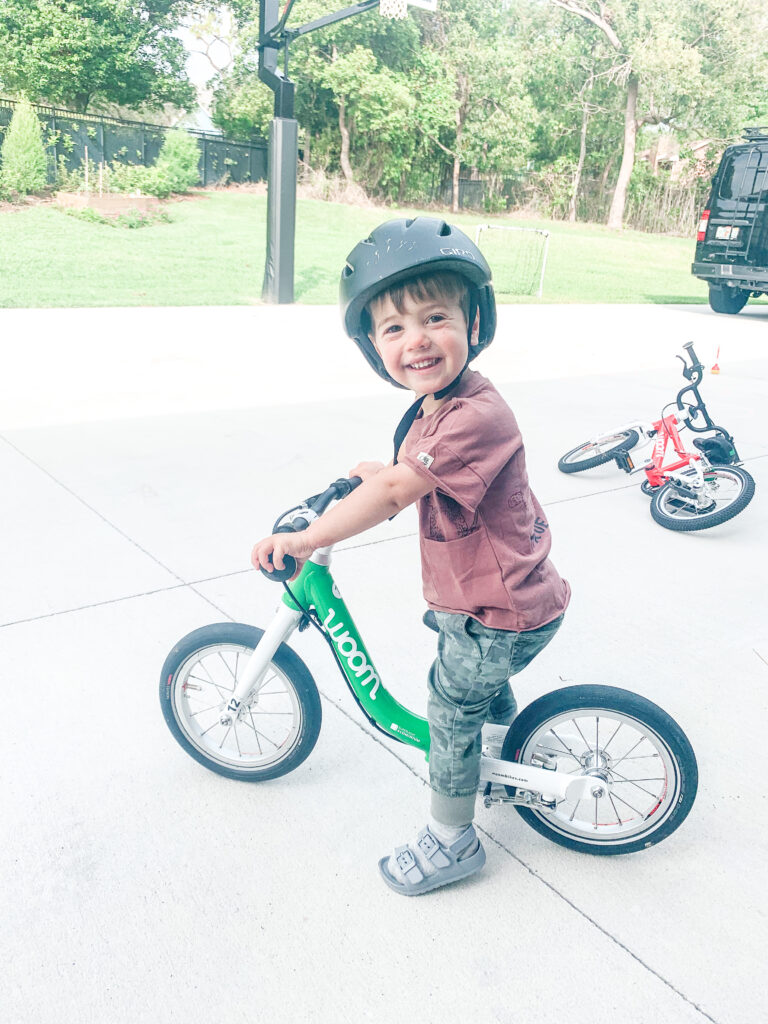 One constant tip I can attest to is the design and weight of your balance bike choice is very important. I started working with an amazing brand called Woom a few years ago and I have been singing their praises ever since! Their balance bikes are lightweight and easy to navigate for small children. They also have breaks which is so important for little riders to start getting comfortable with before they start using pedals!
Why Woom 1 is the best balance bike for kids:
Lightweight: Small children are going to take to a light bike much quicker than a chunky/heavy one. Finding something that is easy to manage is very important. 
Foot Rest: You can buy a surfboard footrest separately to use with the Woom 1 or it is already included on the Woom Plus. But having somewhere for a child to aim for to rest their feet is a GREAT segway into pedaling. 
Low Step Through Entry: Your child has to be able to pick up the bike and step through it on their own. This design on the Woom1 allows even the smallest riders to get on comfortably and independently. 
Break System: Most balance bikes don't have this built in and it is another super important concept that a child can learn well before they ever sit on a pedal bike. Once they learn to break and balance they will be golden on a pedal bike! 
Gone are the days of training wheels and the use of them is totally outdated thanks to the rise in balance bike popularity! I can safely say it has worked wonders with my children! 
Shop the Woom 1 balance bike HERE
 and 
The Woom PLUS balance bike HERE
4. A Lightweight & Size Appropriate Pedal Bike Is A Must To Teach A Child To Ride A Bike: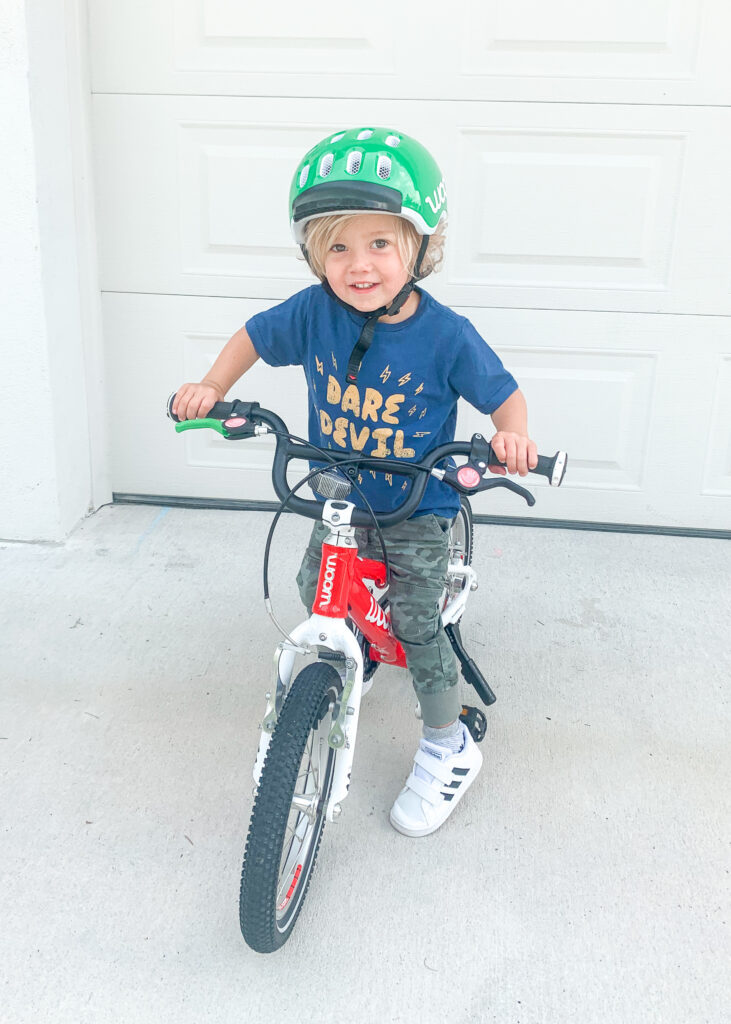 Find The Right Size Bike
The number one reason I see children having issues riding a bike without training wheels is that the size of the bike is not appropriate for them. Just as training wheels are a thing of the past so are all these outdated bike size charts on the web (in my opinion!) I think parents get caught up in wanting a bike that will last a long time and that usually doesn't work well with children first learning to ride. The child has to feel in control to feel comfortable and I always suggest starting them on smaller sized bikes.
Lightweight Pedal Bike
The bike should also be lightweight to accomplish that same comfortable feel as mentioned above. Woom bikes once again take the cake in both areas. My girls (and now one of my 2 year old twins) all started on their Woom2 bike which is a 14'' super lightweight in design pedal bicycle (the bike only weighs 11.24lbs total!). It doesn't get better than these bikes when it comes to learning to ride. We have had 12'' bikes that weigh well over 18lbs so when it comes to lightweight Woom has done an outstanding job at designing their bikes.
My first daughter took a solid day playing around with hers the day after her 5th birthday before she took off on it. My second daughter, at age 4 taught herself to ride on it! We were unpacking boxes into our new house when I turned around to her riding up to me on the bike!
Both times the child WANTED to learn and they had the right tool in hand to give them the best shot at it. This is what is most important!
So in short the best way to teach a child to ride a bike is to give them the right tools to be successful. Those tools include:
Lightweight frame 
Size matters! If in doubt choose the smaller option. 
SKIP the training wheels: Pedaling is  the least helpful aspect of learning to ride a bike. Knowing how to balance and navigate while balancing is much more helpful. The pedaling can be learned pretty quickly and the concept is easier the older they get.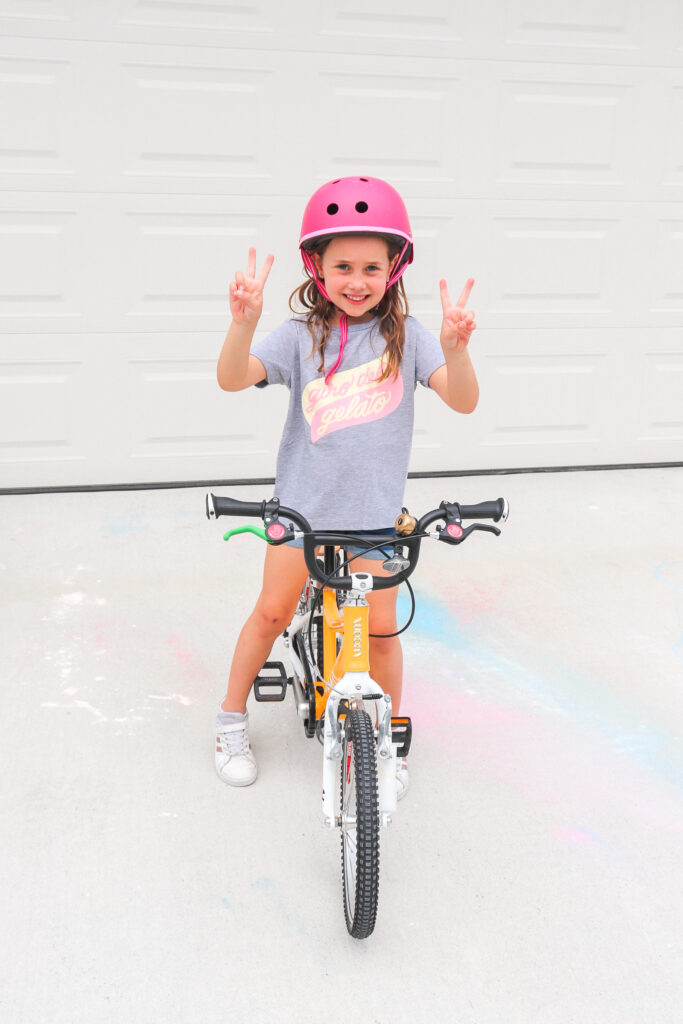 I hope this combination of steps leads you in the right direction to teach your child to ride a bike! 
Happy Riding, Friends! 
Tag me on social media under the hashtag #ohhappyriding while you're following any of the steps you learned above! Enjoy!
For more like this, check out these posts:
FREE Printable Worksheet Activity For Common And Proper Noun Lesson
Elementary Aged Home Schooling Must Haves For Kindergarten & First Grade
---
Make sure you follow along on social media for more!