Elementary Aged Home Schooling Must Haves for Kindergarten & First Grade
---
Looking to homeschool wondering what gear you need? Here are a few elementary aged homeschooling must haves for kids!
***This post was originally written geared toward distance learning but has since been updated for homeschooling must haves!***
Ready or not, here comes the 2020 school year and distance learning is what many families are choosing. Whether you're choosing distance learning or forced to do it by your state below are some super important points to cover for your younger learners, those in kindergarten and first grade. Consider this your distance learning Kindergarten & First Grade Must Haves (or really considerations to make the experience most beneficial for your child!) 
Elementary Aged Homeschooling Must Haves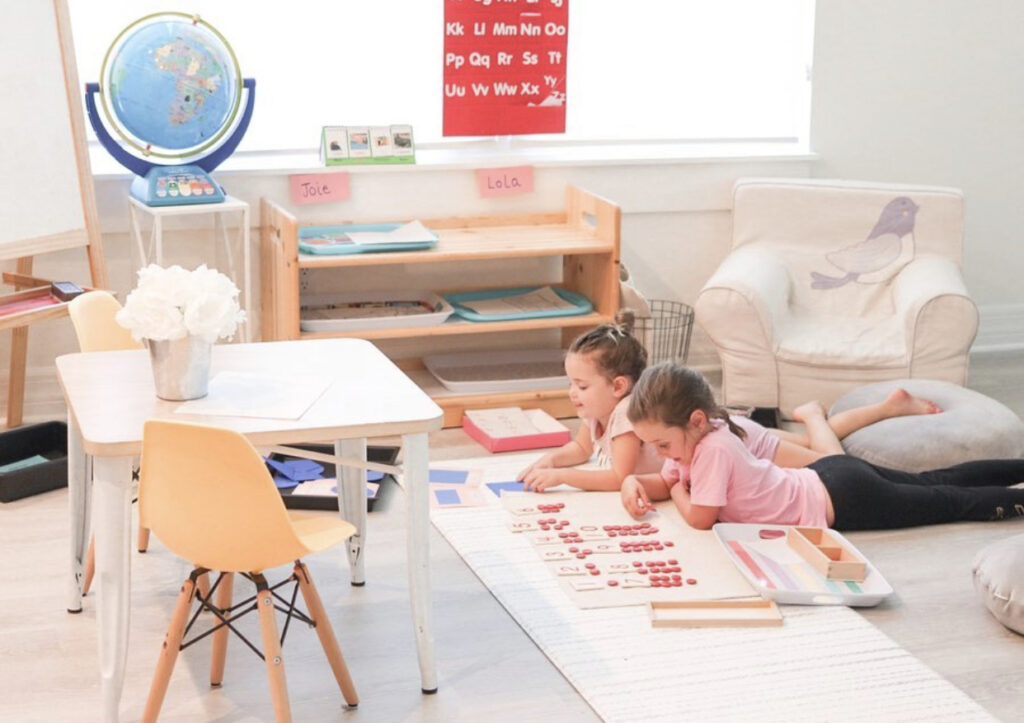 Children aged 5-7 absorb info around them pretty naturally but how that information is presented is key. I don't think many families would choose this path we are down but 'tis' be life!' and here we are! I wanted to share some items we used the end of last year as well as some items I considered for my girls for this year when/if virtual learning is needed. I have a kindergartener and a first grader as well so the items below are ones we use ourselves! 
Homeschooling Must Haves for Elementary School
Below we are going to dive into what you need for homeschooling elementary aged children including what you need for…
math
literature
science
effective learning resources
classroom set up essentials/guide
1. Manipulatives For Young Learners / Hands On Learning in Elementary School
While I am sure teachers are working tirelessly to make this year successful for their students I do think there are some things you can have on hand to help your child along in the different areas of learning this year. Manipulatives for young learners are so important. If they can hold it, feel it and manipulate it they are much more likely to absorb the information given. These are few items we have used and I think they will likely go along with many of the lessons your child will be receiving this year via distance learning. 
Math: 

Counting Bears With Cups

(these can be used for counters as well as color sorting!) 

100 Board:

Writing out the 100 board is great but if they can get hands on and see the numbers they will process it and much more likely to absorb the information. Plus it's like a game! 

Literature: 
Science: 

Weather & Telling Time In One!

They can follow along on their zoom call with their own board so this way they are less likely to zone out and retain the info given during weather and time telling!

A Lesson By The Parent: A quick lesson even once a month by a parent or guardian can go a long way too! We LOVE our

Head-to-Toe Human Body Science Lab by Hand 2 Mind 

and the girls enjoyed it too!
2. Blue Light Glasses for Homeschooling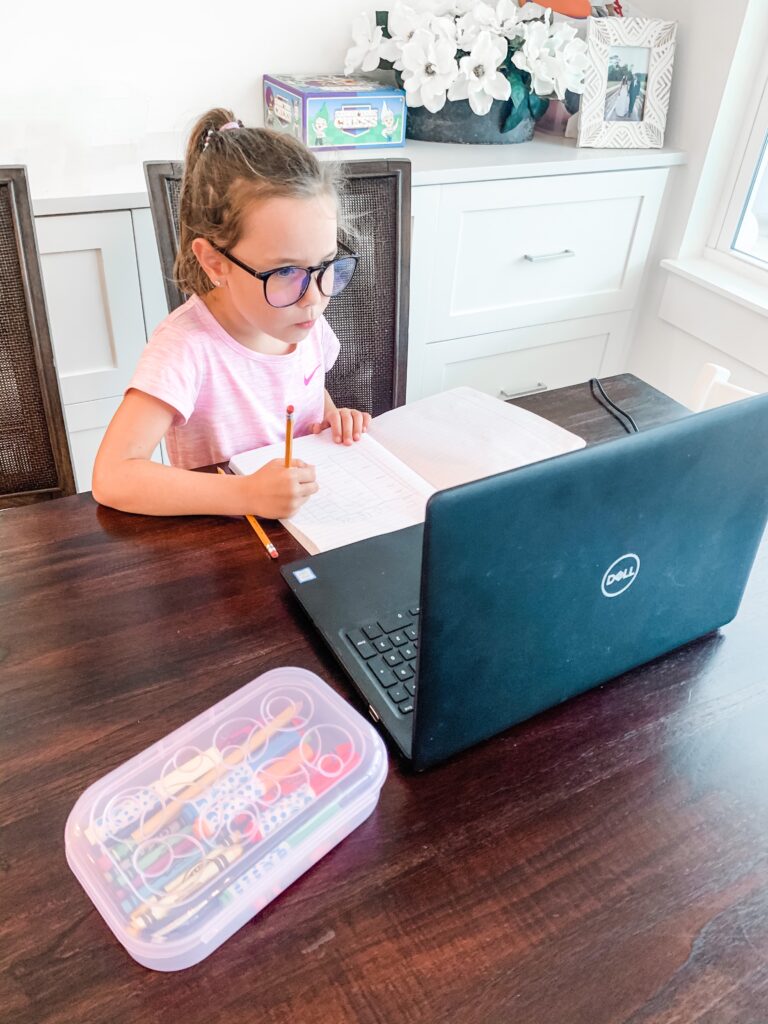 Let's face it, distance learning means screen time so these will help the effects of staring at a screen for your child. Staring for long periods at a screen can result in what is called 'Digital Eye Strain' in children and adults. While Blue Light Blocking glasses don't block ALL blue light they can help protect your child from 80% of exposure, researchers say! I have heard that they help children to focus better when encaging in screen time for long periods. We have purchased the below Blue Light Blocking Eye Glasses for the girls and we love them!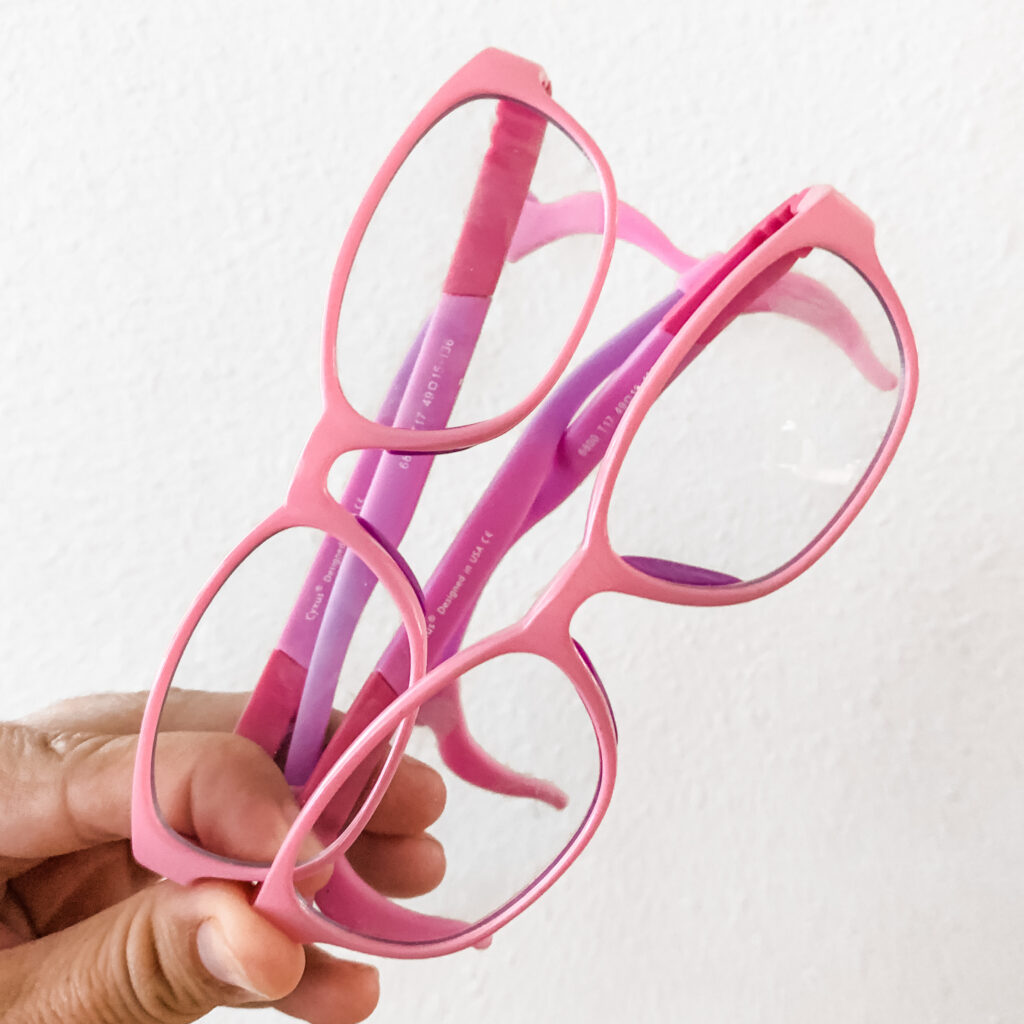 3. Seat Support for Elementary Aged Homeschooling
So this is tricky for me personally because I am a huge supporter of getting kids up and moving often. I don't ever recommend young children sitting for too long (even in school settings.) A huge thing we love about Montessori is just that, children are free to roam about and very rarely are sitting at a desk. 
Homeschooling Home Classroom Inspiration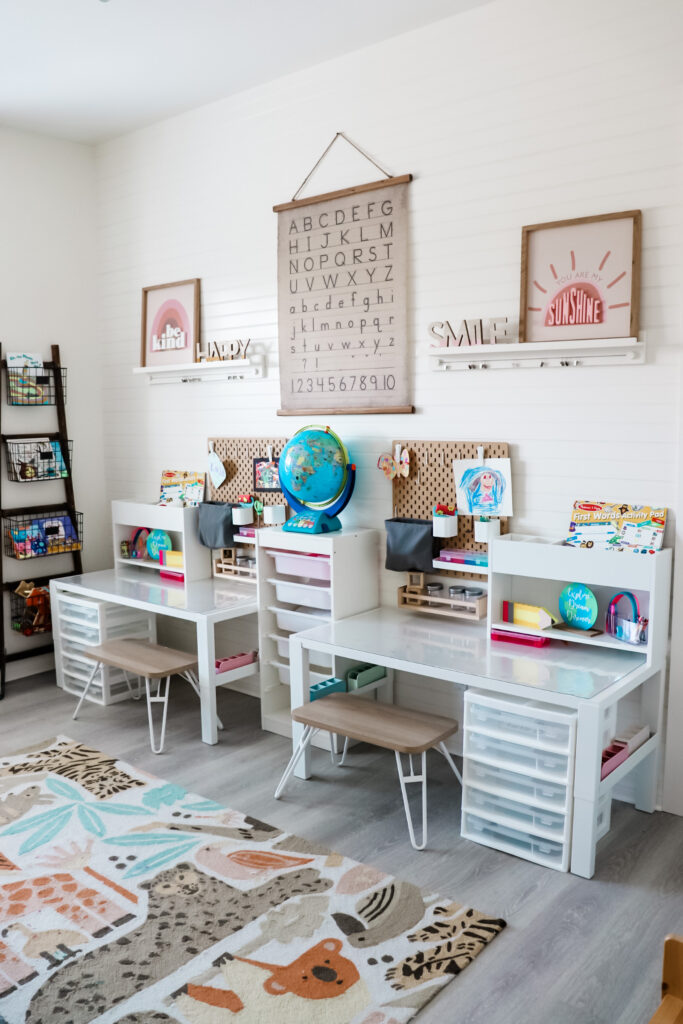 One big thing noticed when I shared our home craft room / distance learning space was the benches at the girls' desks. "Are those comfortable for the kids?" I got asked a lot! The thing is, while they have desks to organize their stuff, they rarely are sitting there for too long. They are up and down and all around that room. They do crafts standing and sitting or even on the floor at times. THIS is what it is all about!  
The biggest take away should just be to encourage movement, even while on a zoom call. Switch it up if possible too! 
Seats for Homeschooling Elementary Aged Kids
I hope you loved this list of elementary aged homeschooling must haves for kids and hope it helps your littles have a successful school year!
For more like this post, check out these ones:
Functional Homeschool Desk Ideas For Elementary School
Number Bonds Game / Printable Worksheet For Teachers And Homeschool
Make sure you follow along on social media for more!