FREE Printable Worksheet Activity For Common And Proper Noun Lesson / Montessori At Home
| This post contains affiliate links |
Learning the different parts of speech is an important part of all grammar lessons and this worksheet for common and proper noun lesson should help!
Through our Montessori experience I have found that the more hands on approach is a much more favorable of an approach for young kids! Below is a FREE printable common and proper noun lesson worksheet to teach your child what Common and Proper nouns are. I am pulling this idea from our Montessori at home lesson plan and it really gives children a more hands on approach.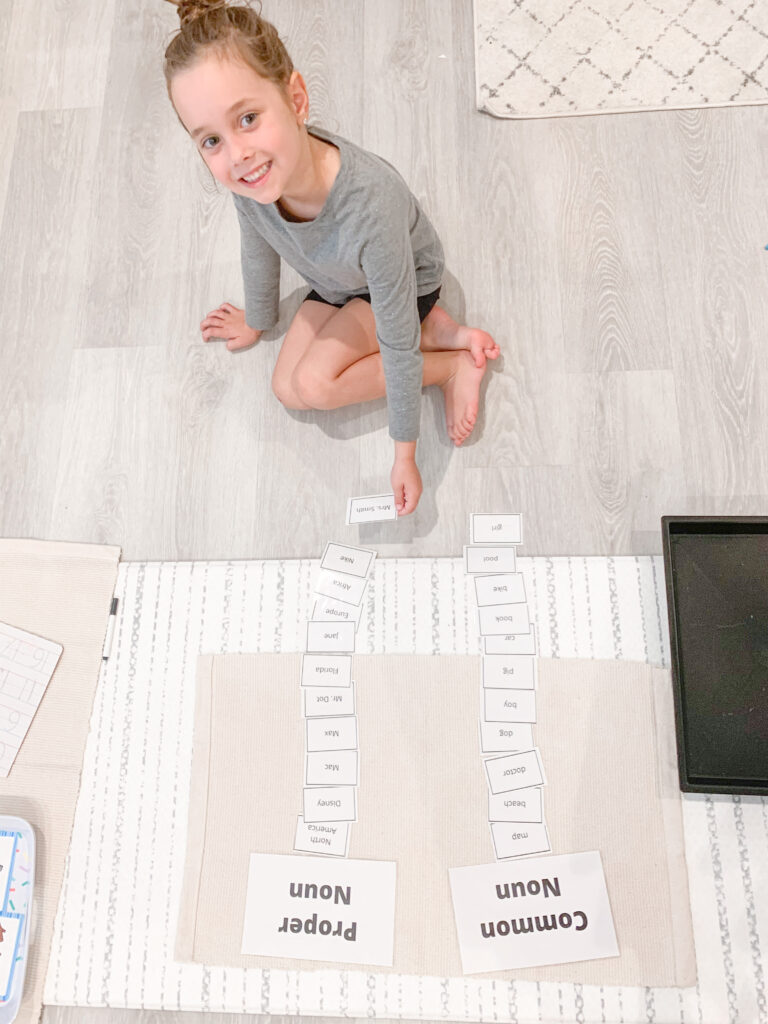 You can view my FREE Noun Sight Word here. This is another fun Montessori at home lesson for your child. 
Common And Proper Noun Lesson 
Playing this game for learning common and proper nouns is very effective in teaching your kids their nouns in a fun and interactive way! Get down on the ground together and follow the upcoming directions for this common and proper noun lesson.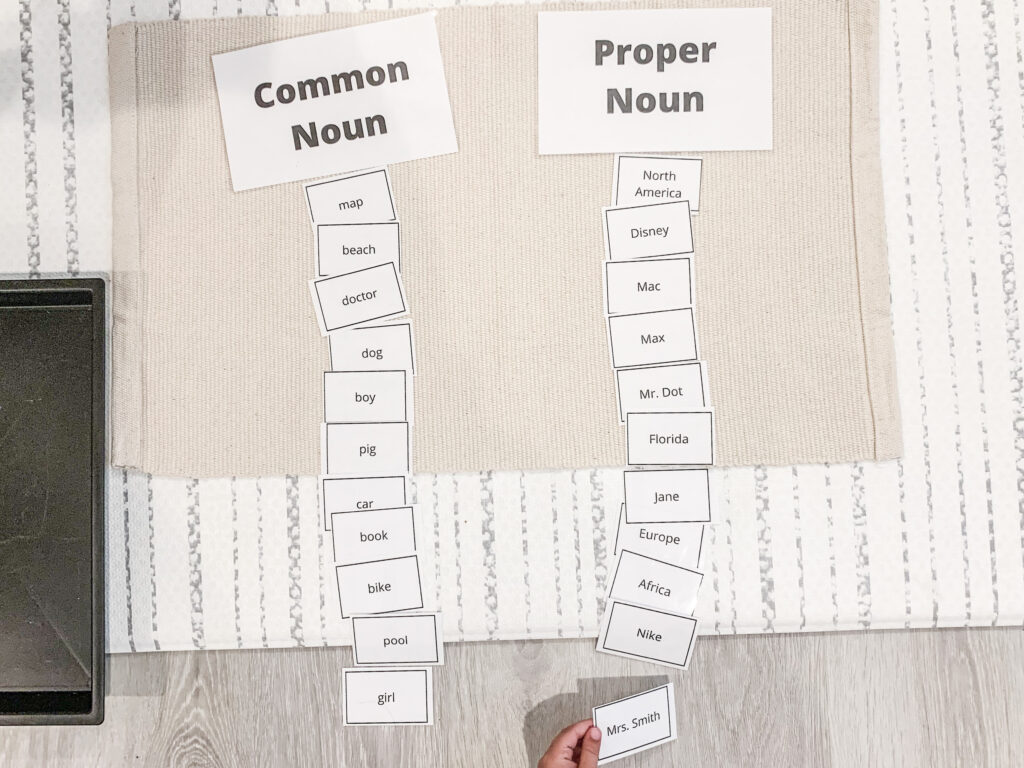 Once your child has got down the basic of nouns you can move on to what makes them a  Common and Proper noun. The best way to do this is to first show your child a fun video OR just simply explain to them the difference in a simple way for early learners. Here is a good example of what common and proper nouns are:
Common Noun: A common noun is the general name for a person, place, thing, idea or animal. Example:

dog, cat, teacher

Proper Noun: A Proper Noun is still a person, place, thing, idea or animal but it is that common noun's specific name. A proper noun is always capitalized.  Example:

Rover (the dog's name), Mittens (the cat's name) or Ms. Apple (the teacher's name) // I always use girl or boy then my child's specific name as an easy example for them to understand. 
FREE Printable Common and Proper Noun Lesson Worksheet Activity /
Montessori At Home
 
Directions For Fun Game With Common And Proper Nouns:
You can use this just by cutting out the rectangles as pictured or you can laminate them for longer use if you'd like. You can also grab paper and make your own! The words on the cards attached are designed to be easy to read words for kindergarteners or first graders but you can add more complex words as you please. You can also use a little white board with children as they get older to write down and place it under the correct column. OR hand them a stack of index cards to make their own! SO many fun ways to play! 
For more montessori learning ideas, check out these posts:
FREE Noun Sight Word Worksheet / Montessori At Home
How To Create A Colorful Montessori Inspired Play Space
3 Montessori At Home Activities For Toddlers
I hope this brings some fun to your home learning! Enjoy! 
Make sure you follow along on social media for more!