Finding the perfect sleep routine for your toddler is a whole lot easier with a solid sleep chart for toddlers!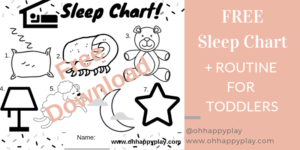 |This post contains affiliate links |
---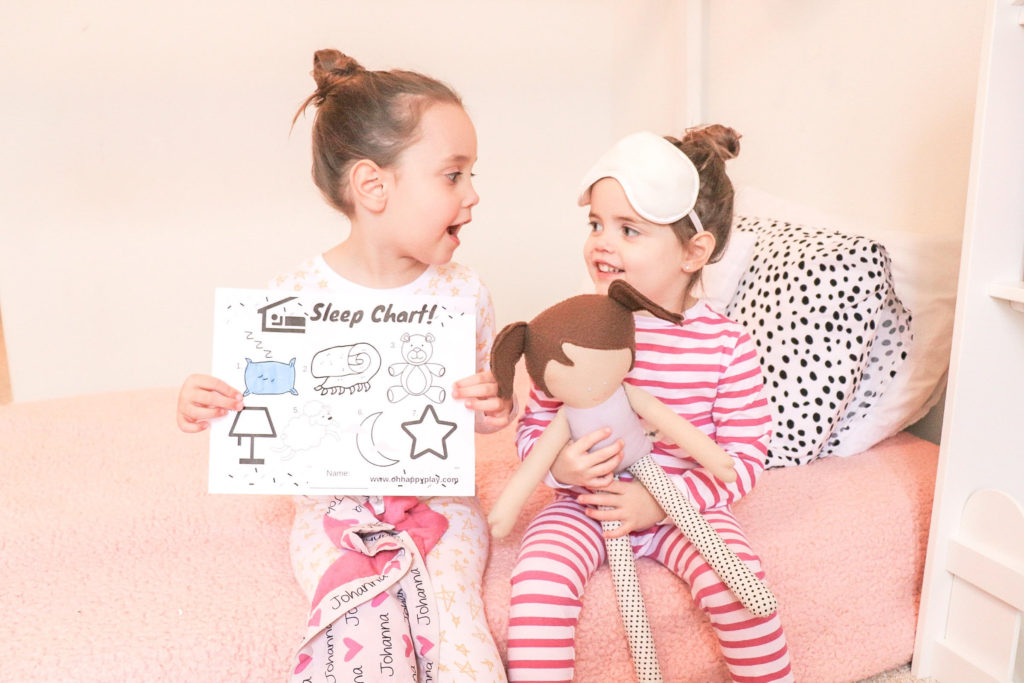 Gone are the days of keeping your little ones contained in the four walls of a baby crib (or baby jail as I like to call it). So now we can't full have control over when our girls rise and shine and come in to our room in the mornings but I have found a few ways to encourage them to stay in bed longer (including a sleep chart for toddlers) so I wanted to share them with you all!
Sleep Routine for Toddlers
Routine is still a huge part of our life (even more so since welcoming the twins to our family) so keeping it consistent for the girls helps our days and night run more smoothly together.
Bedtime for us starts at 7:00pm. To some, 
a

7:00pm
 bedtime may seem absurd, but it is so important that children are getting the recommended hours of sleep for their specific ages for many reasons. Mainly, for their growth and development, but also for their attitude and health in general.
This is a personal belief, but I feel like when children are having a hard time focusing, or sleeping or anything along those lines, that we should take a look at their daily schedules.
Focusing on routine and adequate bedtimes could probably solve most behavioral problems we see in kids these days. I'm not an expert, but there are so many articles out there that can outline clinical research and specifics on the basis of my statement above. Instead, I figured I would spare you all that and give you our  3 easy "rules" for bedtime in our household and what works for us!
Tips for a Smooth Bedtime Routine for Toddlers
Routine and Consistency
Ok, so this isn't exactly a bedtime rule, but everything we do during the day leads up to their bedtime and staying consistent is KEY.
Starting from the time we get up in the morning, we are on a schedule/routine with everything we do. This varies mildly from day to day depending on what we have going on, but for the most part, there are some certain inevitable constants that my girls (and boys) can always expect to happen. And because of this there are very little surprises thrown their way, so they are always (for the most part) willing to go along with it. We rarely have tantrums when it comes to nap time or meal time etc. because the girls know exactly what to expect.
An early bedtime
As stated before, if you have a child waking early, waking often, hard to get to bed, not able to keep focused, my biggest piece of advice I can offer is to get on a routine AND get those kids to bed at an early time. The boys (1yr) are in bed by 7pm and the girls (4&3yo) are in bed by 7:30pm.
Set specific time aside to wind down
Young or old, our bodies aren't designed to just be wide awake one minute then fall asleep the next just because its "bedtime." We need to ease our way into it and if you want your little ones to doze off to sleep without a fight the best thing you can do is help them wind down before laying them in bed for the night. After dinner, there should be a designated time for this. Dim the lights, get cozy and most importantly, I highly suggest skipping the screen time. The National Sleep Foundation strongly urges against any electronics in children's bedrooms and not using electronics before bed. They say that children who do so have a harder time inciting sleep and I quote: "have later weekday bedtimes, experience fewer hours of sleep per week and report more daytime sleepiness." Basically, the bright screens and motion are very stimulating for our brains and it has an adverse effect when trying to get your little ones to sleep at night.
Our Sleep Routine for Toddlers
Once you have those basics ironed out it is time to implement the routine! Ours consists of this:
6:30pm: Get the babies ready for bed and pajamas on (on the nights we do baths we do the boys first and let the girls play in the playroom)
6:50pm: We feed the twins' their bottles and during this time the girls go and get their pajamas on.
7:00pm: The twins lay down for bed (and go right to sleep on their own!) then we brush/floss with the girls.
7:15pm: We start story time. The girls and I have started reading a chapter book series we just got introduces to together called "The Princess In Black" which is super cute but before that one of our favorite things to read was my own book I made just for the girls (and available on Amazon) called "Princess Jo And Her Super Cape."  Whatever your routine is, a story is always a great way to end the night!
7:30pm: Lights out and the grown-ups head out of the room for the night.
Now the whole staying in bed part! We have found a few ways to keep the girls active in staying in bed and they are as follows:
Sleep Chart for Toddlers
A sleep chart has been so crucial to helping the girls stay motivated to stay in their bed. I searched everywhere for one that would hold their interest and when I fell short I took matters into my own hands and created this one below that I made available for FREE just for you! The sleep charts I found required stickers or were even a little too much for my toddler girls to comprehend and take anything away from so what is good about mine is that it is a perfect sleep chart for toddlers and their pre-school age level.
Tips for the Sleep Chart
The goal is seven nights. After the seven nights, routine seems to set in and you can always print another chart if you'd like to keep it going!
No stickers needed – instead they get to color the image next to the number night they're on. This gets them excited to be able to color the next image the next morning! 

Ok To Wake Clock: We recently started using this LittleHippo Mella Ready to Rise Children's Sleep Trainer and it has worked great! It is multi-functional too and offers a sound machine and night light option on top of the ok to wake feature! 
I hope these tips and the sleep chart for toddlers help you with all your sleep woes! Please let me know if this works for your kiddos below! Enjoy! If you loved this post, I think you'd like these too:
Twin Bedtime Routine: Get Your Babies To Sleep With Ease
A Day In The Life With Our Twins + Twin Sleep Schedule
3 Baby Sleep Hacks To Make Nighttime Easier 
Follow more of our journey: