DIY Bibbidi Bobbidi Boutique / Princess Makeover 
|This post contains affiliate links|
---
When the world is spinning crazy outside the walls of our home I wanted to create some happy moments inside of it and a DIY bibbidi bobbidi boutique makeover sounded perfect! Disney lovers everywhere are missing the most magical place on earth, Disney, and have gotten very creative to find the magic at home! We are missing it too so I decided to recreate some happy moments that we have experienced there. Below is our DIY Bibbidi Bobbidi Boutique princess makeover day!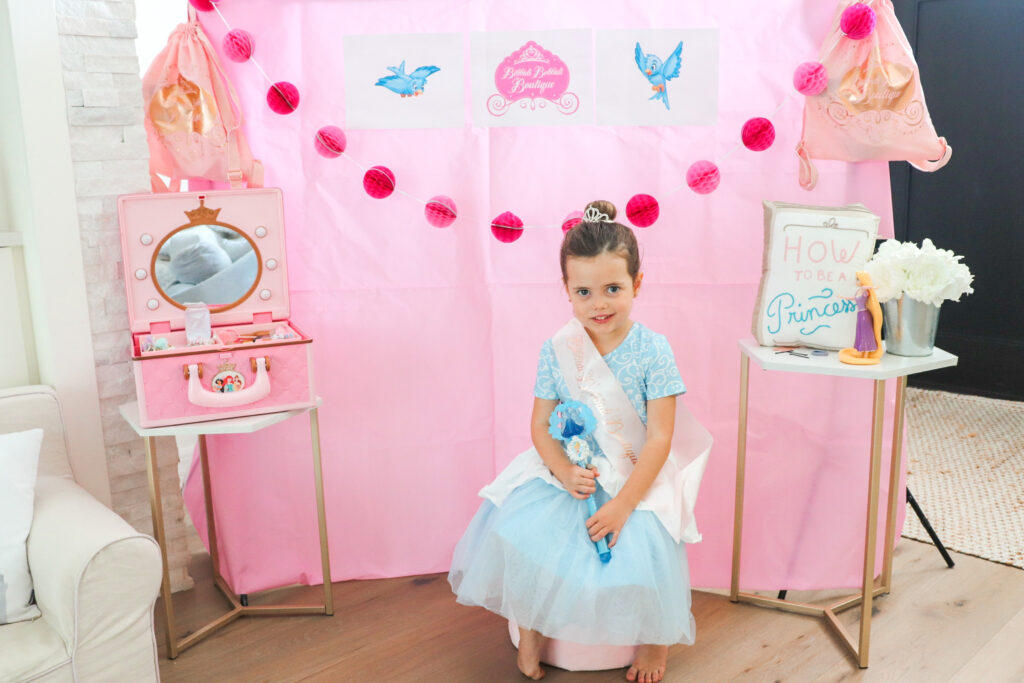 DIY at Home Disney Day
This is a new trend while everyone has been stuck at home for quarantine but I think it might be one that lasts a while after! What better way to get a taste of Disney magic when you are in between vacations than to celebrate it inside your own home! There have been some great rendetions on Instagram and I knew I wanted to do this for my girls too who are certainly missing our Disney days!
You can follow the hashtag #DisneyAtHome on Instagram to see what others have done! 
DIY Bibbidi Bobbidi Boutique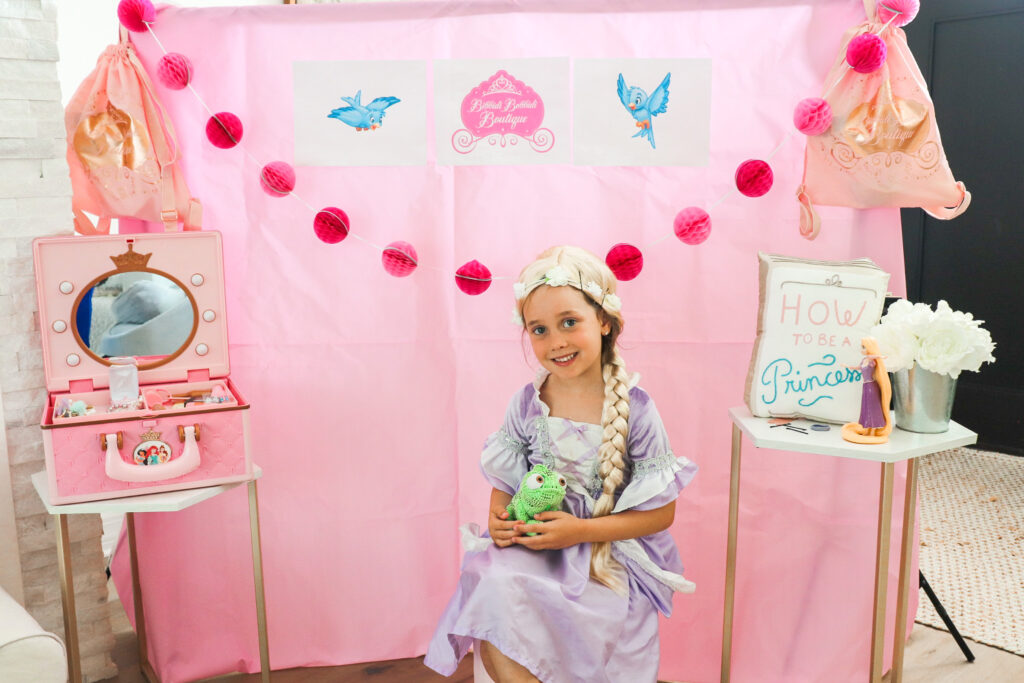 There are a few major parts of the full experience of going to the Bibbidi Bobbidi Boutique and I tried to cover each one for the girls. Our Bibbidi Bobbidi Boutique experience while we were on board the Disney Dream Cruise Ship for Disney's Creator Days! 
Read my Disney Cruise With Toddlers Tips & Tricks HERE. 
Setting Up the DIY Bibbidi Bobbidi Boutique:
I made this backdrop by simply using a plastic table cover I had on hand from previous parties and I  printed off some signs to use from google images. I gathered up all our princess decorations from the girls old Fairytale Inspired Shared Bedroom and brought it down to create this space! Their updated Shared Whimsical Bedroom is still fairytale themed so we have gathered even more items along the way but it is a little bit more of a bigger girl room.
Itinerary For The Bibbidi Bobbidi Boutique: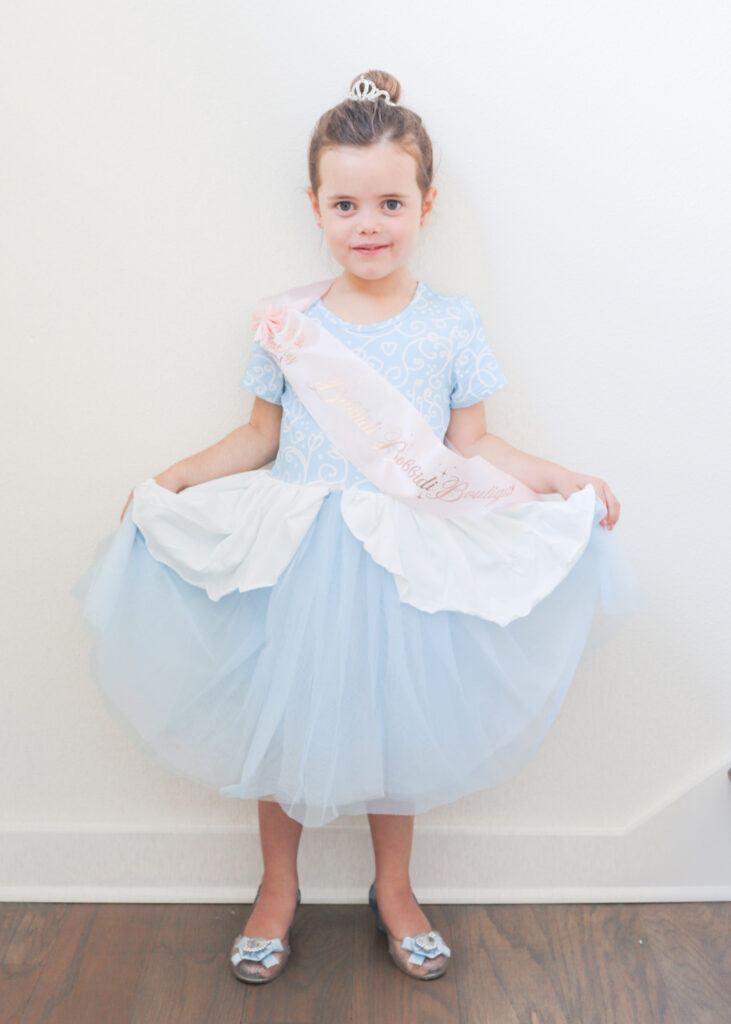 I had a little makeup palette and hair accessories left over from our trip to the real Bibbidi Bobbidi Boutique so I used those! If you haven't been or don't have any left over I found these cute alternatives:
Princess Birthday Party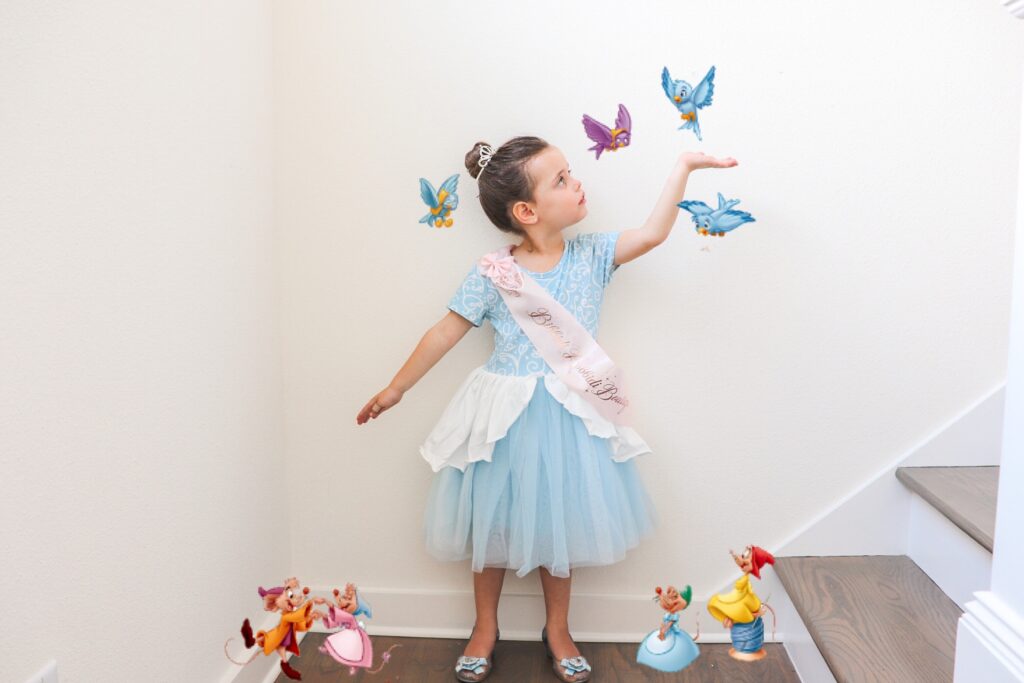 Using this theme you could throw a really fun At Home Bibbidi Bobbidi Boutique or Princess Birthday Party theme! You could have a few of your child's favorite friends over and use the items above to make a super fun Princess Birthday party! Birthday parties are big around our house! Here a few previous ones I have enjoyed putting together: 
We love all things Princesses and all things parties so these two combined make for a really fun time for us! I also wrote a children's book called 'Princess Jo And Her Super Cape' which is available on Amazon!
You can shop it here! Thank you for your support if so!
See the video of our whole
Bibbidi Bobbidi
Boutique 
At Home Day Below:
You can also see our real trip to the Bibbidi Bobbidi
Boutique in this next video! Enjoy!
Make sure you follow along on social media for more!