Is your child obsessed with magical fairytales? This fairytale inspired shared bedroom might just become the bedroom of their dreams with it's whimsical design and beautiful color scheme!
| This is a sponsored post. All insights are 100% my own. This post contains affiliate links. |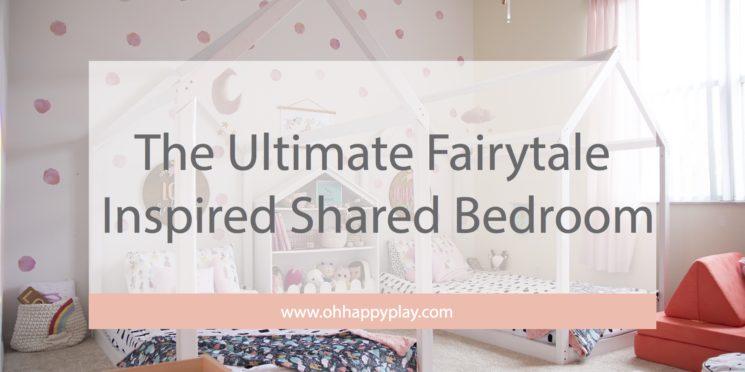 ---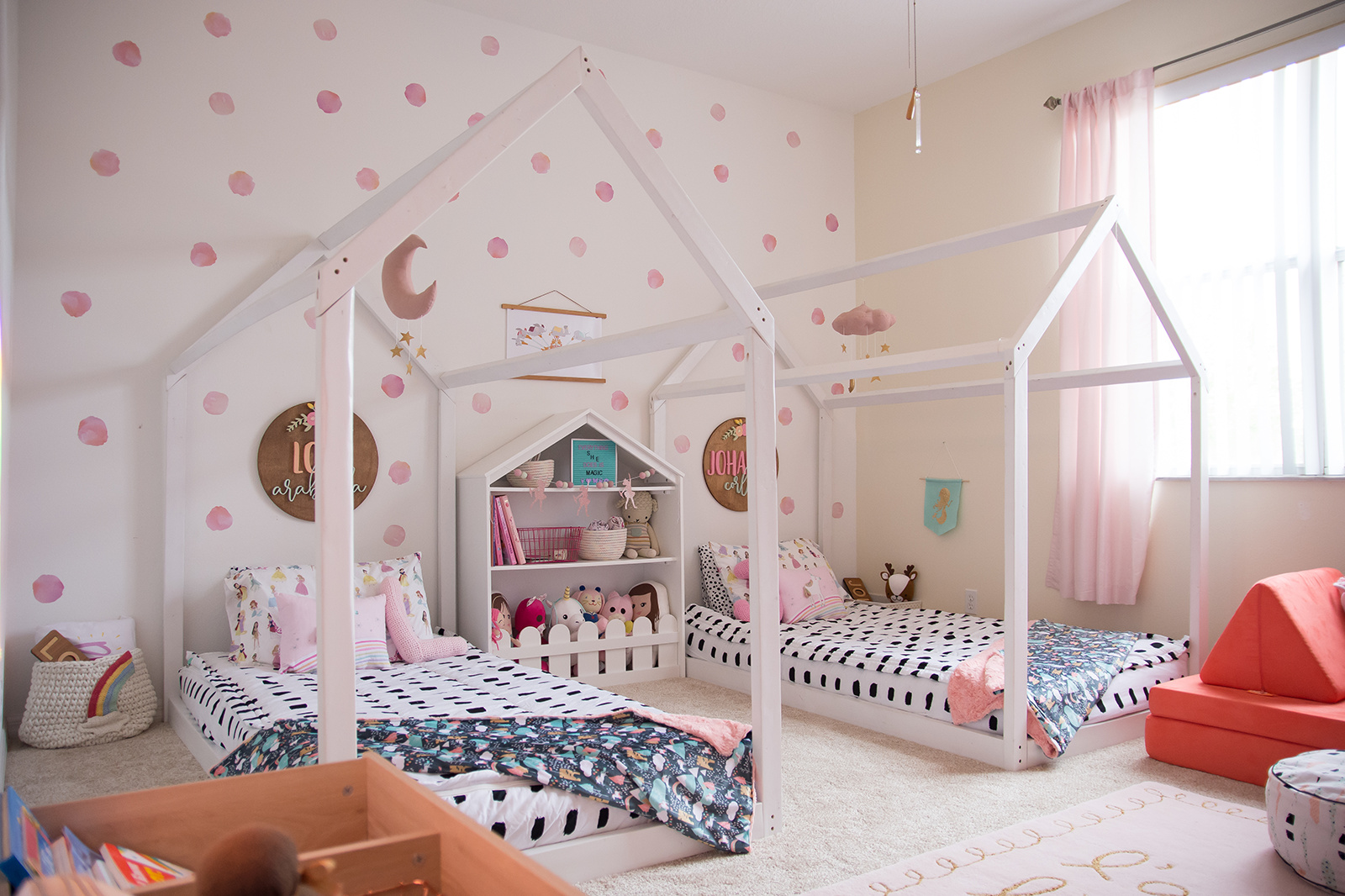 The Story Behind Our Girls Sharing a Bedroom
I never meant for our girls to share a room. In fact when we designed our future new home we designed the three bedrooms upstairs specifically for the girls to have their own space. We had two larger rooms for the girls then a third smaller bedroom with an ensuite designed for either our third baby or if our third was another girl we thought our oldest could have the room with her own bathroom in it. Well all that planning and perfecting changed with one little ultrasound (more on that here).
Little did we know that third baby of ours would soon be TWO babies. When I found out we were expecting twins all our plans for the kids' rooms in our new house went out the window because putting the twins in the smallest room up there didn't seem to make sense. That is where we started toying with the idea of bunking the girls together and the boys together in the two larger rooms then having the third room be an extra space for the kids.  We decided to take that idea for a test run with the fairytale inspired shared bedroom in our rental while we wait for our home to be completed. I am happy to share the girls' fairytale inspired shared bedroom with you all now!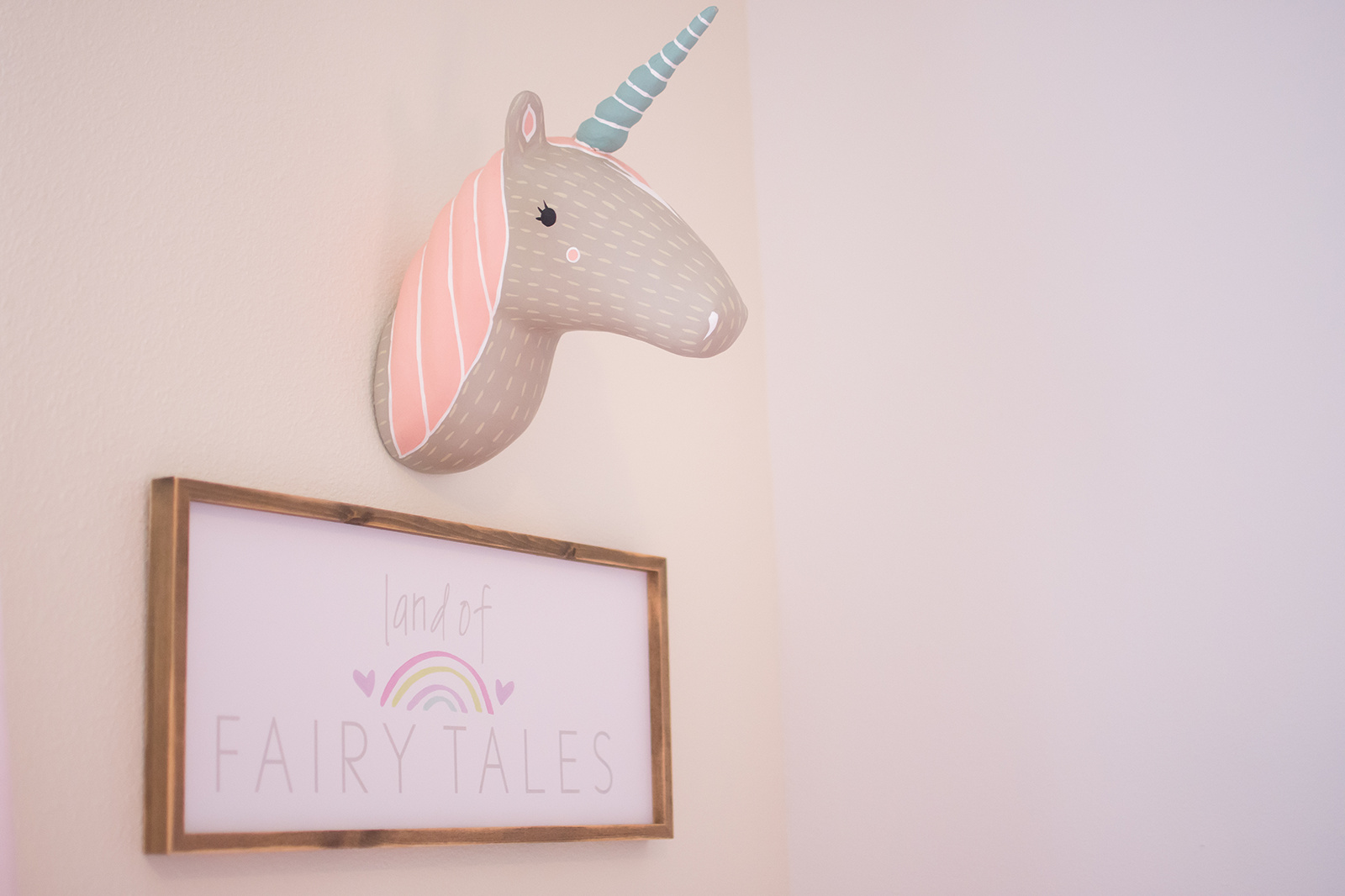 All About Our Fairytale Inspired Shared Bedroom:
The girls are very into princesses and whimsical creatures so the theme was easy: Fairytale Inspired! I wanted a loose theme so that we didn't get hyper focused on one thing but were able to incorporate a lot of their favorite things! I think we did just that!
The Fairytale Inspired Shared Bedroom Design: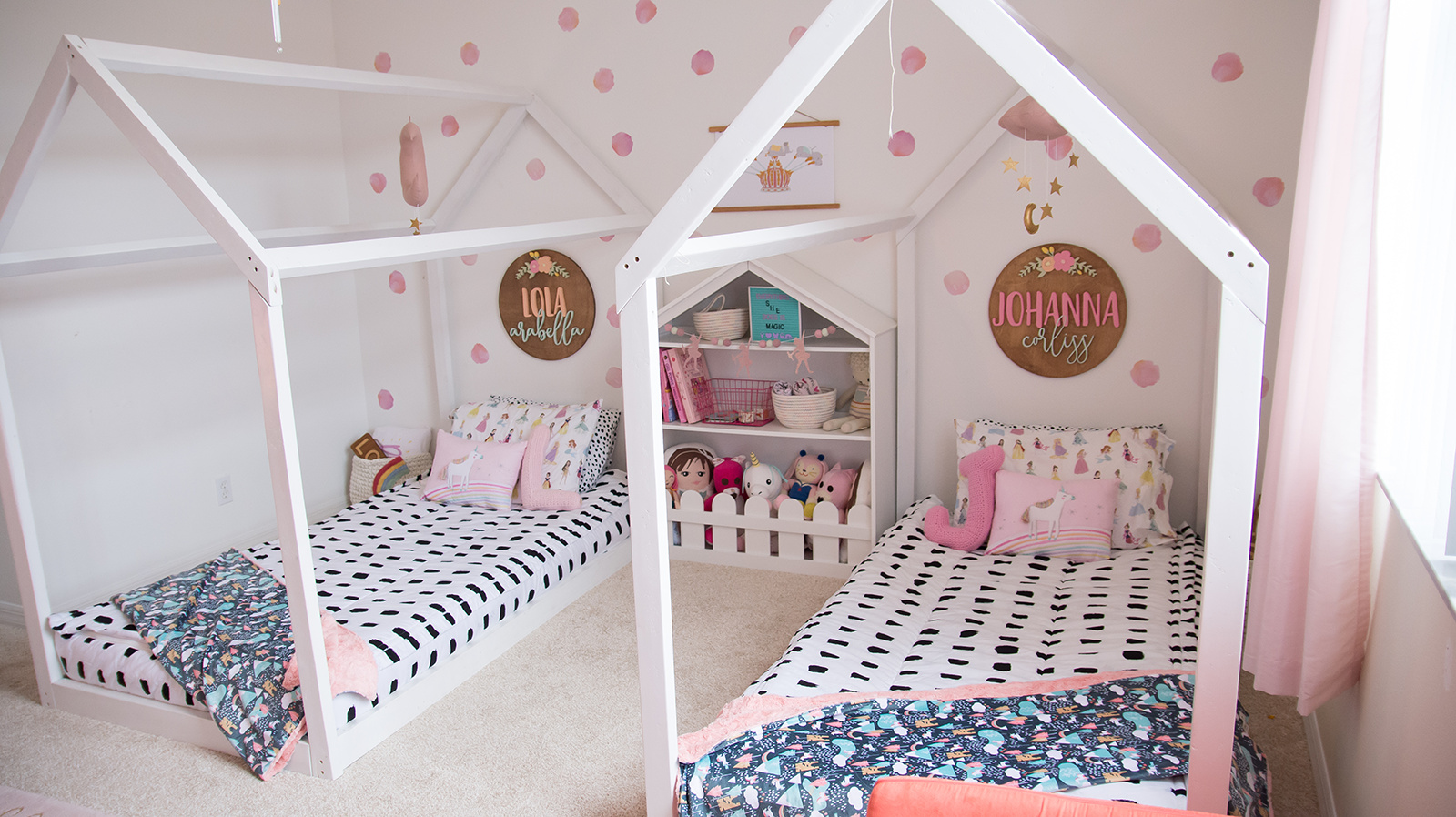 Their beds play a major role in their fairytale inspired bedroom. They may share a room but their fairytale inspired house frame beds are their own safe haven among the space. I wanted to make each bed its own little dream escape personalized just for them.
House Frame Floor Beds – FREE DIY for these found HERE. More info on why we chose floor beds for our girls found HERE.
Zippered Bedspreads – These amazing bedspreads by Beddy's Beds give them independence to truly care for their space and keep it clean by offering them the ability to swiftly and easily make their own beds! Being able to do this independently puts a little fun into a normally mundane chore for the girls. They love to set their beds up by making it up with their favorite dolls and getting it all set for the next sleep each morning.

NON-STICK Wall Decals – Since we are currently in a rental (not so patiently) awaiting for our home to be completed we went into this fairytale inspired design knowing this space would be temporary. I didn't want to go through the effort of getting approval and painting their walls for such a short period of time BUT I did want to make the space pop still. That is where I came to find Urban Wall Decals! They are essential large NON STICK decals for any wall in your house that don't damage the wall at all. We dressed up their wall with these watercolor polka dot wall decals and it totally transformed the space. One sheet covered this whole wall and I really think they make this whole space super magical. They were SUPER easy to put up and it took me maybe 20 minutes total. I can't recommend these decals enough! You can shop them HERE.
Nook Mattresses- Pebble Twin Mattress – The mattresses are SO soft and SO comfortable! This is a hypoallergenic and organic mattress fit for your kids or guests of all ages!
Baby Jives – Moon & Cloud Mobile for the perfect whimsical touch!
Happy Home Storage Bookcase – I wanted to give some separation to their beds but I wanted something functional for them as well. I found this bookcase at Buy Buy Baby and it was the perfect fit. It offers a place for their books and a few toys for them to have while they wind down in the evening. The little fenced in area at the bottom is a perfect place for them to put their stuffed animals (that they like to sleep with) in the morning as an easy way to keep them close but also keep their room clean. This piece is just as functional as it is adorable!
Decorated the fairytale inspired shared bedroom bookshelf with some of our favorites including this adorable pom pom banner by Glam Banners.
Dumbo's Flight Artwork from Little Moon Dance – I wanted to make the theme of their room broad enough so I could include ALL of their favorite fairytale inspired things even if it wasn't a typical thing, like the Dumbo ride at Disney! That ride may be their favorite thing in the whole world and having a reminder of it right over their beds makes them so happy.
Wardrobe Station: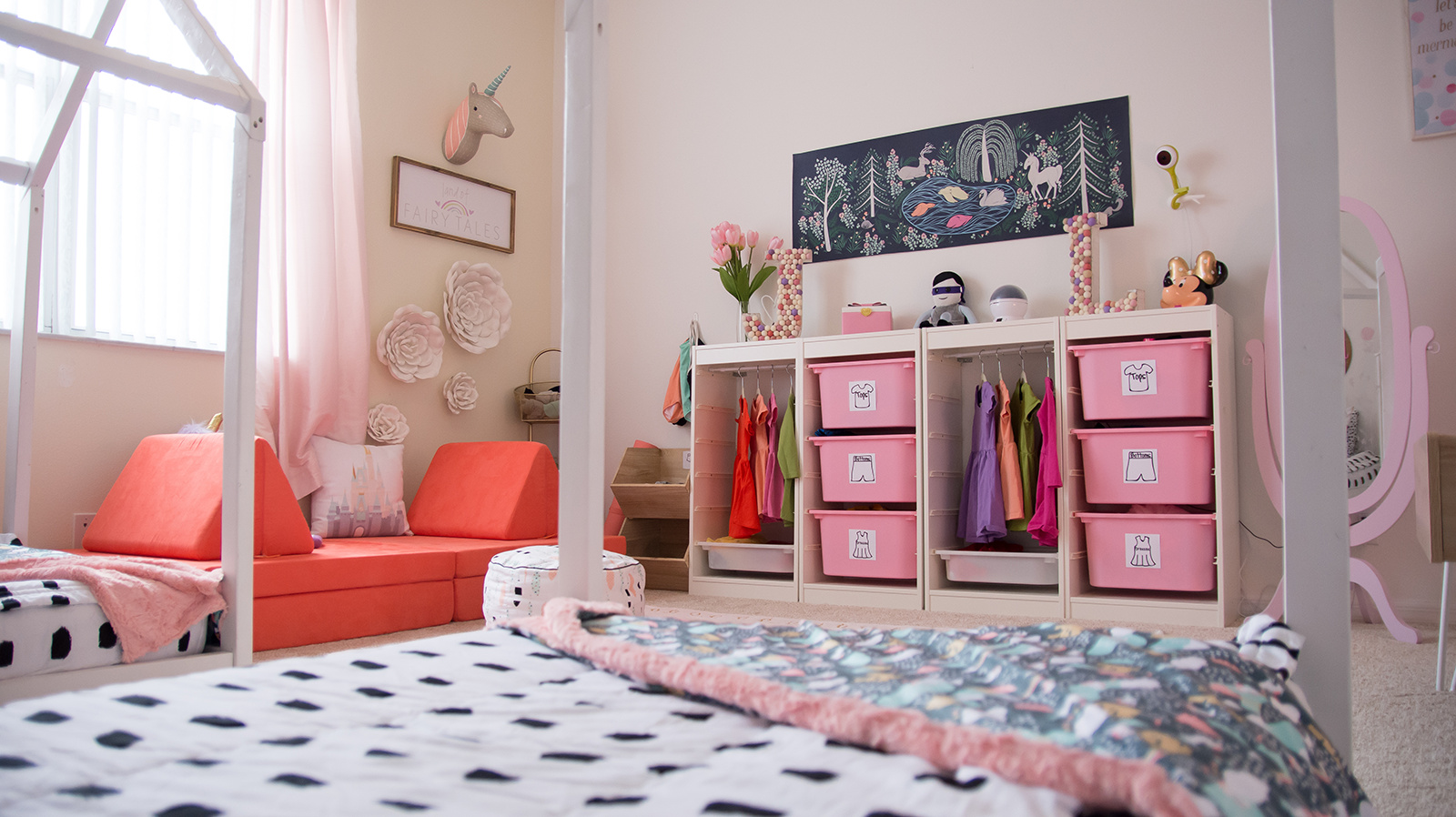 The other side of the girls' room features their wardrobe station where they can independently navigate their own clothes in the mornings. I am huge into creating spaces that are "Montessori approved" and this DIY Wardrobe station offers just that. You can read all about that HERE and download the FREE printables to create your own! I have since moved the station a bit to accommodate their new space but the function is just as much there.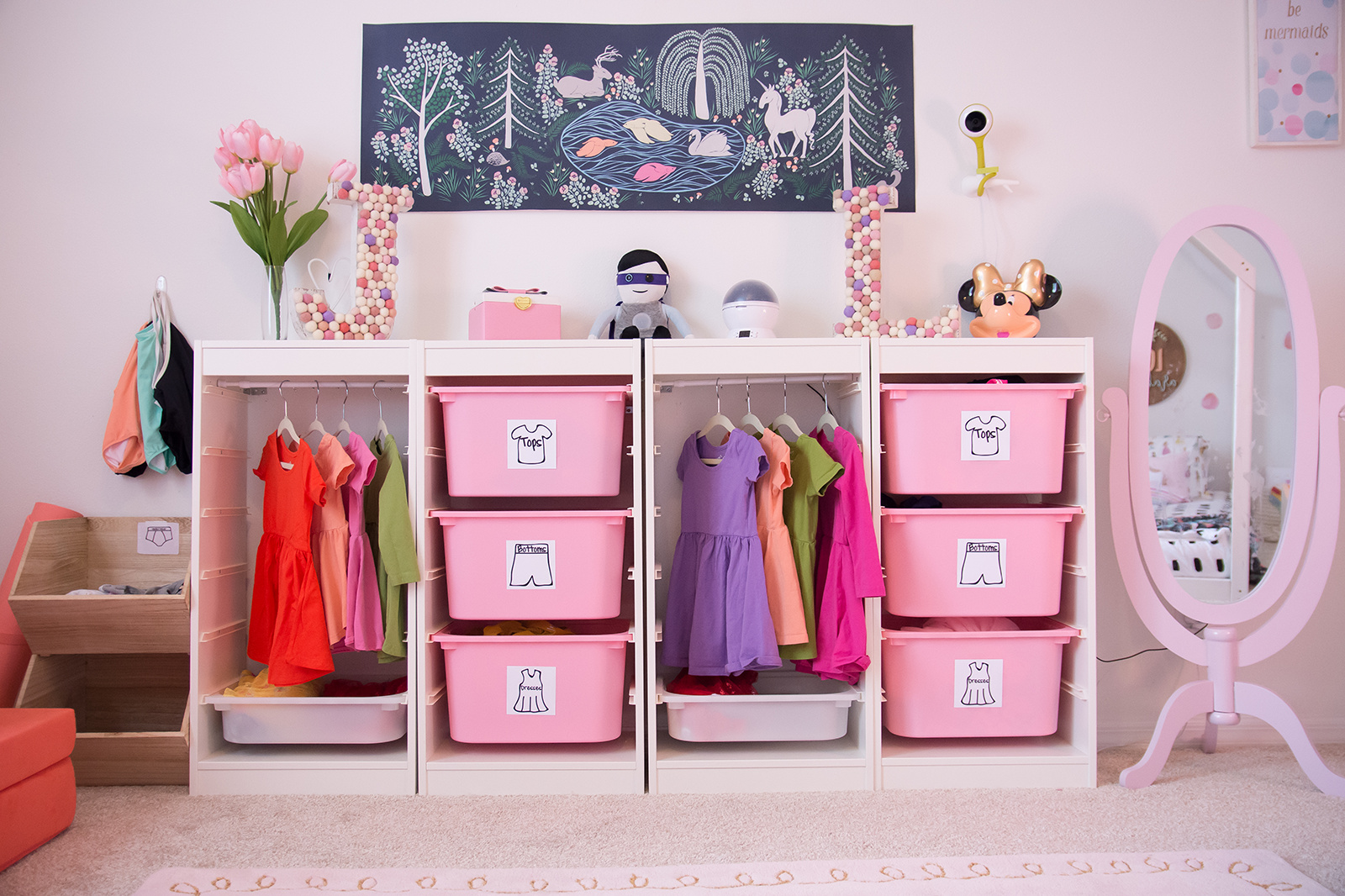 Pom Pom Letters – These beautiful pieces are by Little Sparrow Co and not only do they add the perfect mix of color but they also help the girls remember whose side is whose when they go to pick out their clothes. I love when design also becomes functional and these Pom Pom letter pieces are the perfect touch. Customize yours HERE.
Capsule Wardrobe – what makes this space the most functional is the use of a "capsule like wardrobe" for the girls. This means that they can mix and match their own pieces and essentially can't go wrong. I turn to June & January for my girls' capsule wardrobe. They have dresses, knit tights, socks, twirl skirts and more. They offer it all!
The Fairytale Inspired Shared Bedroom Chill Zone: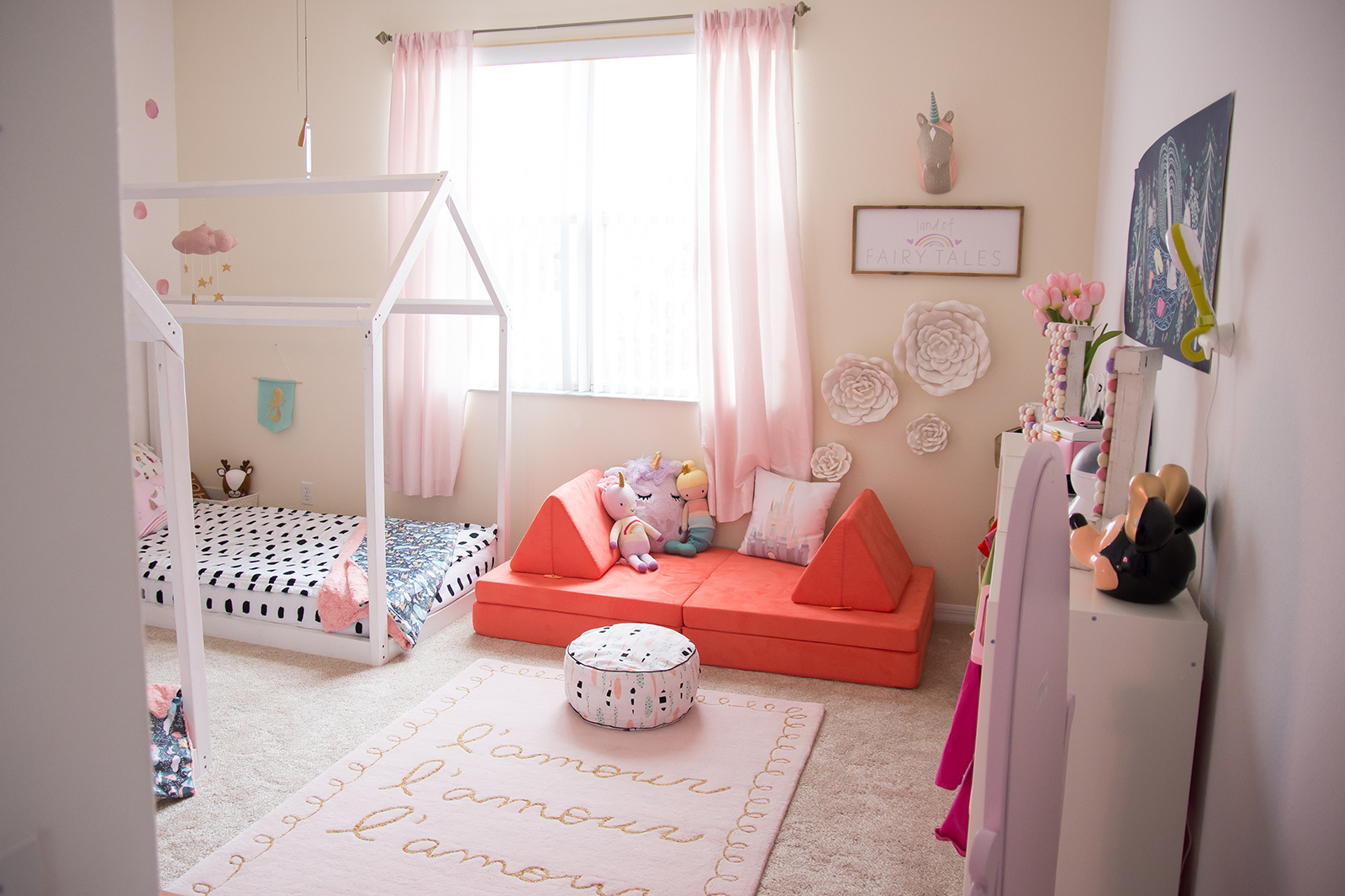 The chill zone may be my favorite part! We are very strict when it comes to bedtime and then again in the morning when the girls are allowed to leave their room. We use the Sleeper Hero (read more on that HERE) to help dictate that for the girls (in their room when Sleeper Hero is red and allowed out when he turns green) but what makes this even more successful is the fact that they have an inviting space to hang when they're not in bed! Ever since the girls started sharing a room they have been getting up earlier than the rest of the house and in order to combat that (because you know sleep is a hot commodity for parents) I created a space for them to stay occupied in their room until it's time for everyone to wake up in the morning. You can read our entire day schedule with four kids under five HERE.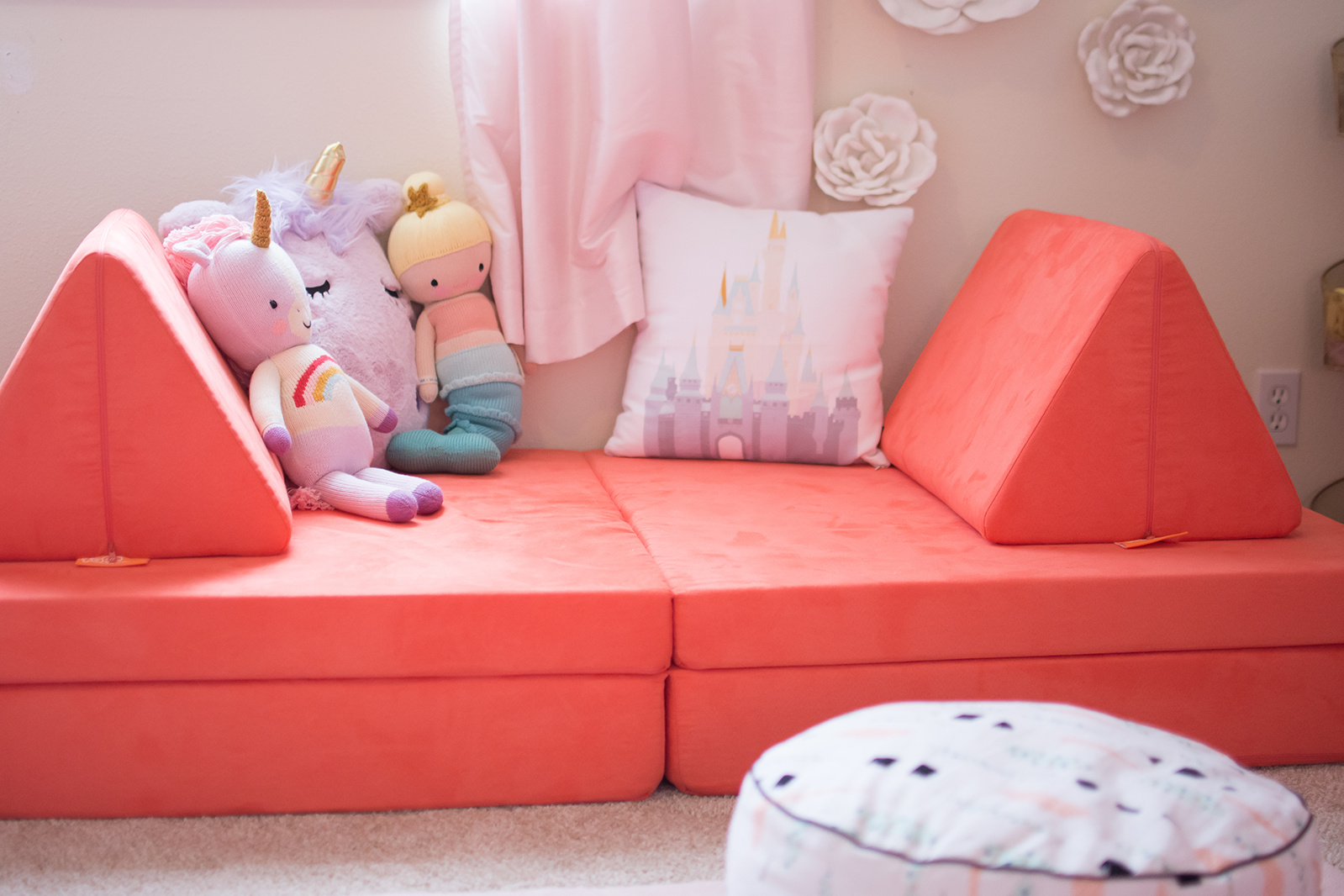 The chill zone consists of this amazing Nugget Comfort foam couch which is probably their favorite part of the space. It's so much more than a couch and the girls can be found either reading on it, playing with puzzles or completely turning it upside down and inside out to make castles and forts with it. And the BEST part is: that is exactly what it is there for!! A couch they are ALLOWED to have as much creative fun with as they want! The colors are the perfect pop for the space and is probably the best investment you can make for your kids room, play space or even your own living room. You can shop all the colors HERE. We went with Starfish and I couldn't be more in love!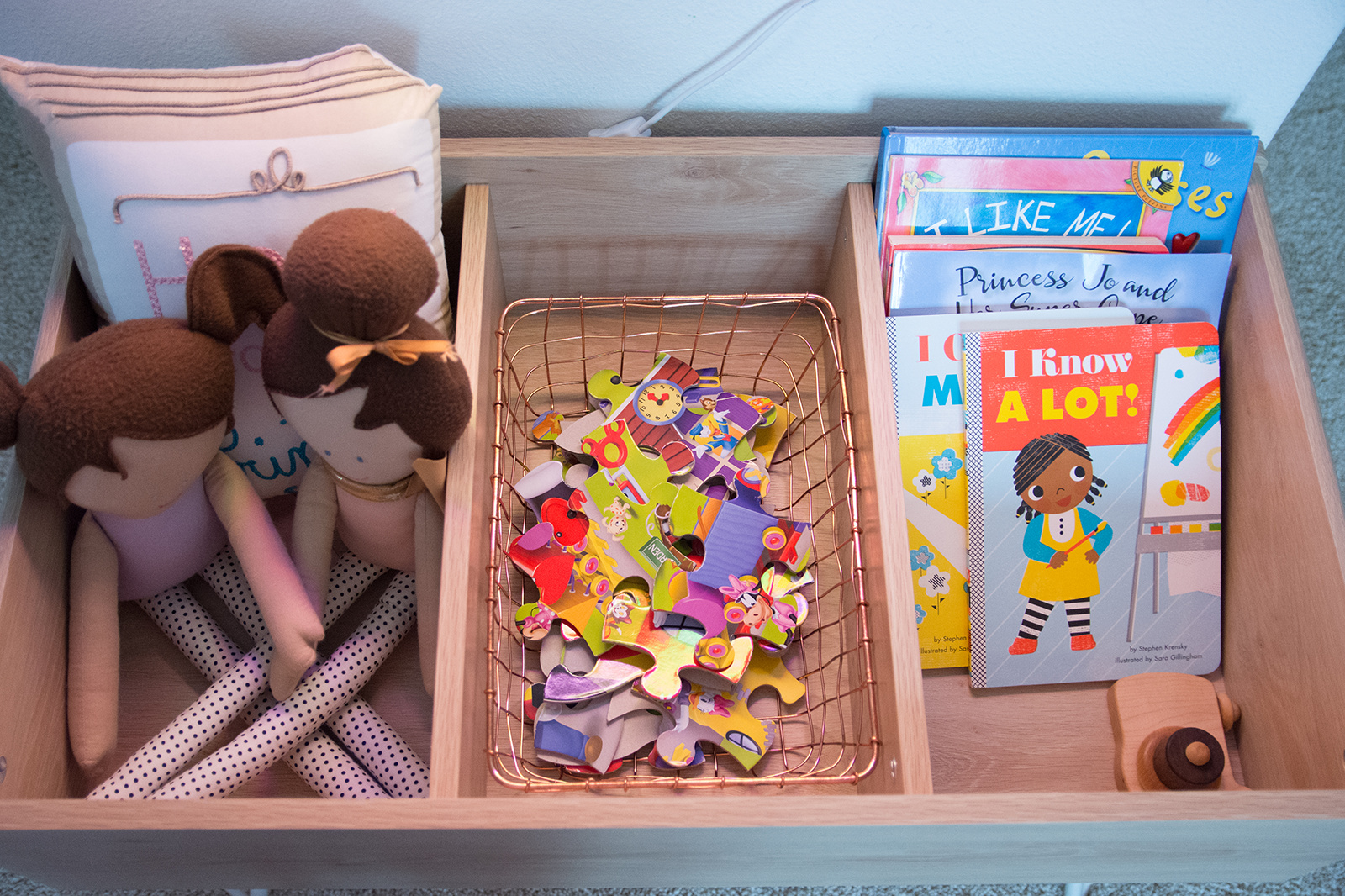 This bookcase is my latest addition to the girls fairytale inspired shared bedroom and I LOVE it! Do you spy a 'Princess Jo and Her Super Cape' book in it!? It's the perfect storage solution for us! I am so over books being thrown everywhere and this bucket style bookcase is exactly what we needed! You can find it at Target HERE.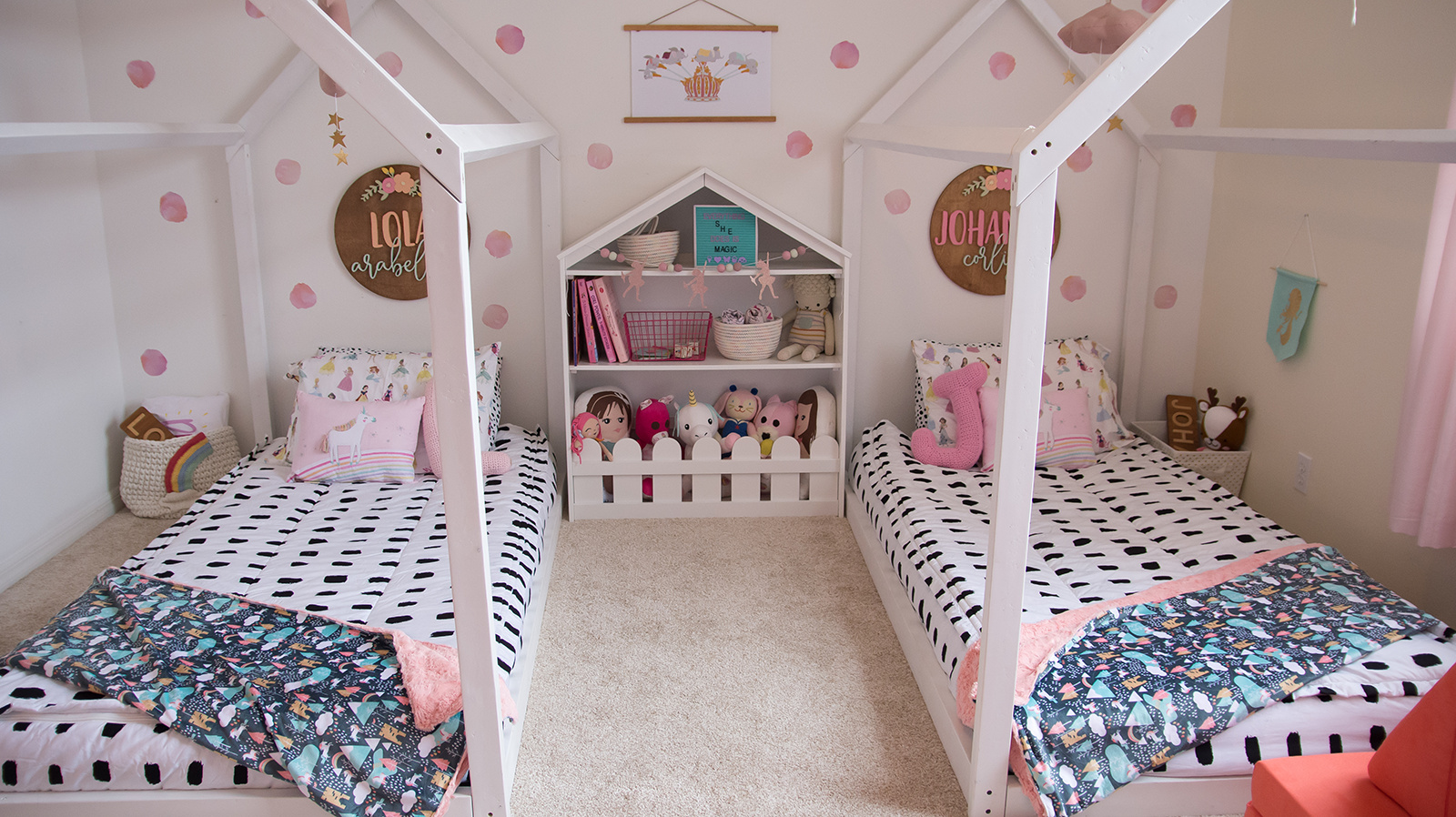 I hope you enjoyed taking a peek into their girls fairytale shared bedroom! Pin this image below to share the inspiration! Comment below if you have any unanswered questions as well. Xo
Follow along on social media for more!

---