Love the look of a whimsical toddler bedroom but not sure how to put one together? Here is some simple and affordable inspiration for your whimsical one year old bedroom!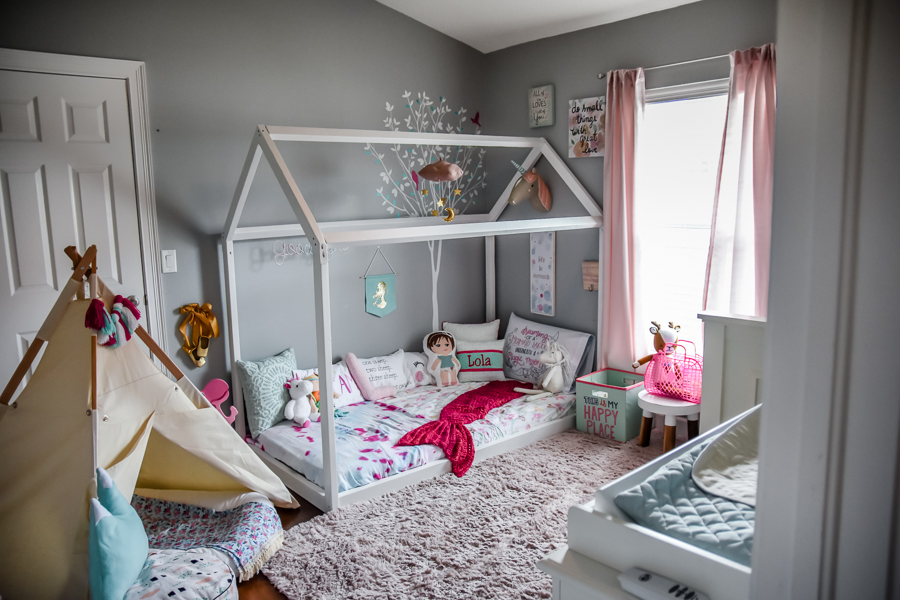 Behind the Whimsical Bedroom for Our One Year Old
Being the second child and born a mere 16 months after her older sister, Lola never technically got her own room. We moved our oldest to a "big girl room" about halfway through my pregnancy and when Lola was born we moved her directly into the existing nursery.
Now that she is almost a year and a half we decided it was time to give her a space of her own! I teamed up with some great shops and got to decorating! So here is Lola's big girl room reveal!
The theme that was decided on was "Whimsical." I imagined a dreamy place for Lola to relax and play filled with inviting colors and mythical creatures.
I quickly focused on mermaids and unicorns and adorned the room in pink and mint. The colors worked so well with each other and the pre-existing wall color left from the nursery. Although Lola is still in her crib at the present moment I wanted to make the feature of this room that beautiful framed house bed we had locally designed and made.
Once we transition her to her new bed we will remove the crib and which will open that space up a bit. This big move should be happening over the next few months as my older daughter was transitioned to the same floor style bed around this age (15 months). You can read about her transition here.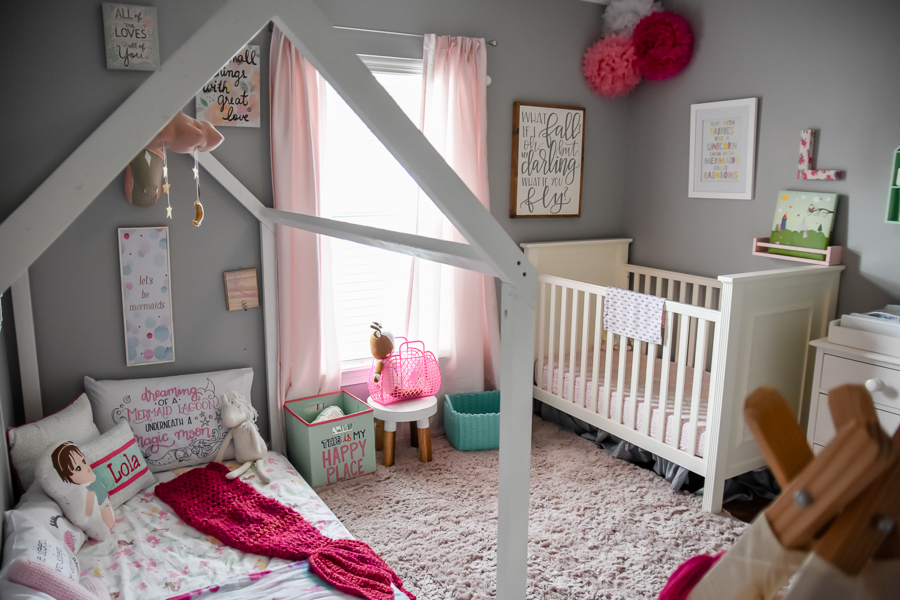 Decorating the Whimsical Bed in Your One Year Olds Room
The bed itself is a statement piece but what really catches everyone's eyes right away is the beautiful 'Moon & Star Cloud Mobile' by Baby Jives. My main focus for her room was to inspire imagination and promote healthy sleep patterns. The floor bed itself is designed to be easily accessible to her thus making it a spot that is inviting and relaxing but the cloud mobile is the icing on the cake! As she lies there looking up she is sure to be relaxed with it's gentle spins and twirls. There is nothing more tranquil than that!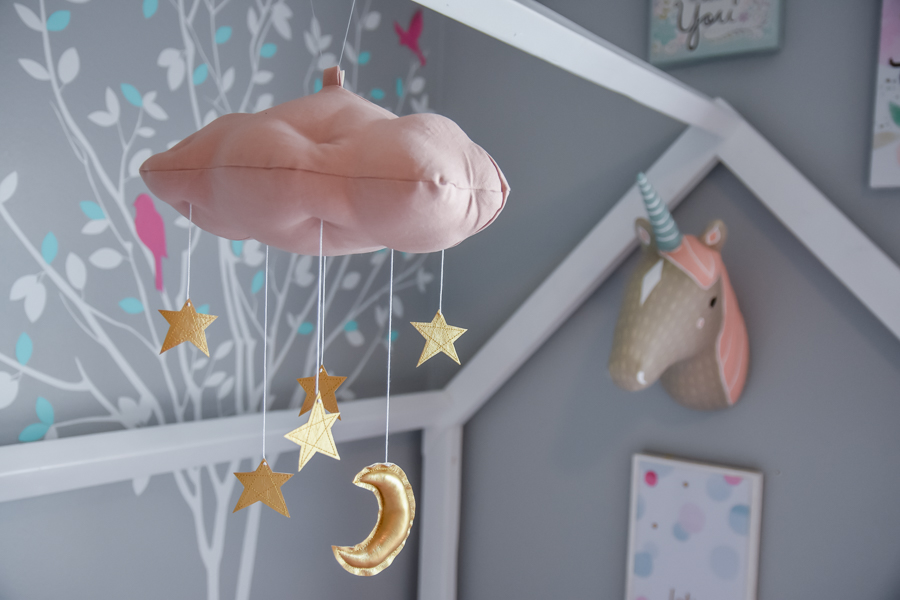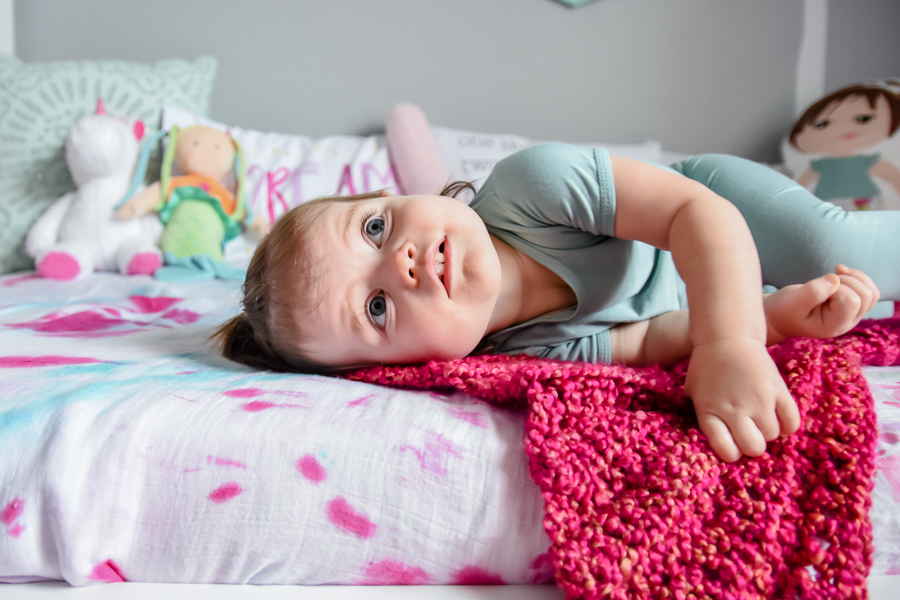 What We Included in Our Toddlers Bedroom
At first glance you will notice the complete lack of toys in her room. This is because although she does play in her room, it is more of a place for her to grow her imagination. There is nothing battery operated in this space.
Instead everything in her room promotes open-ended play, meaning everything in there is only operated by her imagination! We have a playroom with plenty of the other stuff but the girl's bedrooms are not the place for them.
When it comes time to sleep I want them to focus on their natural body queues and having less of a distraction will help with that. I stocked her room with her favorite books, some cuddly plush friends and a few wooden toys that she loves and that is it. If the house ever gets a bit too hectic or the days become long, I want this space to be hers. Hers to dream, to relax to imagine!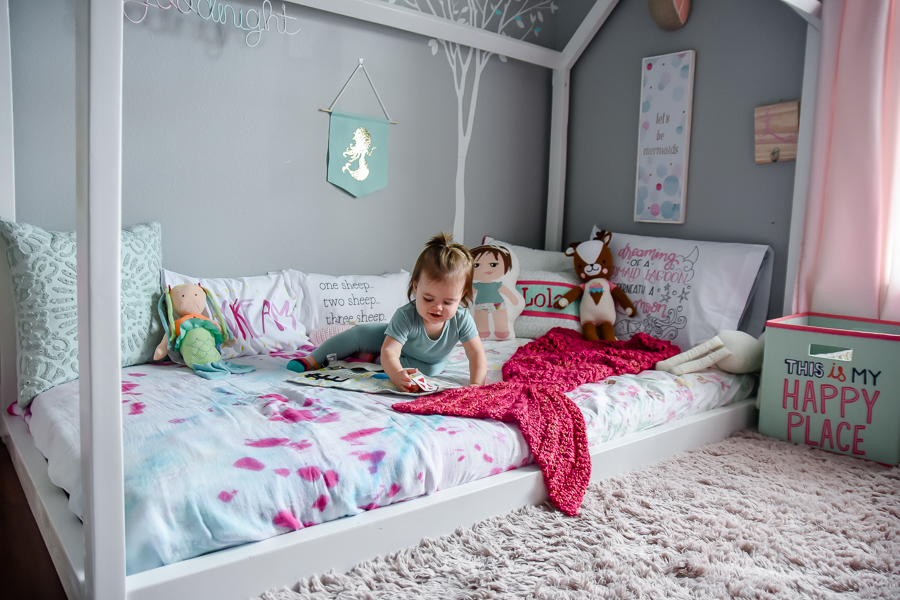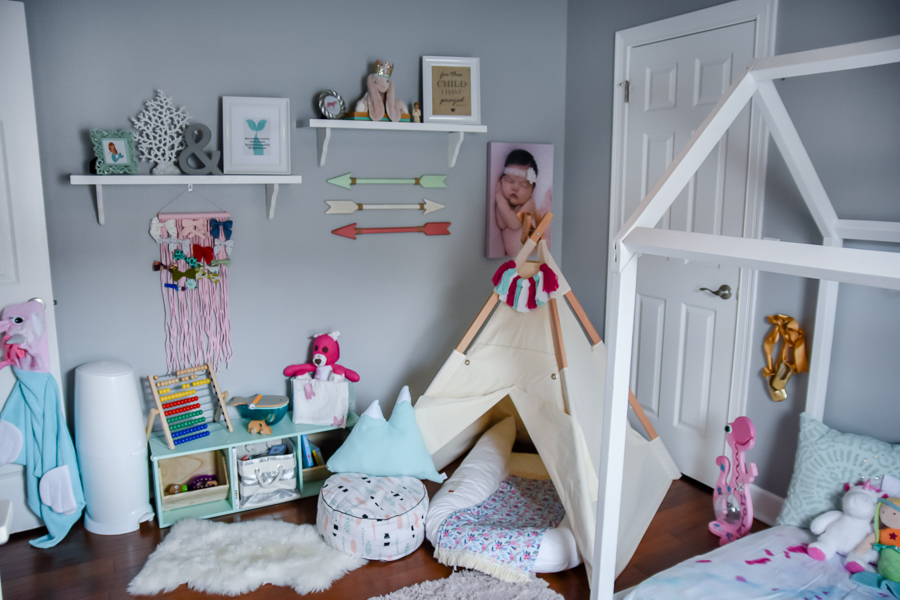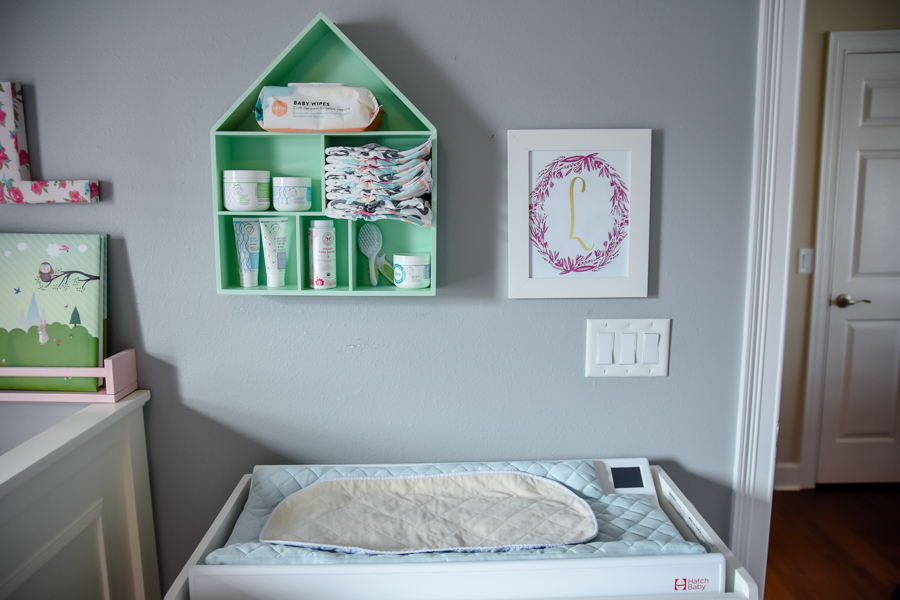 Whimsical One Year Old Bedroom Inspiration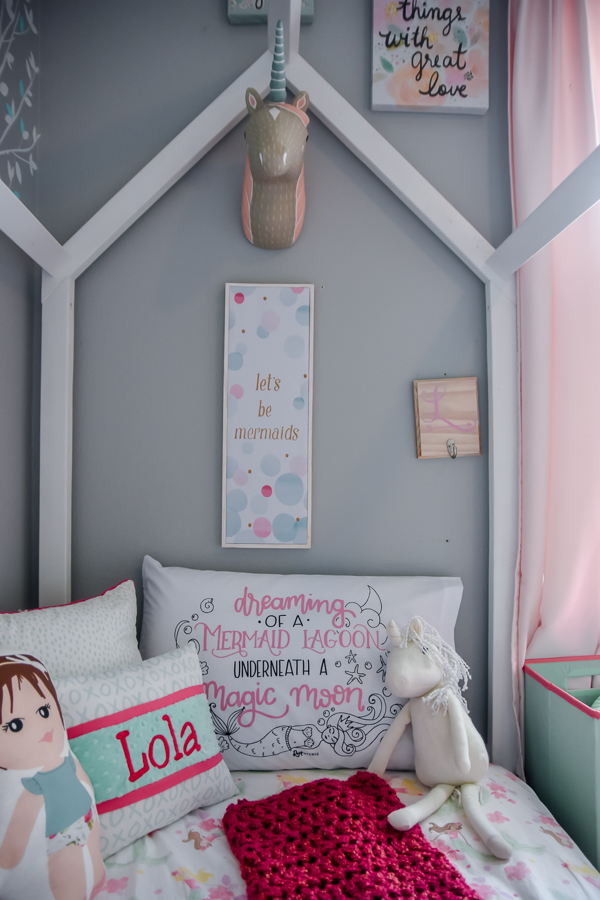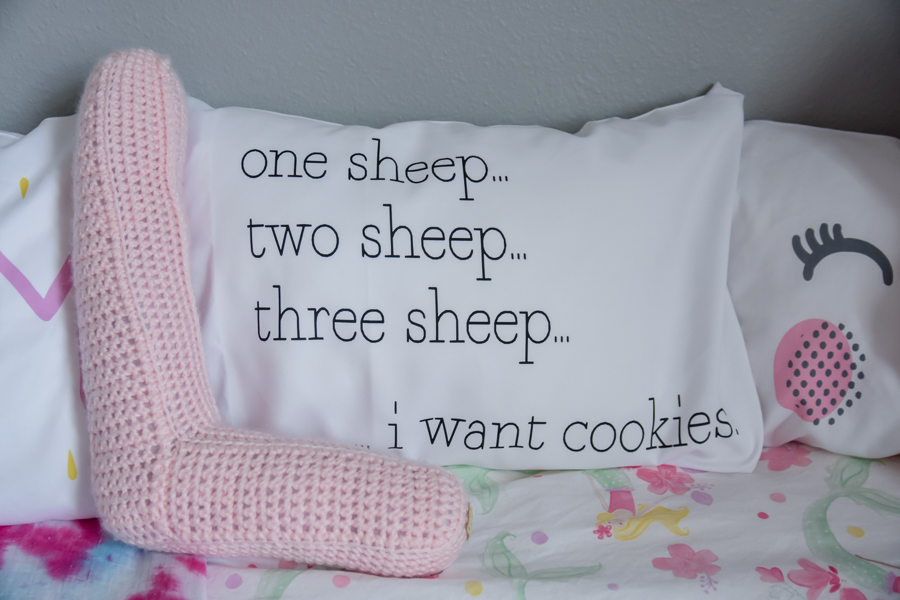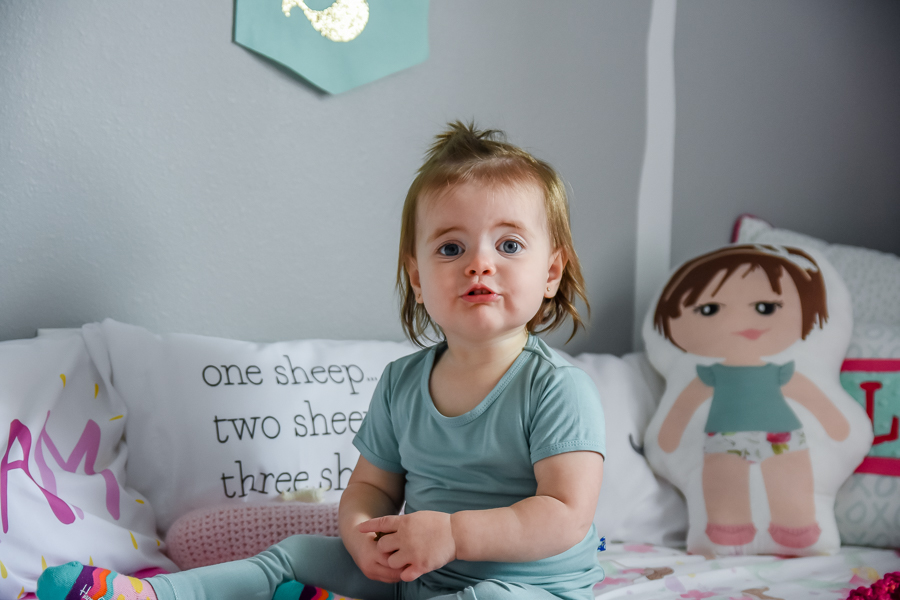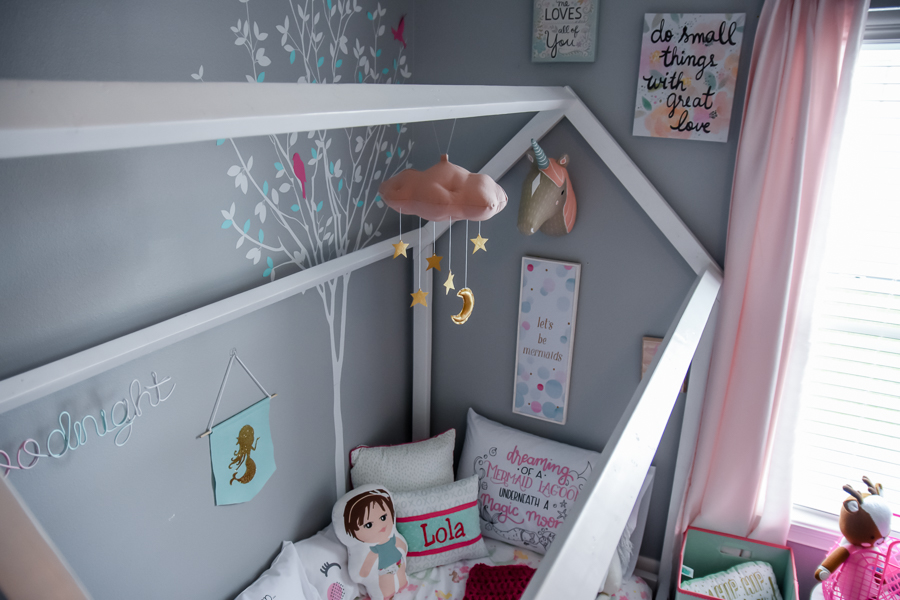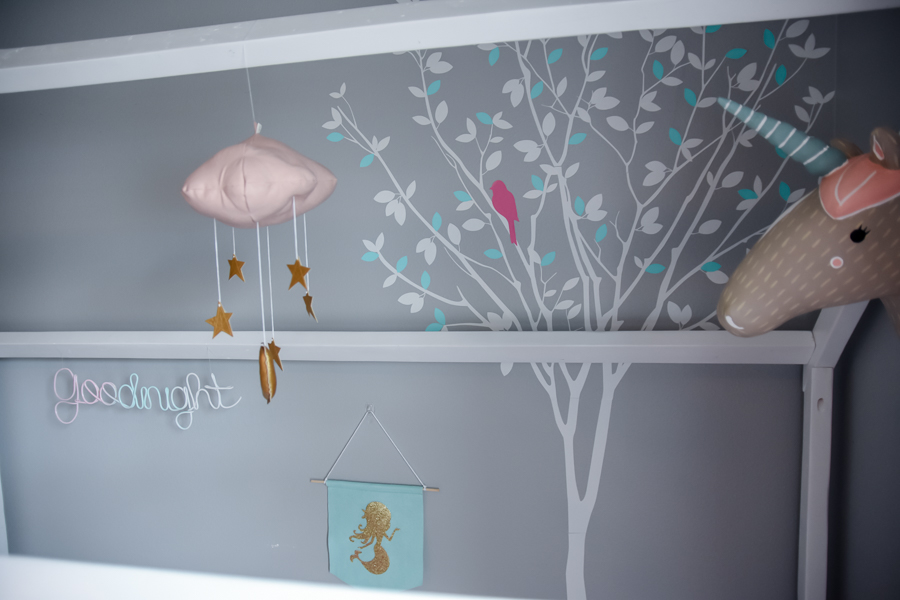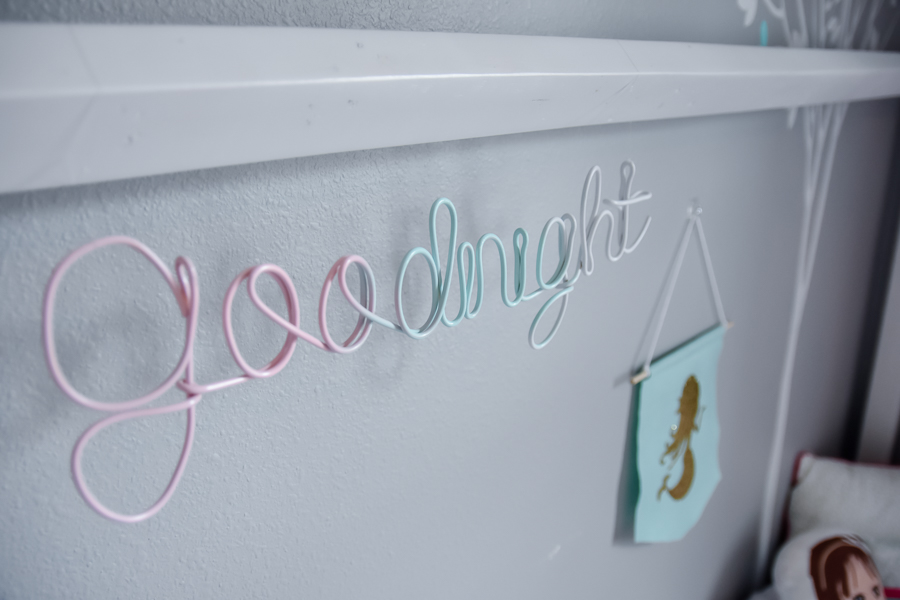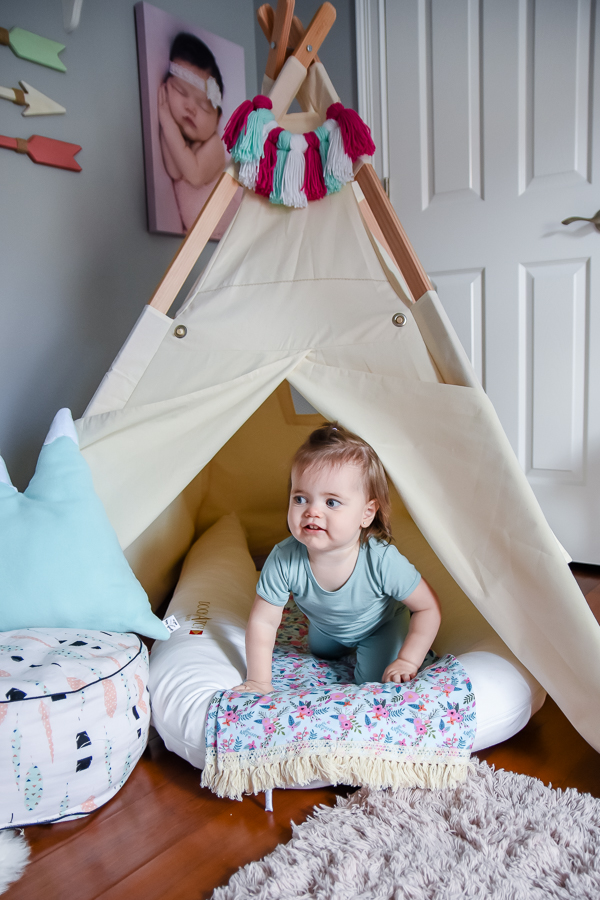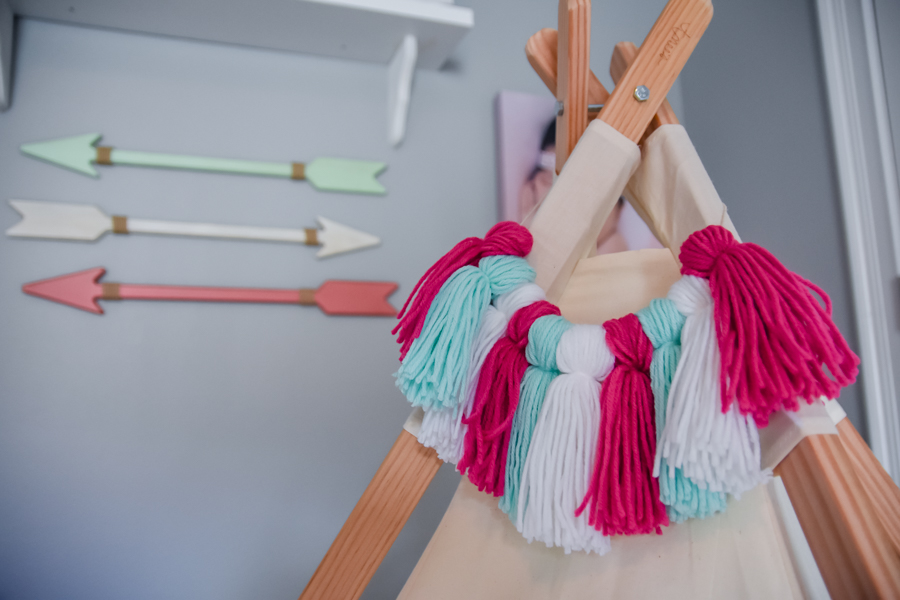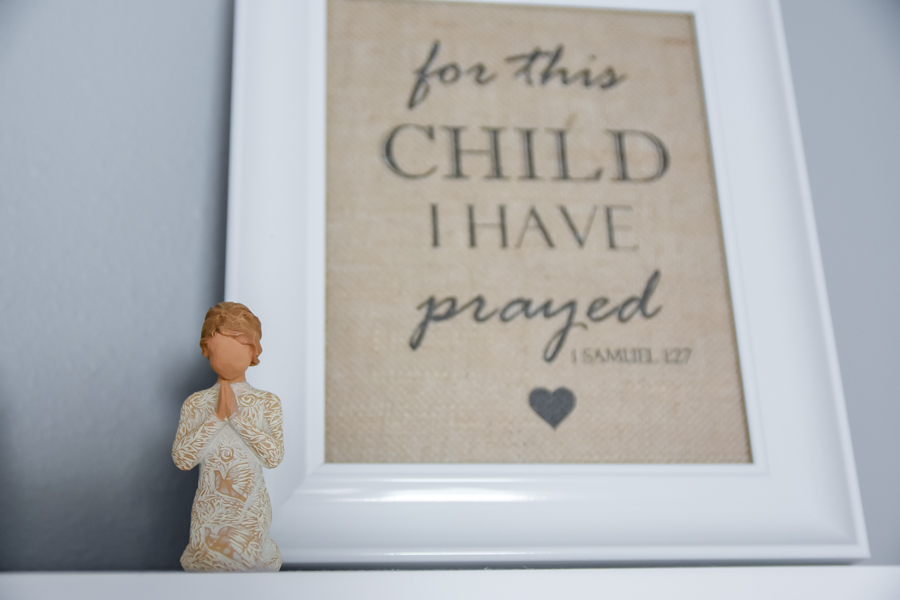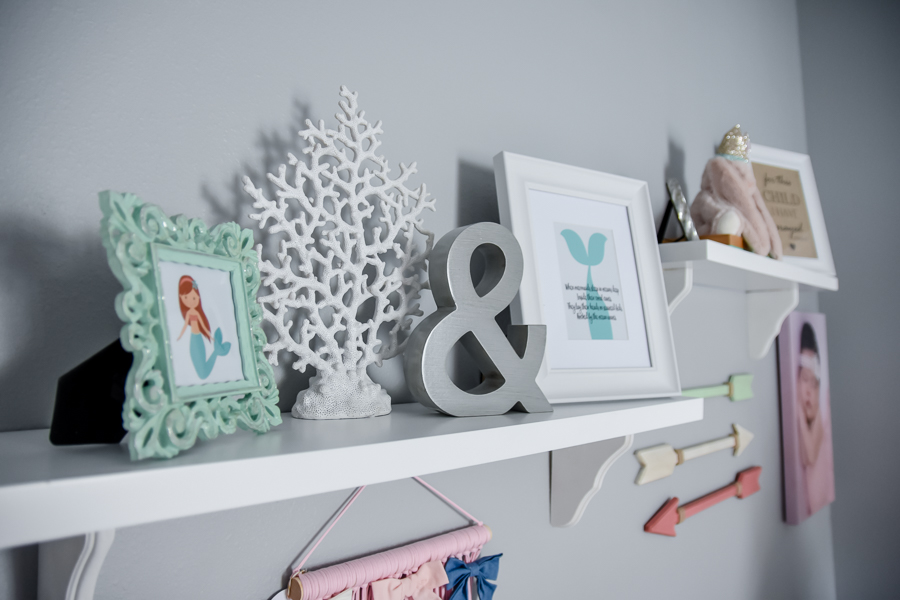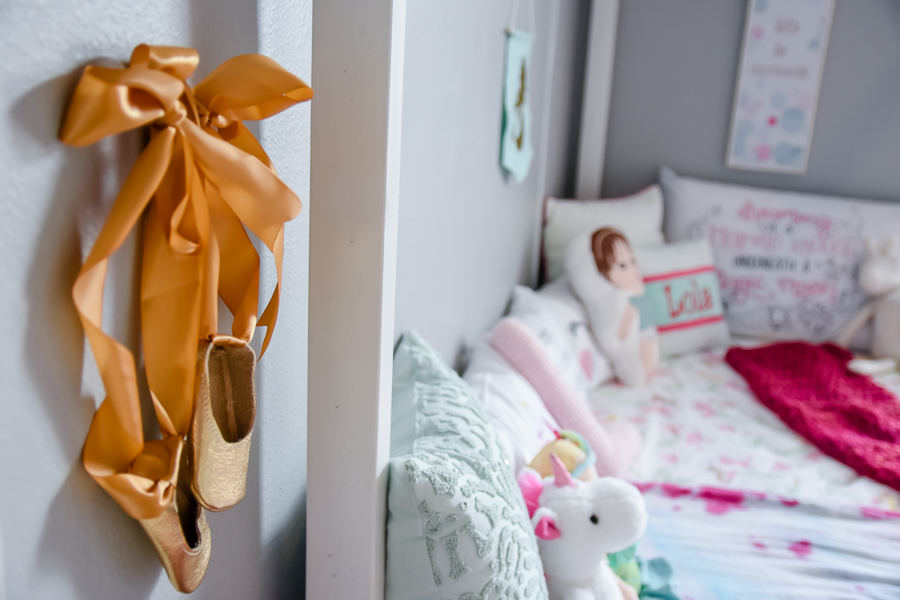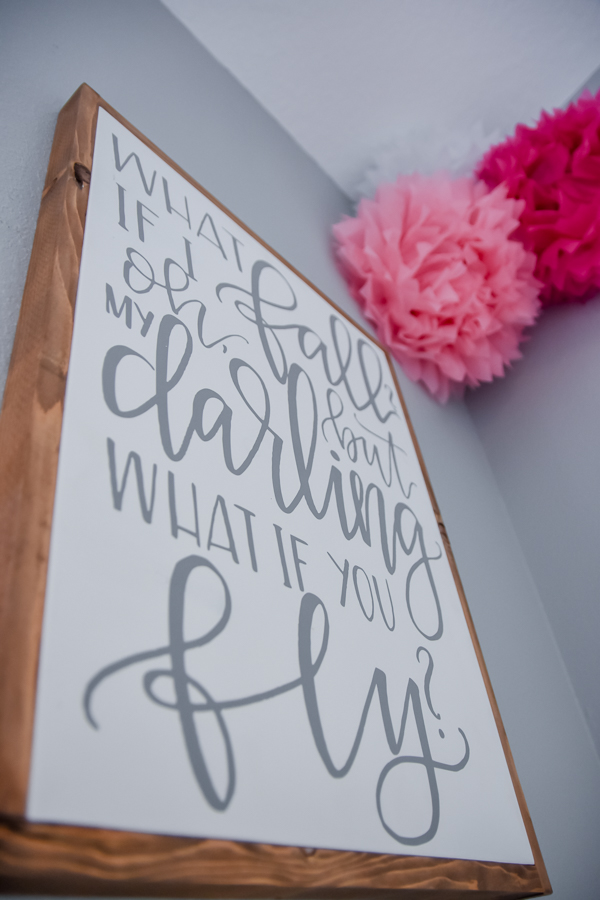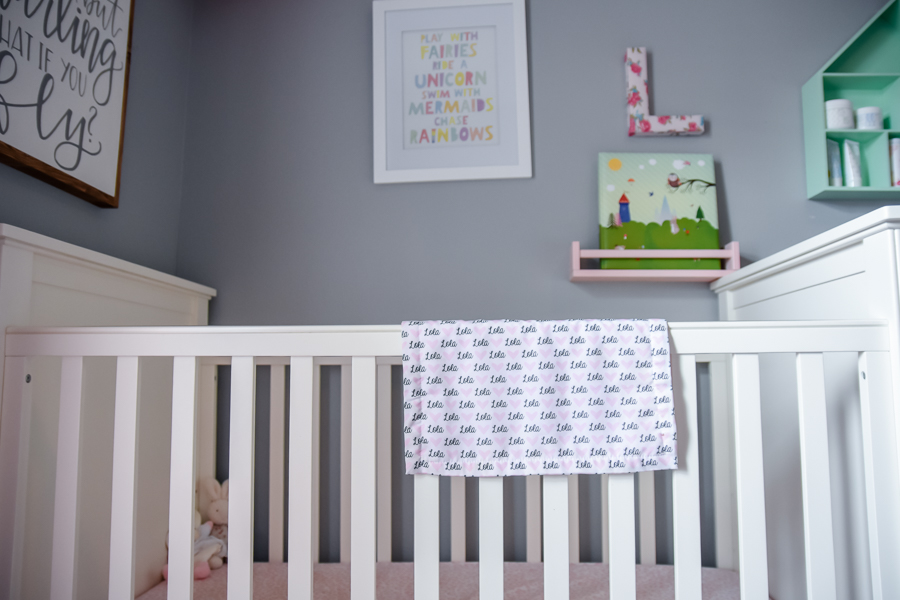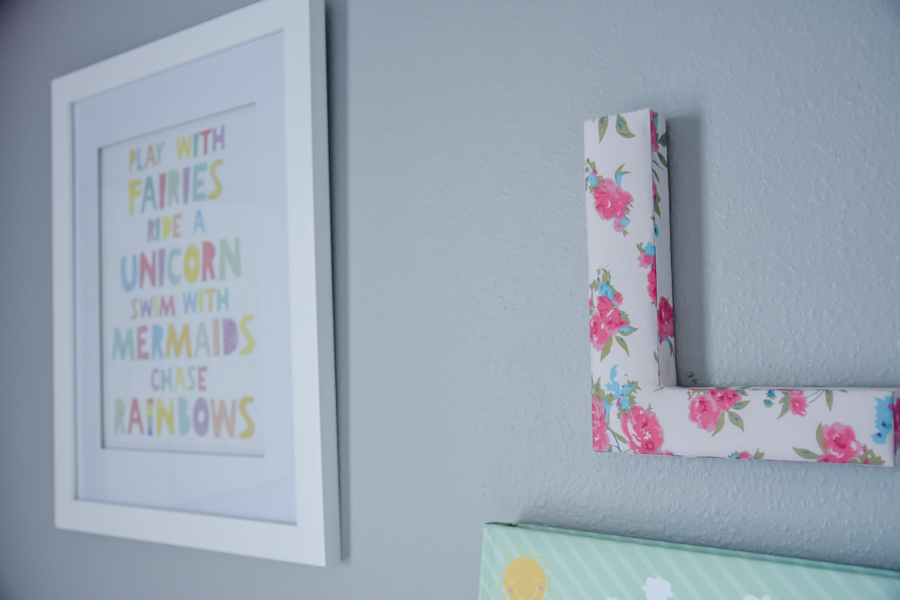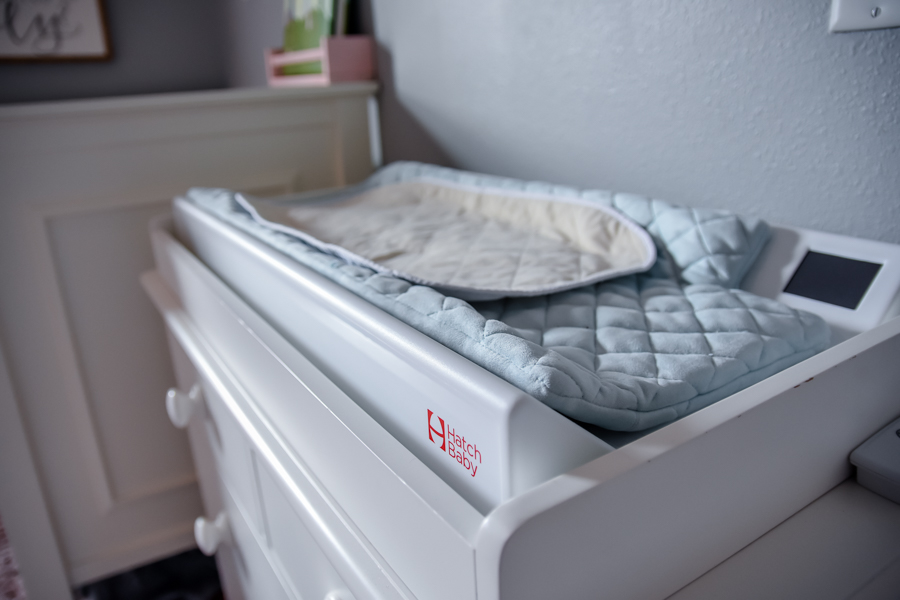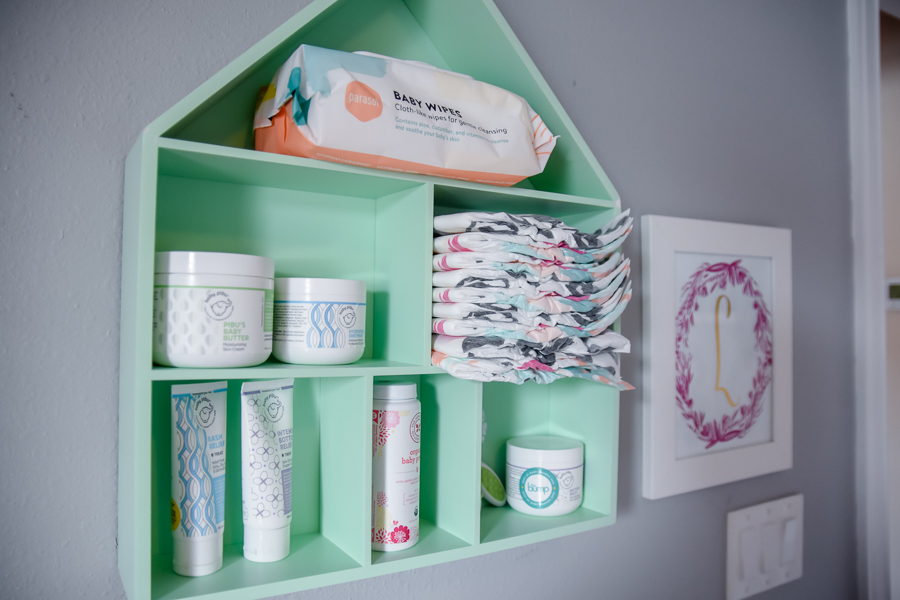 I hope this whimsical one year old bedroom gave you some inspiration for putting together your own whimsical toddler bedroom! For more bedroom inspiration, check out these posts:
Twin Boy's Shared Coastal Surfer Bedroom
The Ultimate Fairytale Inspired Shared Bedroom
Surfer Themed Bedroom Idea With DIY Floor Bed For Toddler Boys
Photo Cred: Kaley D Photography 
Follow along for more: Instagram | Facebook 
[ This is a sponsored post that contains affiliate links. All decor choices and combinations are my own]