If you're on the lookout for a deliciously simple plant-based smoothie recipe for kids that is packed with protein, this plant based chocolate banana smoothie is it!
This post is sponsored by Ripple Foods. The opinions and text are all mine.
The perfect after school smoothie loaded with wholesome ingredients, a boost of plant-based protein, and 35% of your daily value for calcium.
---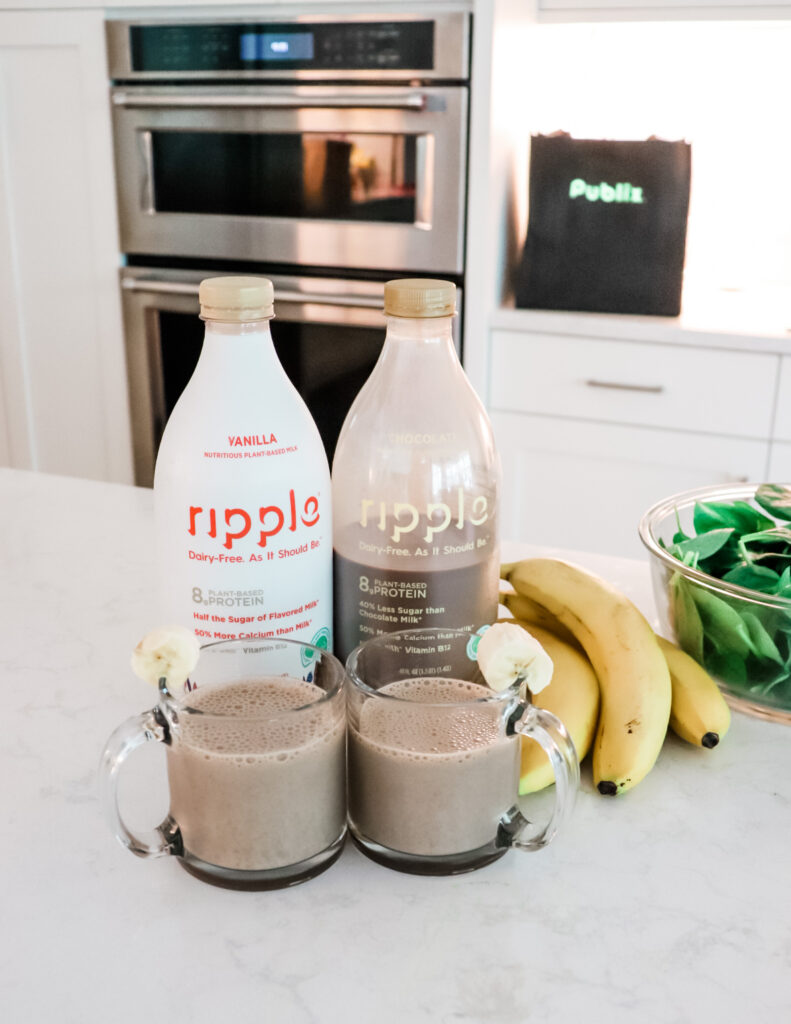 Why Choose a Plant Based Protein Smoothie for Kids?
Need a nutritious pick-me-up and after school snack for kids to love and look forward to? I know I needed one too and I found one my kids absolutely LOVE!
Getting home from school is always a happy time; my girls love to tell me about their day and all the fun they had. However, there is something that shifts when we walk into the house and my girls start coming down from their highs of school fun. It can be exhausting, but I have found having a consistent "treat" to look forward to has helped us tremendously!
The trick up my sleeve you may ask? It is this nutritious and DELICIOUS after school plant based chocolate smoothie snack using Ripple Plant-Based Milk from Publix that I make for my kids! Below are ALL the details! 
What Is Ripple Plant-Based Milk?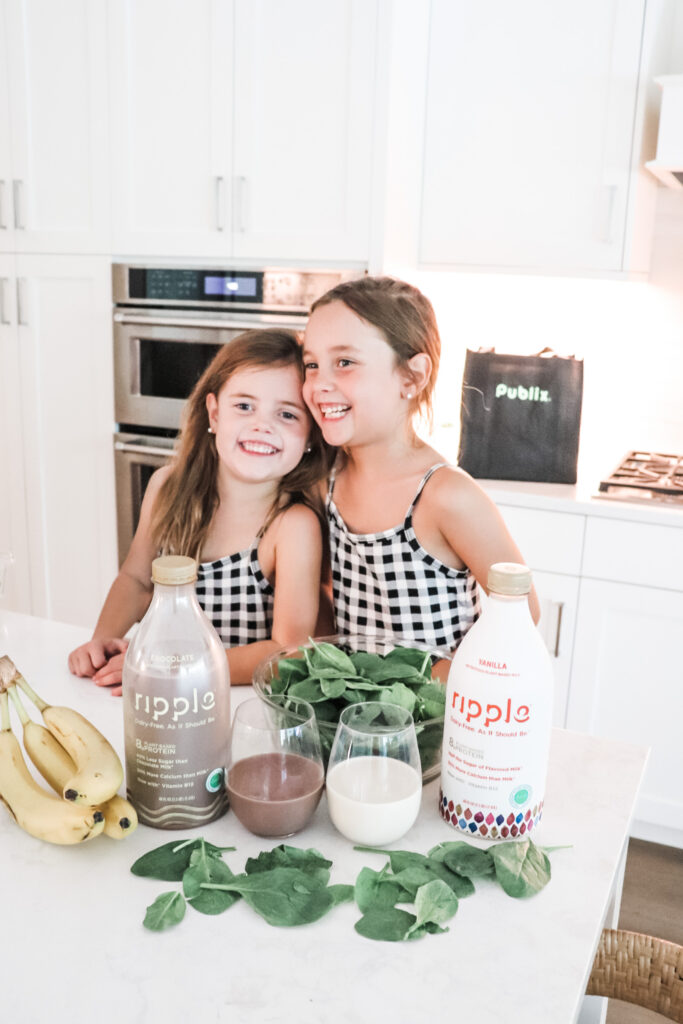 Ripple Plant-Based Milk is a rich, creamy and delicious dairy-free milk that I buy at my local Publix Supermarkets! This brand of milk is 100% vegan, lactose-free, nut-free, soy-free, GMO-free and gluten-free. Also, it has 8g of plant-based protein and 50% more calcium than dairy milk to keep kids at their absolute best!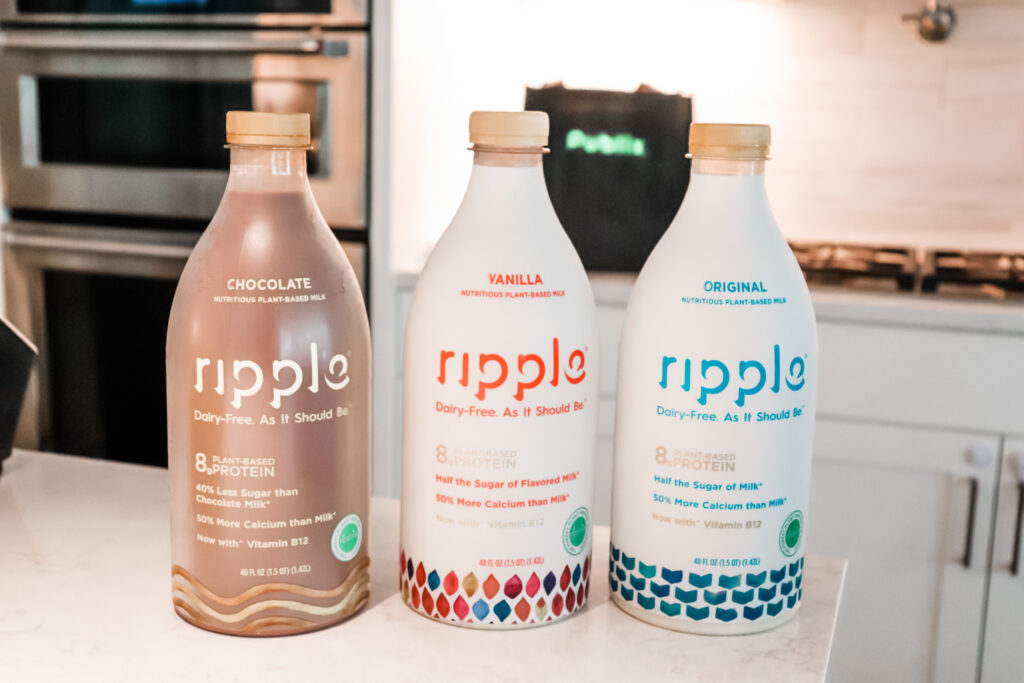 Five Available Flavors of Ripple Plant Based Milk
Original Ripple Plant-Based Milk
Unsweetened Original Ripple Plant-Based Milk (0g Sugar)
Vanilla Ripple Plant-Based Milk
Unsweetened Vanilla Ripple Plant-Based Milk (0g Sugar)
Chocolate Ripple Plant-Based Milk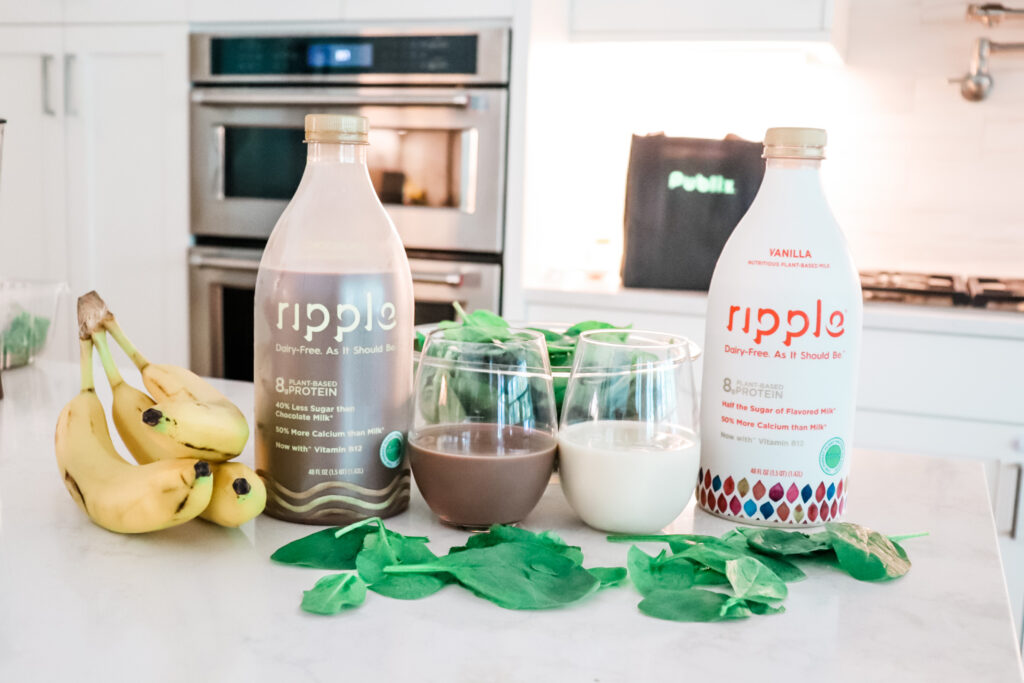 An Allergy Friendly Plant-Based Milk – Vegan Milk for Kids
Doesn't it seem like all the non-dairy "milk" options on the market are nut milks? These are NOT allergy friendly for kids like mine who have multiple food allergies. I felt like there weren't many options for families like ours but then I found Ripple Plant-Based Milk which is made with pea protein! We are an allergy-friendly family all around and the best thing about Ripple Plant-Based Milk is that it is allergy-friendly for multiple allergies! I wish we had this when one of my twins was ready to wean off of formula because it is just the option we could have used! 
This milk is soy, dairy, nut, and gluten-free (and is vegan too!) Two of my kids have dairy sensitivities so we try to keep dairy limited around our house when we can. For this reason, we have turned to Ripple Plant-Based Milk for all of our kids and it has been a crowd favorite! Also, I'll let you in on a little secret – Ripple Plant-Based Milk (48-oz.) is $1 off at Publix now through 10/10/20. Definitely make sure you take advantage of the savings here. I'll be stocking up!
Plant Based Chocolate Smoothie for Kids with Ripple Milk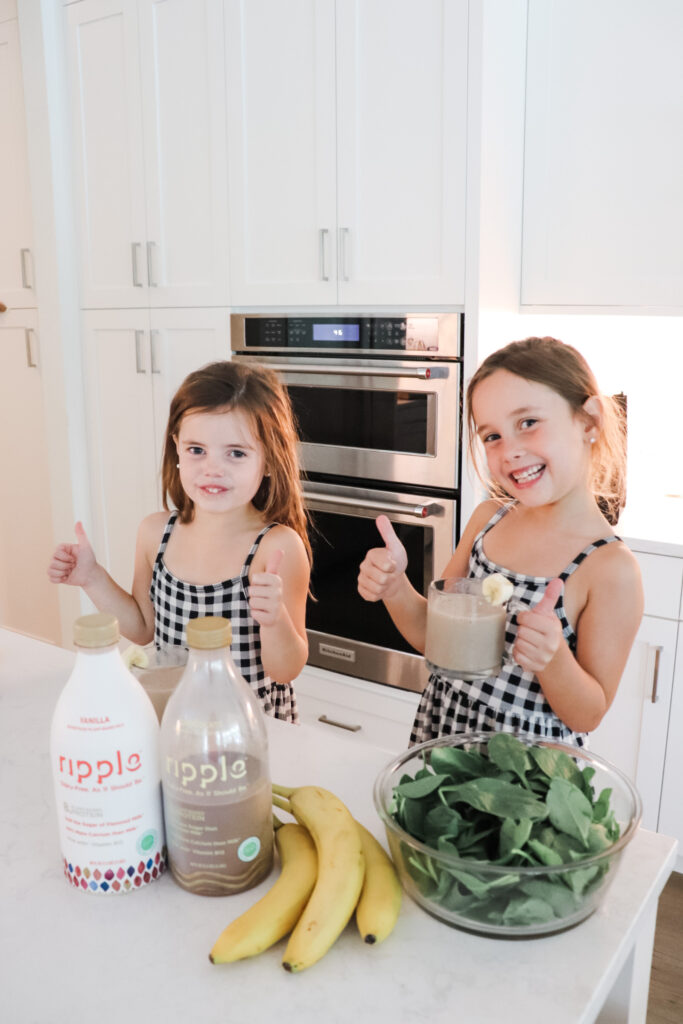 If there is one thing ALL my kids love, it is smoothies! We make them often, but recently we have deemed them as our look-forward-to after school snack.
Having something this nutritious and delicious to look forward to has really made the home-from-school-blues a much happier time all-around. Plus, the kids are convinced they are getting a sweet treat and I know they are also getting a nutritious one! Mom win! 
This plant based chocolate smoothie has been a major win in our house!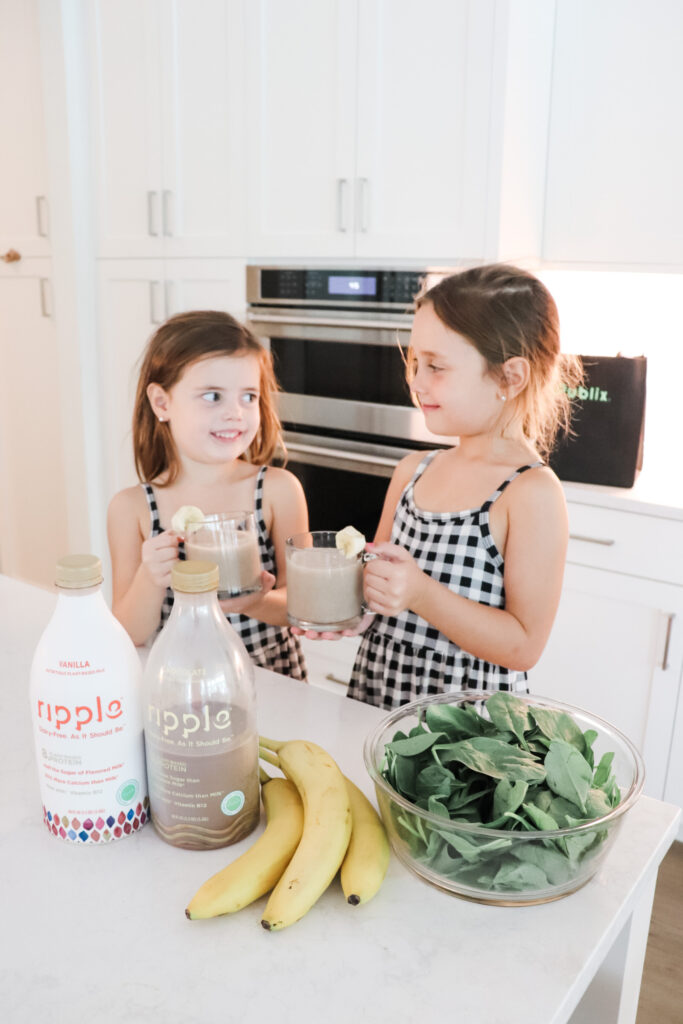 Ingredients for My Plant Based Chocolate Smoothie for Kids
Ripple Plant-Based Milk: Chocolate OR Vanilla

 

Bananas: TIP If you ever find yourself with a pile of rotten bananas and no desire to make banana bread or 5 smoothies at that exact moment you can freeze them! Frozen bananas work really great for smoothies! Unpeel the bananas, cut them in half and put them in individual bags in the freezer. This way they are all portioned as needed!

 

Honey (optional): If you want to add a little sweetness, you can add your own desired amount of honey into the blender!

 

Spinach (optional): I don't know what I did right, but after getting called out once for the green speckles in my daughter's smoothie, I quickly told her they were "green sprinkles." Well would you know that ever since I told her that she has asked me to make sure I add those special "green sprinkles" to her smoothies every time! She knows they're spinach out of the bag but somehow when added to the smoothie she looks forward to seeing them in her drink! Still waiting for an award on that one (ha-ha!)
Ice (optional, especially if you use frozen bananas): I like to add a half of a cup of ice to my girls' smoothies to make them more shake-like!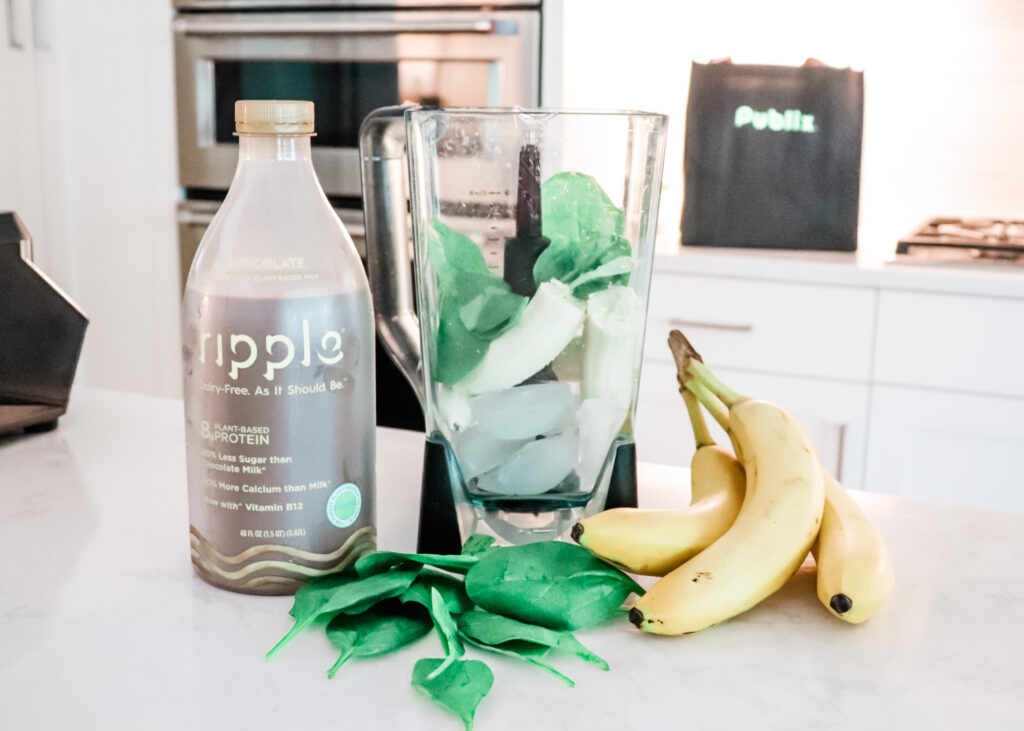 Measurements for the Plant Based Smoothie for Kids
2 Cups of Ripple Plant-Based Milk: Chocolate OR Vanilla
2 Bananas – medium
2 Cups of Baby Spinach

 

1/4 tsp Honey
1/2 Cup of Ice
Directions
It doesn't get any easier than this: add everything to a blender and blend until desired consistency for this plant based chocolate smoothie!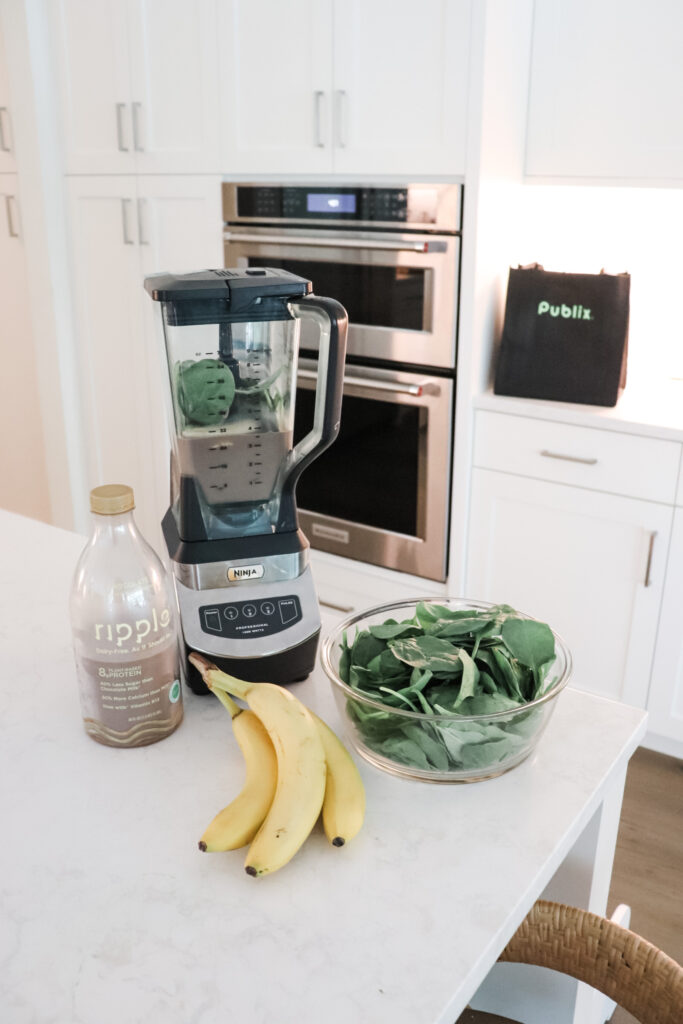 Tag me on Instagram with the hashtag #ohhappyplaytreats so I can see your family enjoying this recipe above! Enjoy! 
Make sure you follow along on social media for more!
If you loved this post, I think you'd love these activities for kids!
FREE Noun Sight Word Worksheet / Montessori At Home
FREE Printable Worksheet Activity For Common And Proper Noun Lesson / Montessori At Home