Safe Sleep Habits For Babies // Peace Of Mind Provided By Owlet
Safe sleep habits for babies are essential for new parents with newborns and safe sleep is made easy with owlet baby products!
| This is a sponsored post. All insights are 100% my own |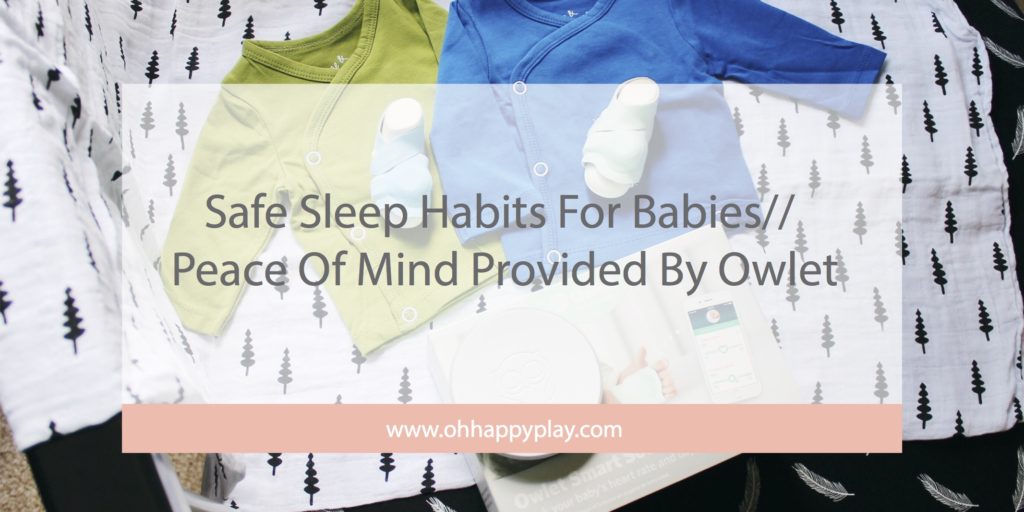 ---
About Safe Sleep for Babies
The topic of safe sleep habits have been swirling around a lot lately and it is something I am truly passionate about. With so much recent tragedy associated with the topic in the past few months I really wanted to use my platform here for the good and help spread just what it means to practice safe sleep habits for babies. Even before the birth of my first daughter, almost 4 years ago, I started researching the topic and yet I always seem to find new information on it everywhere.
With every piece of new information I find regarding safe sleep habits for babies I also have someone chiming in my ear "back in my day babies slept (insert a super unsafe, not recommended sleeping condition here) and they were just fine." It can really actually be quite confusing! What I have learned is that although this can be a  controversial topic (as most things are these days) when you stick to the basics it can really be simple and effective in keeping your baby safe. For example, have a look at the latest Levana Baby Monitor Reviews in 2018 & 2019 and you'll see just how far baby monitors have come now, and just how much they help to keep your baby safe with the safe sleep habits for babies they mention.
These proven techniques aren't researched just to bash the way babies were raised in the past but to do everything possible to try and prevent a mother from ever having to lose a child due to an unsafe sleeping environment. I am happy to share some basics with you all now and some of my go-to safe sleep basics but I encourage you to do much more research on this topic before bringing baby home!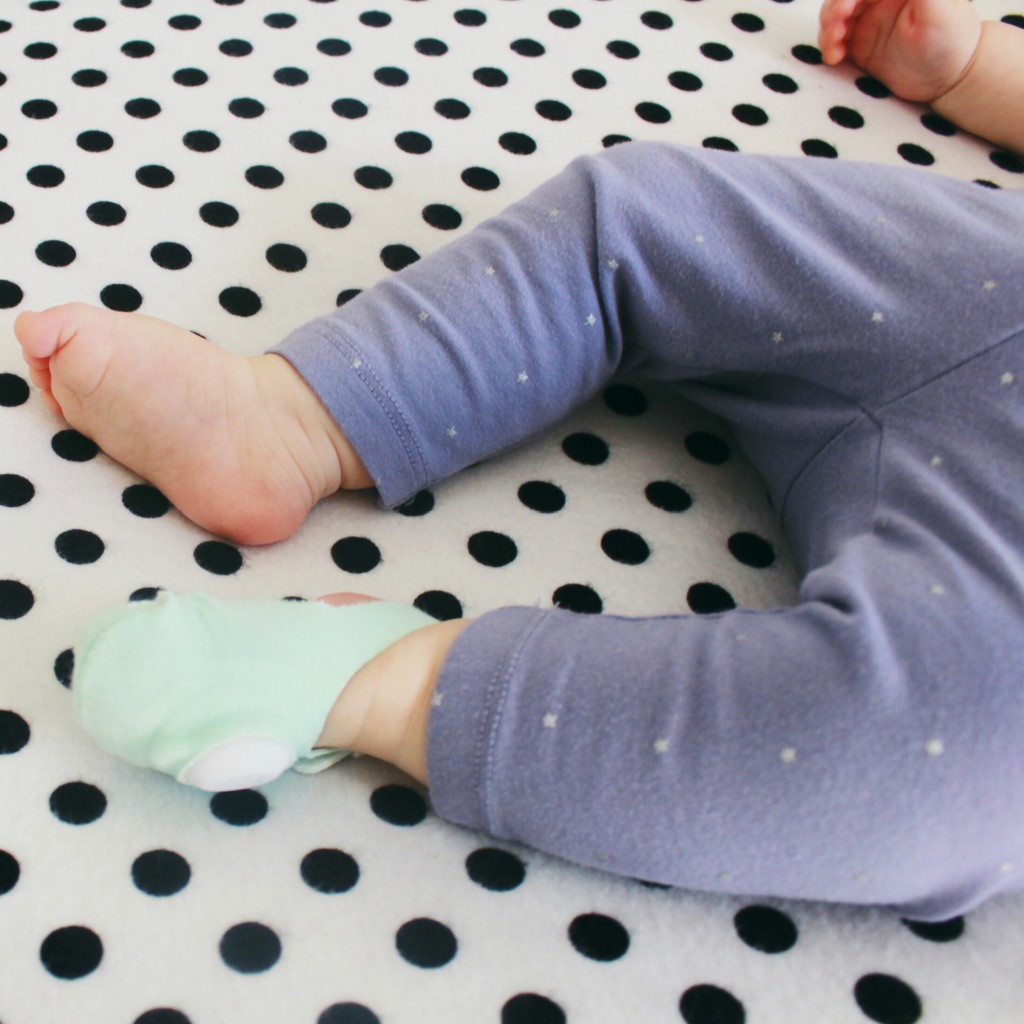 Safe Sleep Habits for Babies
To keep it simple I love to follow the ABC's of sleeping (it doesn't get more straight forward than this):
A — 
Alone

. Babies should always have their own independent sleeping space. It is recommended for that space to be in the same room you sleep until at least 6 months of age.
B — On their
back

.
C
—

In a

crib

. Babies should always sleep in a safety-approved crib or bassinet with a tight fitted sheet that is free from all blankets, bumpers or stuffed animals (recommended until at least 1 yr of age). A swaddle is appropriate for infants who cannot roll from back to belly to keep them warm or for older babies an age/size appropriate sleep sack.

—-> For a more detailed list on ways to reduce the risk of sleep related infant death check out this page on the SIDS.ORG  that goes into great detail on the subject (yet is a super easy read as well). Read HERE.
Safe Sleep for Baby with Owlet
Even with following every safe sleep guideline suggested it is in our nature as a parent to worry about our sleeping baby and for that I ALWAYS recommend purchasing something that can guarantee you some peace of mind. That is an Owlet Care Smart Sock Baby Monitor that will be sure to ease any worries you may have in those early months/year with your precious little ones.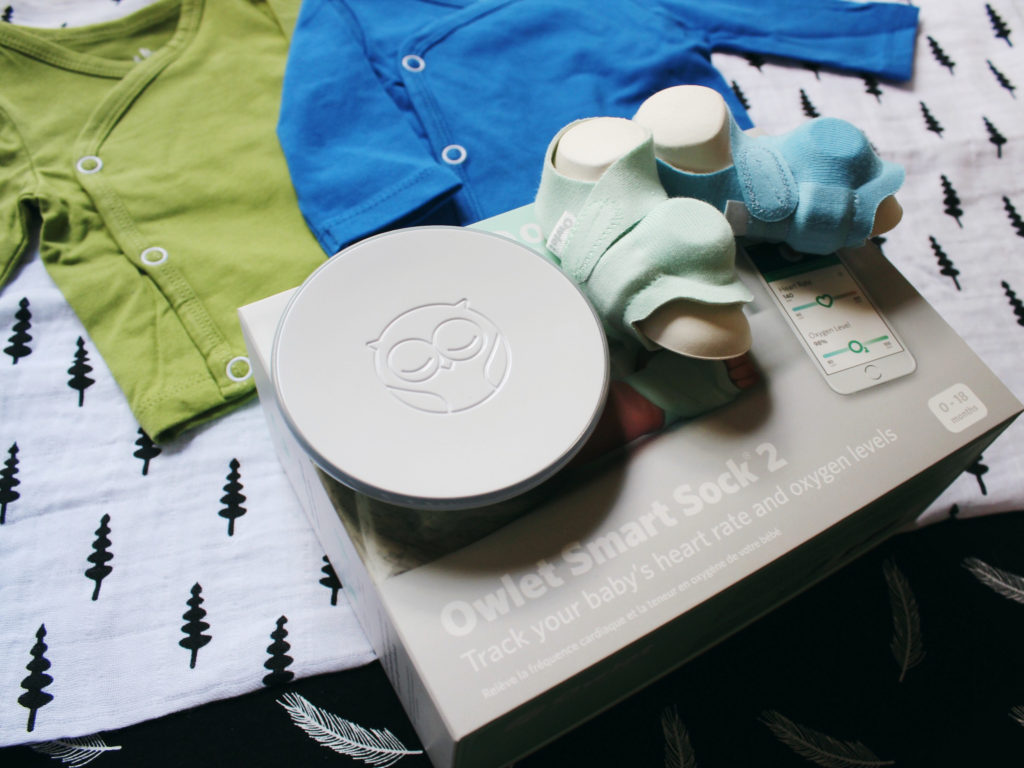 What is Owlet?
Owlet is the better baby monitor because it goes further than just your average baby monitor. The new Smart Sock 2 Baby Monitor uses the newest technology of pulse oximetry to track your infant's heart rate and oxygen while they sleep through a small and comfortable device they wear on their feet. The Smart Sock Sensor has a universal fit and tucks tightly into the three different sized fabric socks provided when you purchase an Owlet monitor. The information is then communicated to your phone through a base station that is designed to notify you if your baby's heart rate or oxygen levels ever fall outside the pre-set zones.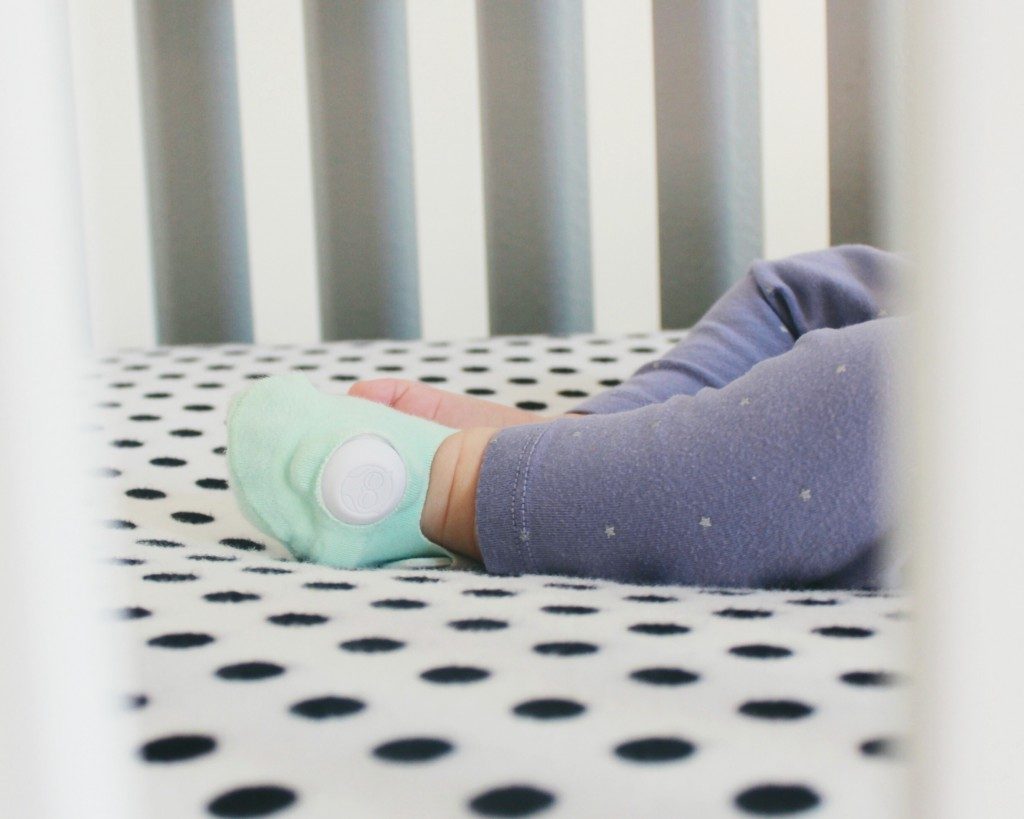 The Proven Peace Of Mind with Owlet
I have used a sleep monitor ever since my first was born but it wasn't until my second daughter was about 6 months old that I first came across Owlet monitors. You can read more about that HERE. Ever since we first tried it out on Lo I was hooked. I knew as soon as I got pregnant again that I wanted to try the most updated version with my new babies and I am so excited to have these in hand to get ready for the boys. Besides just the update in technology they now also offer different colored socks as a fun little twist, which is perfect since I am having twins! I have the green sock all set up for one baby and the blue for the other. I was happy to hear that the Owlet can be used with two babies as well (and there is a great help article found HERE explaining just how to do it). I know that having that peace of mind to be able to close my eyes and get some rest as well will be beyond worth it for our family as we add two new additions to our tribe!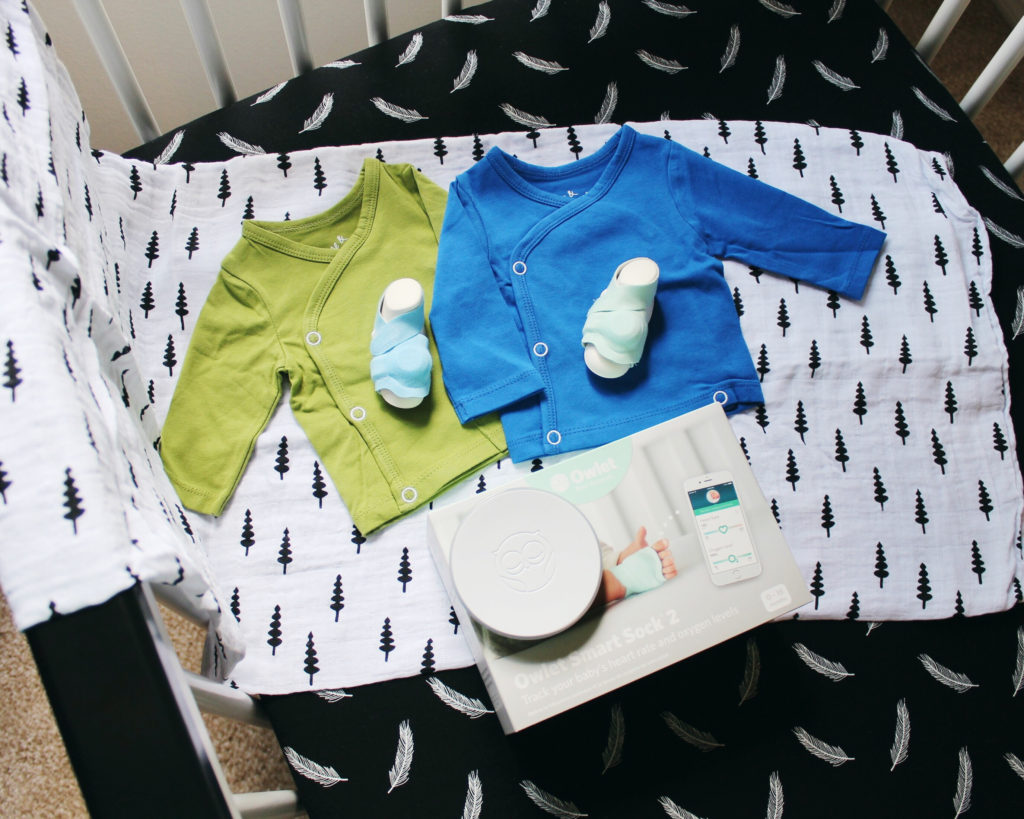 My safe sleep go-to items: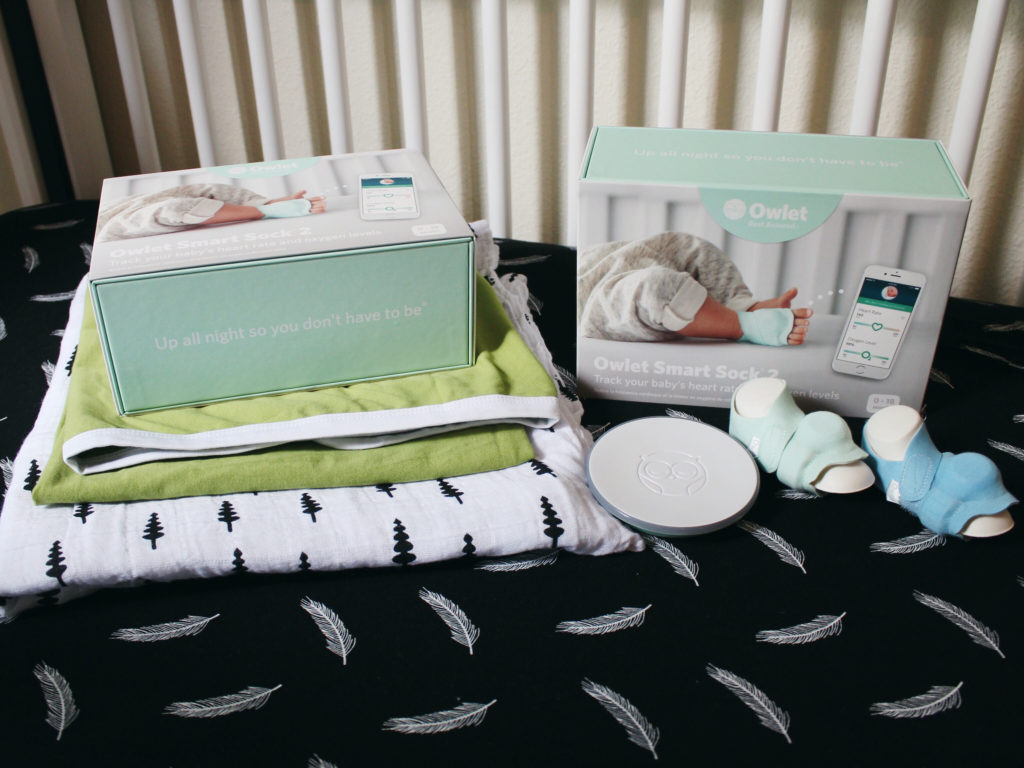 Owlet Smart Sock 2 (shop accessories HERE)
Snap tops (like these from June & January) to help prevent overheating for babies to wear under a swaddle.
Swaddle that can be tightly secured on baby. Pictured is an adorable monochrome one I gathered from Modern Burlap.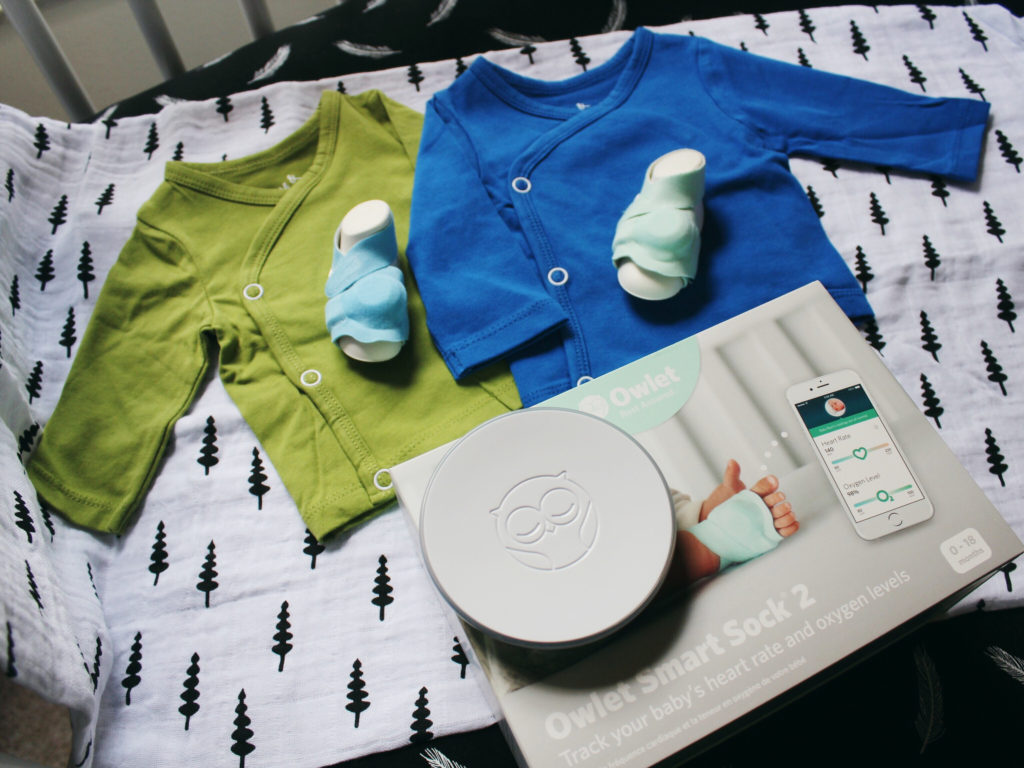 Please help spread awareness on the importance of safe sleeping by sharing this article or pinning it for new moms everywhere to read! Thank you!
If you liked this post, I think you'd like these:
Twin Bedtime Routine: Get Your Babies To Sleep With Ease
3 Baby Sleep Hacks To Make Nighttime Easier 
The Most Innovative Infant Sleeper On The Market: Crescent Womb